Summertime has finally arrived!
           Welcome to our summer outdoor living blog tour! I've teamed up with an amazing group of bloggers to share how we've decorated our outdoor areas for summer. Get ready to be "wow'd" by variety of decor styles, beautiful outdoor spaces, and fabulous entertaining ideas. Our hope is that after this tour you will be inspired to create an outdoor oasis of your very own!
          At the end of this post you'll be able to continue the tour by clicking on each bloggers picture. If your coming from Pillow Thought Home, you've already been mesmerized by Lindseys' beautiful outdoor space. Now it's my turn to share a glimpse of our little patio and garden, along with some before and after pictures so you can see how far it's come. Be sure to stay tuned until the end so you can shop the look!
I'm so happy to have you here and hope you enjoy the tour! 
*This post contains affiliate links.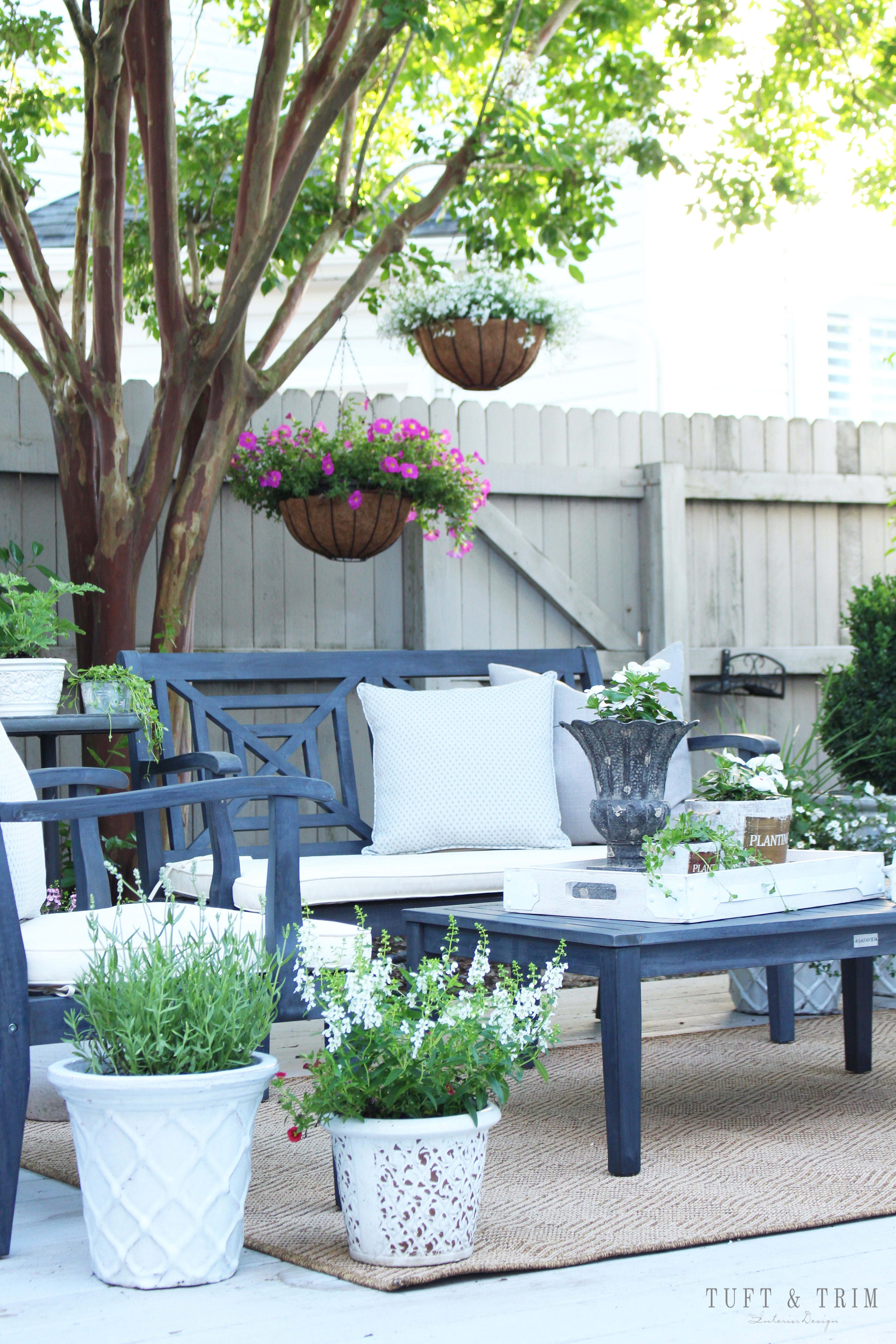 First, I want to start with stating the fact that I am a TERRIBLE gardener. As much as I love gardening, somehow I manage to kill just about every thing we plant…Who would have known it could be so challenging!?  Needless to say, I've spent a lot of time searching pinterest for examples and googling gardening tips. I'd like to think it's paid off and I'm finally getting the hang of it, but I know I still have a lot to learn. So please keep that in mind as you look through my photos. That being said, let's get started!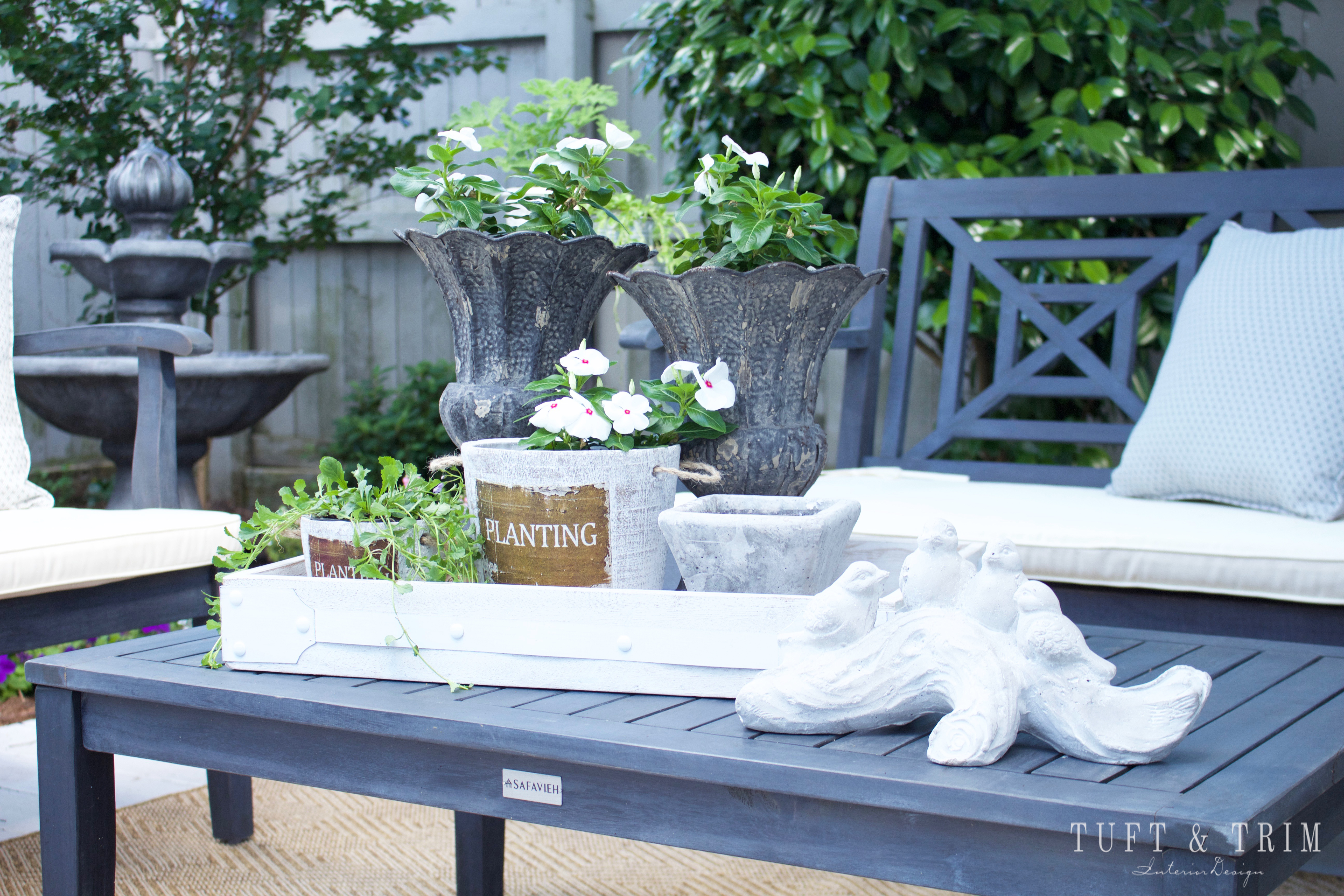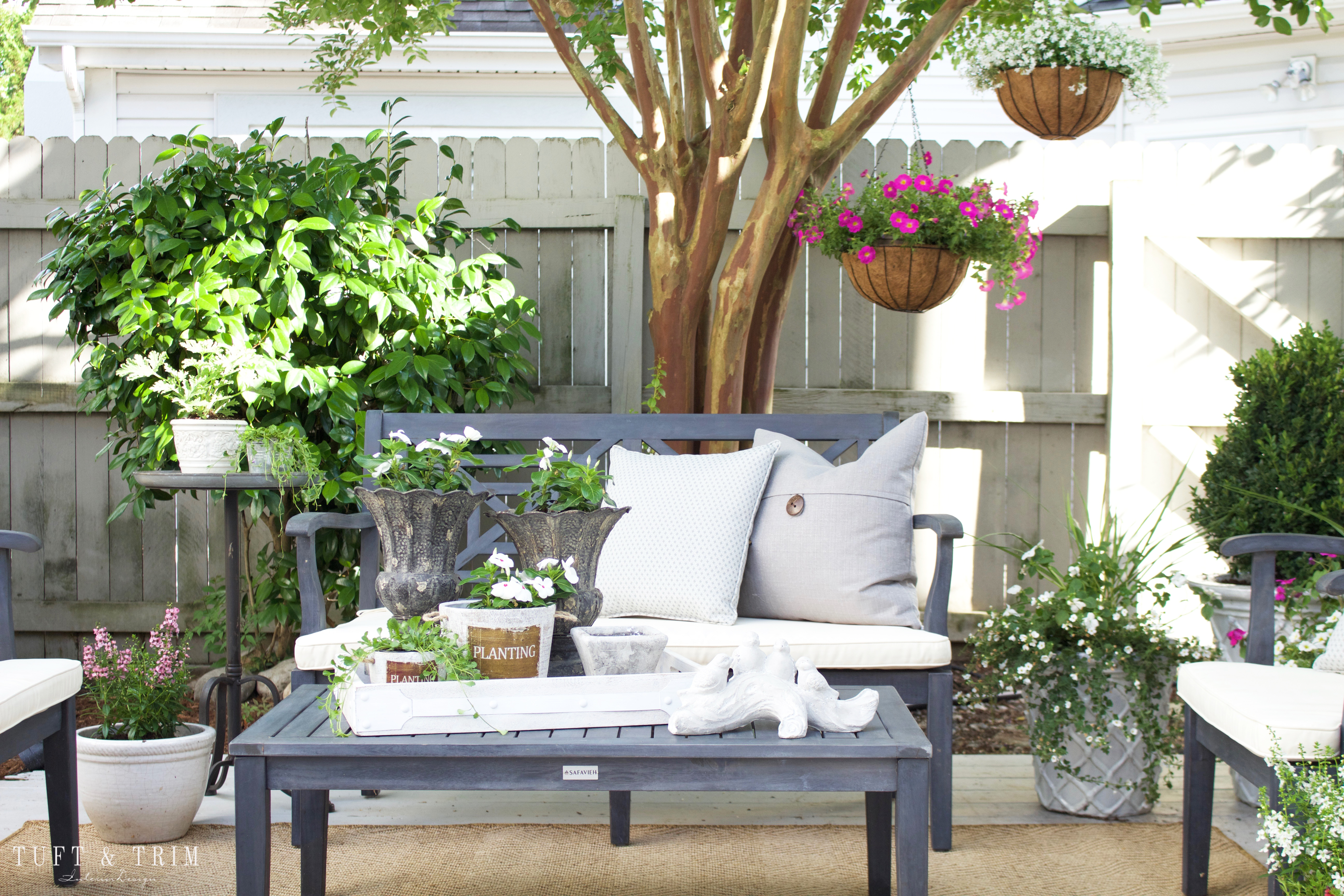 Our backyard isn't too big, but there's just enough room for us. On the deck we have a conversation set, bbq, and small table with chairs surrounded by a little garden and walkway. I never thought our backyard would be picture worthy (and I'm still not sure it is) but it has come a long way. There's still a lot to be done, but you'll be amazed at the difference after looking at the before pictures!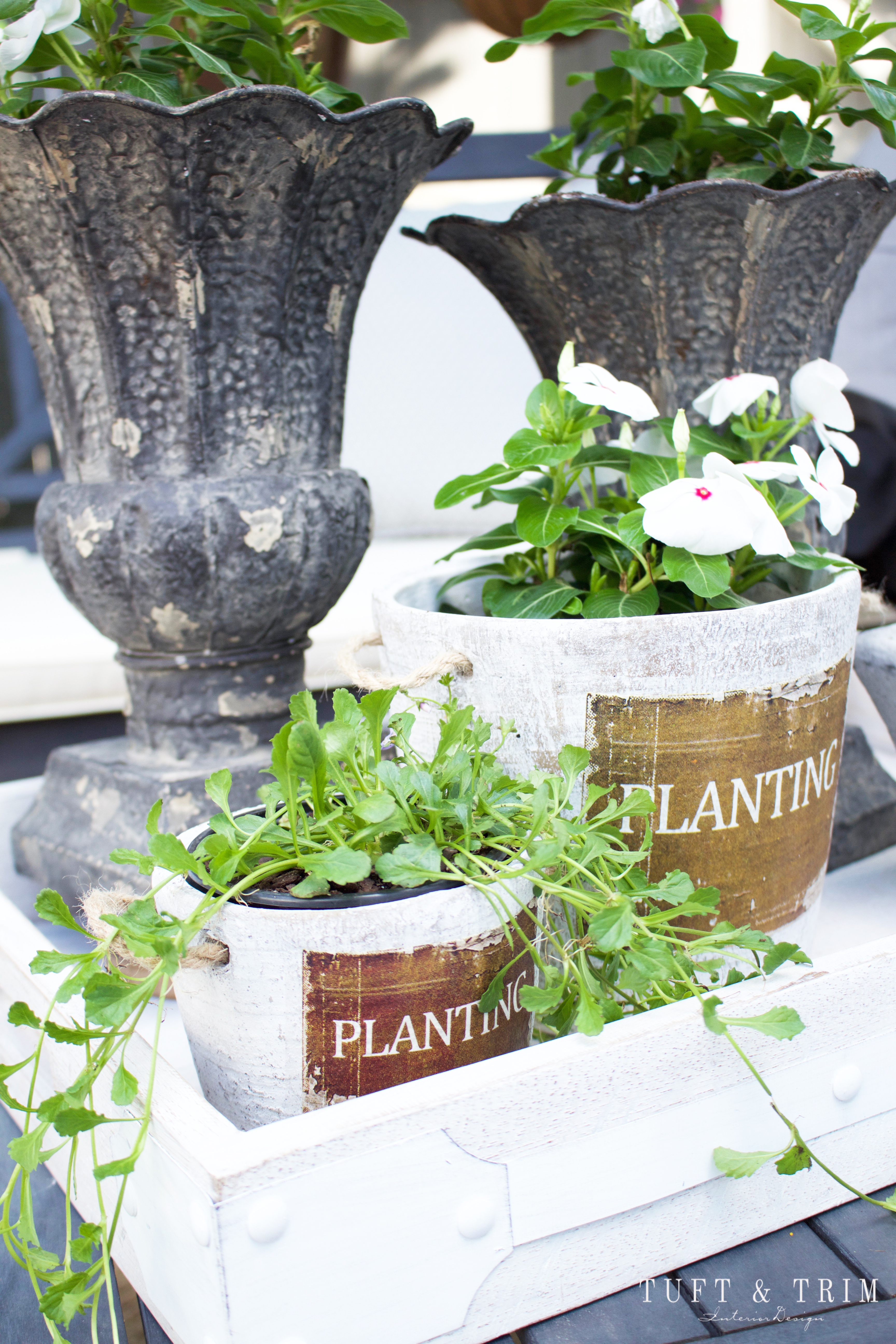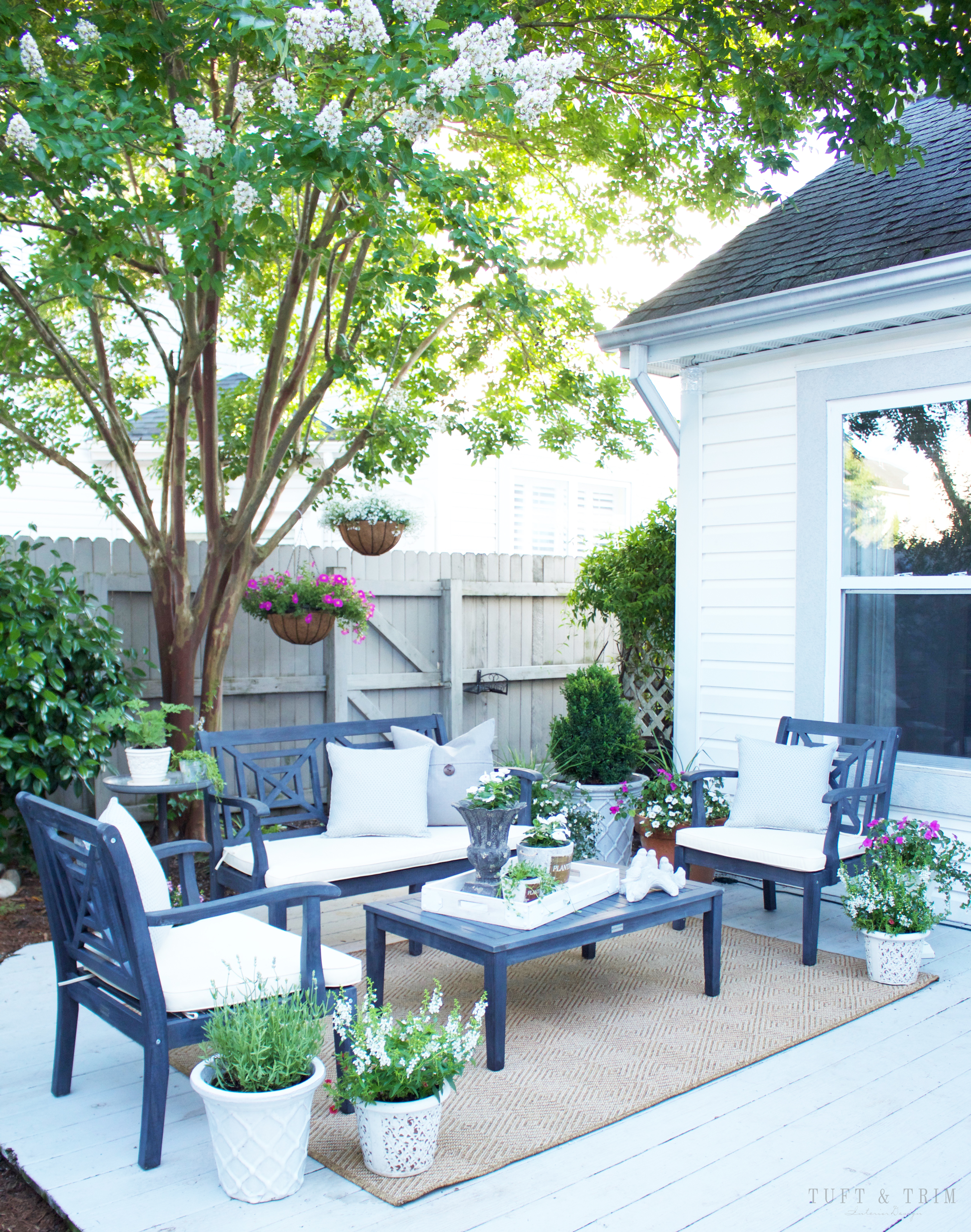 Our new seating arrangement has been great for entertaining friends, lazy wine nights, and summer BBQs. There was originally a large table that we didn't have much need for so we decided to make it a lounge area. I found this adorable conversation set on wayfair for a great price and highly recommend it if you're looking for one for your own backyard.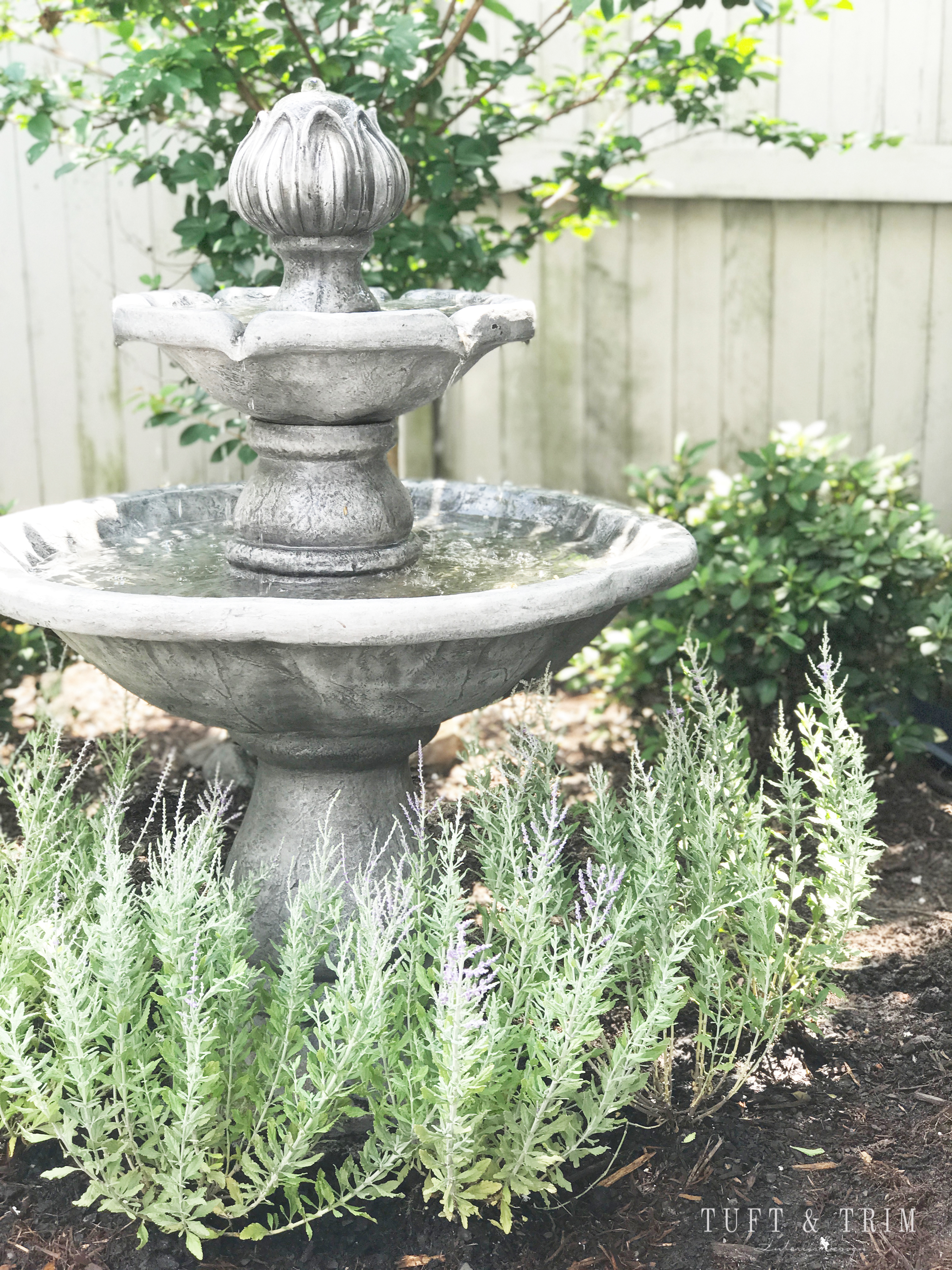 This fountain was another great addition that we added this spring. At first I wasn't sure about adding a fountain, but I ended up loving how peaceful it sounds. Surrounding the fountain is Russian Sage, I liked it because it looks like lavender, but was quite a bit cheaper.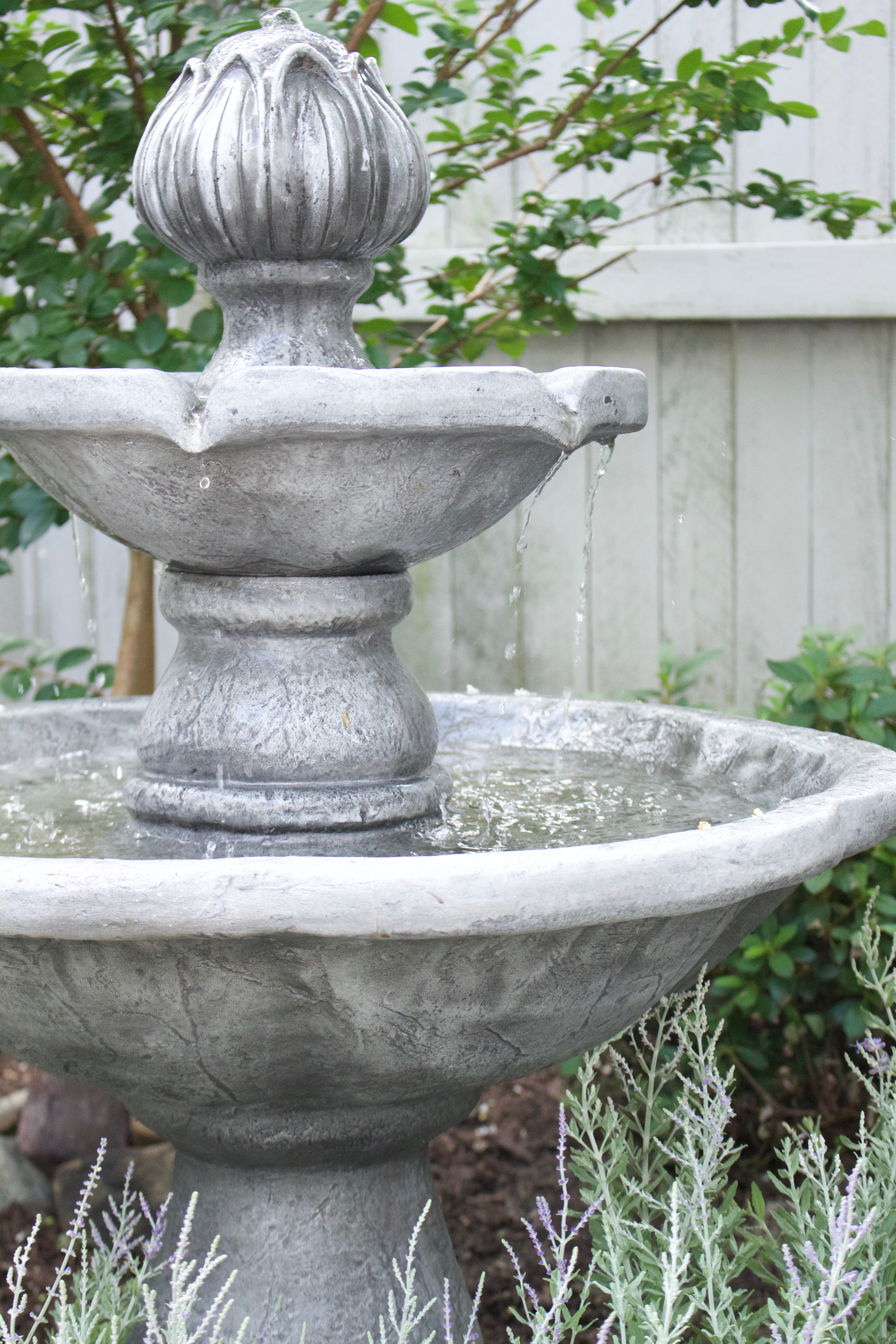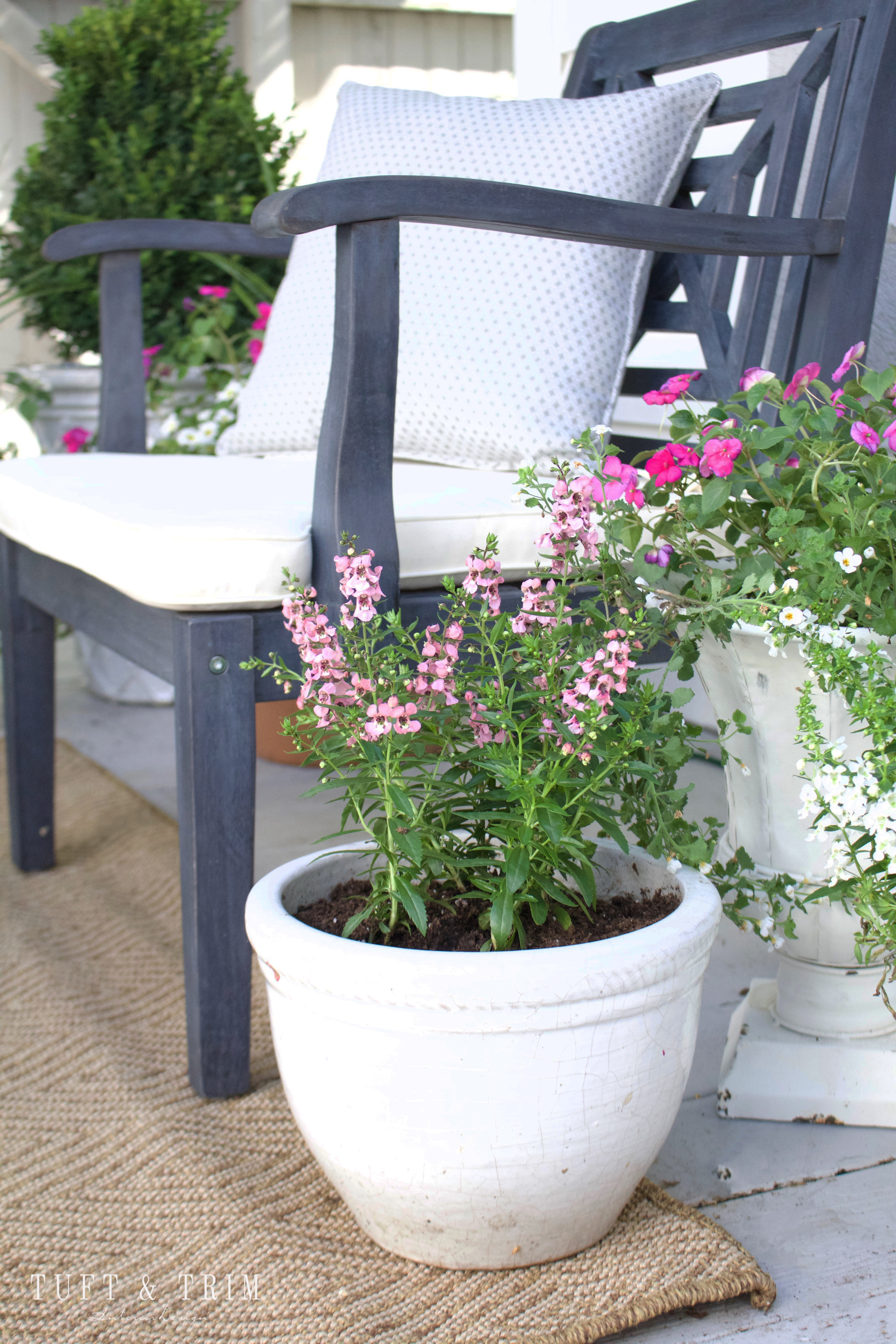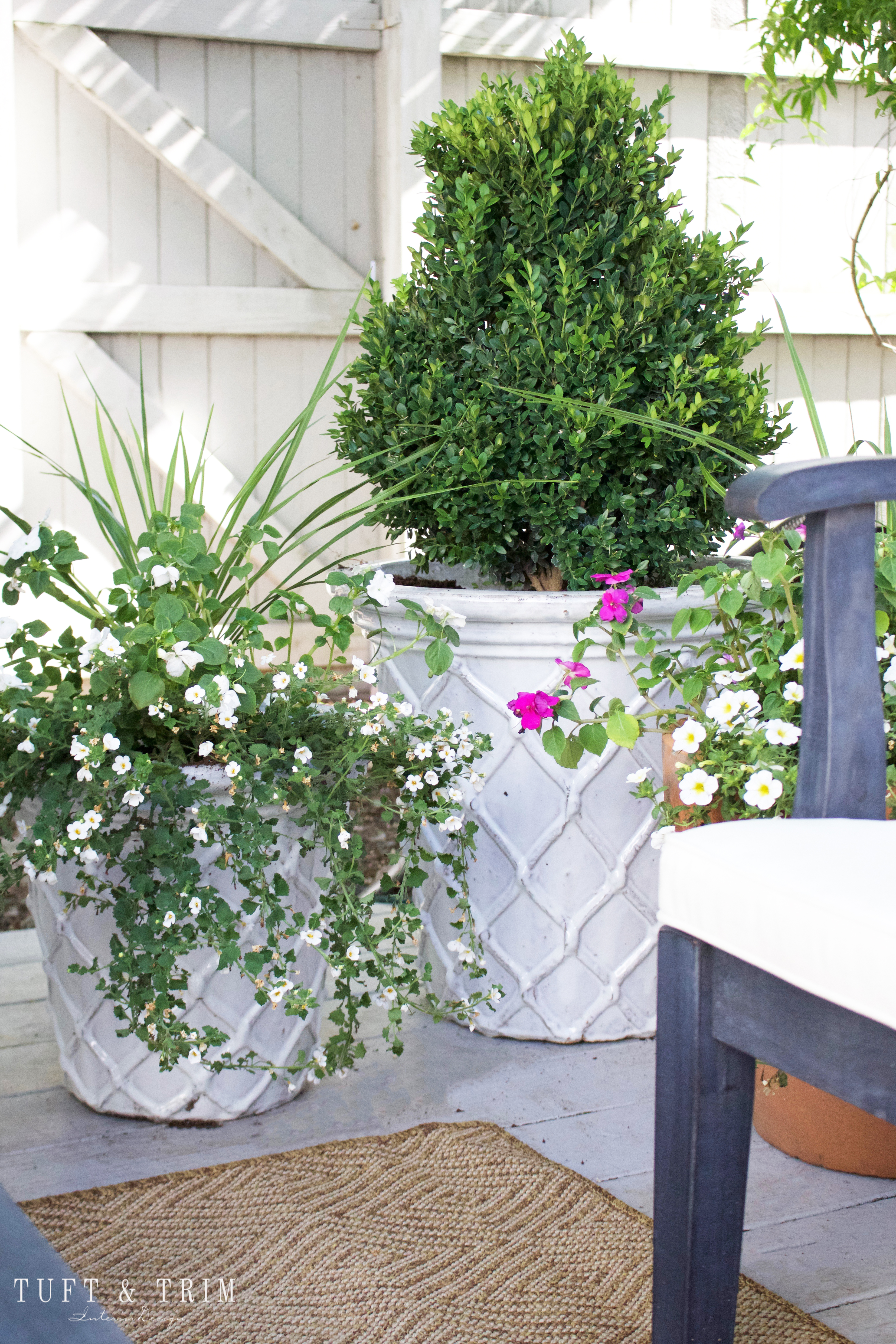 Ever looking for affordable flower pots? My "go-to" is Home Goods. All of my white pots I found there and they were half the price of most places. Scattering nice pots around your outdoor space can really help it feel more inviting and add personality. I'm loving the lavender I planted and hoping to plant a herb garden soon.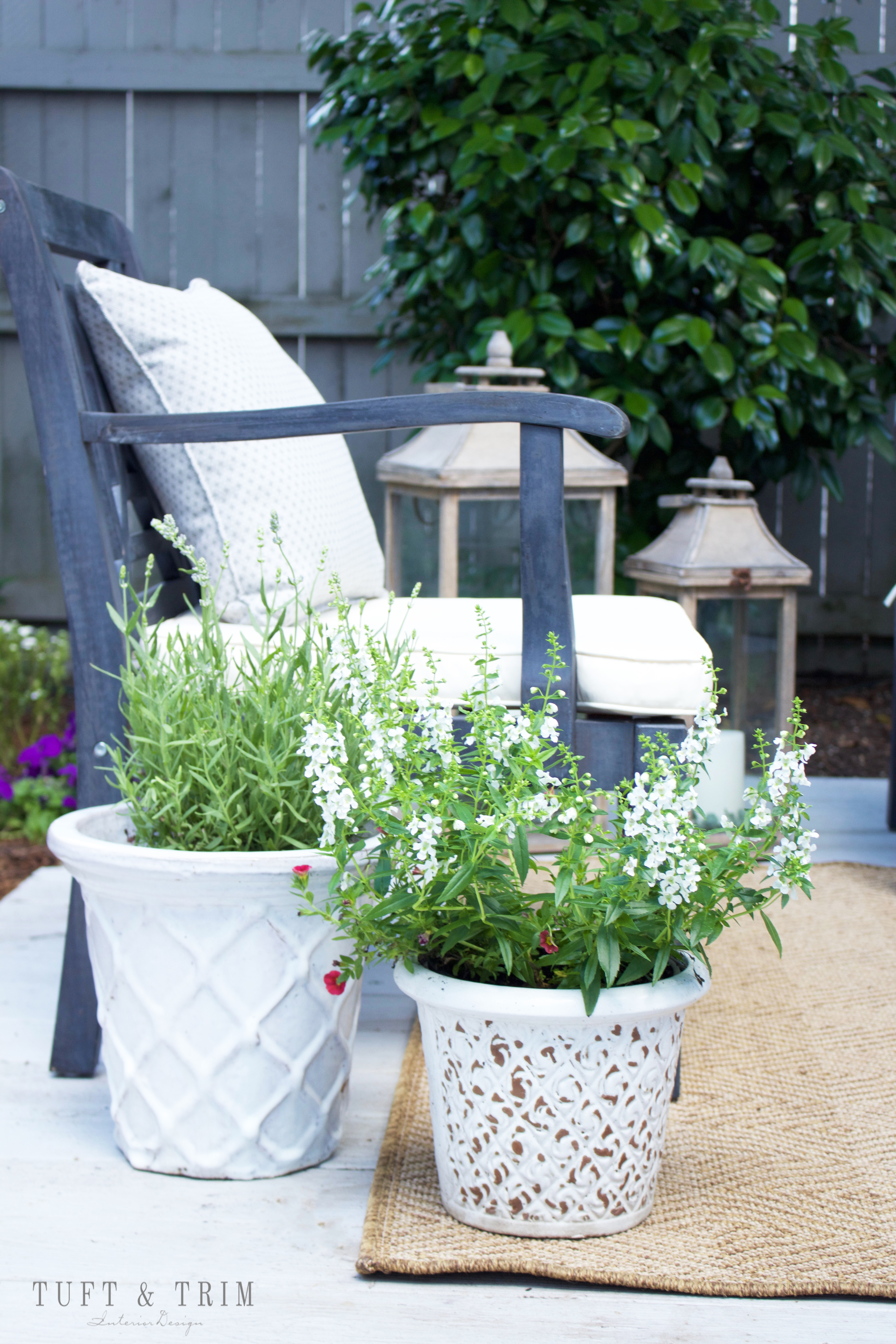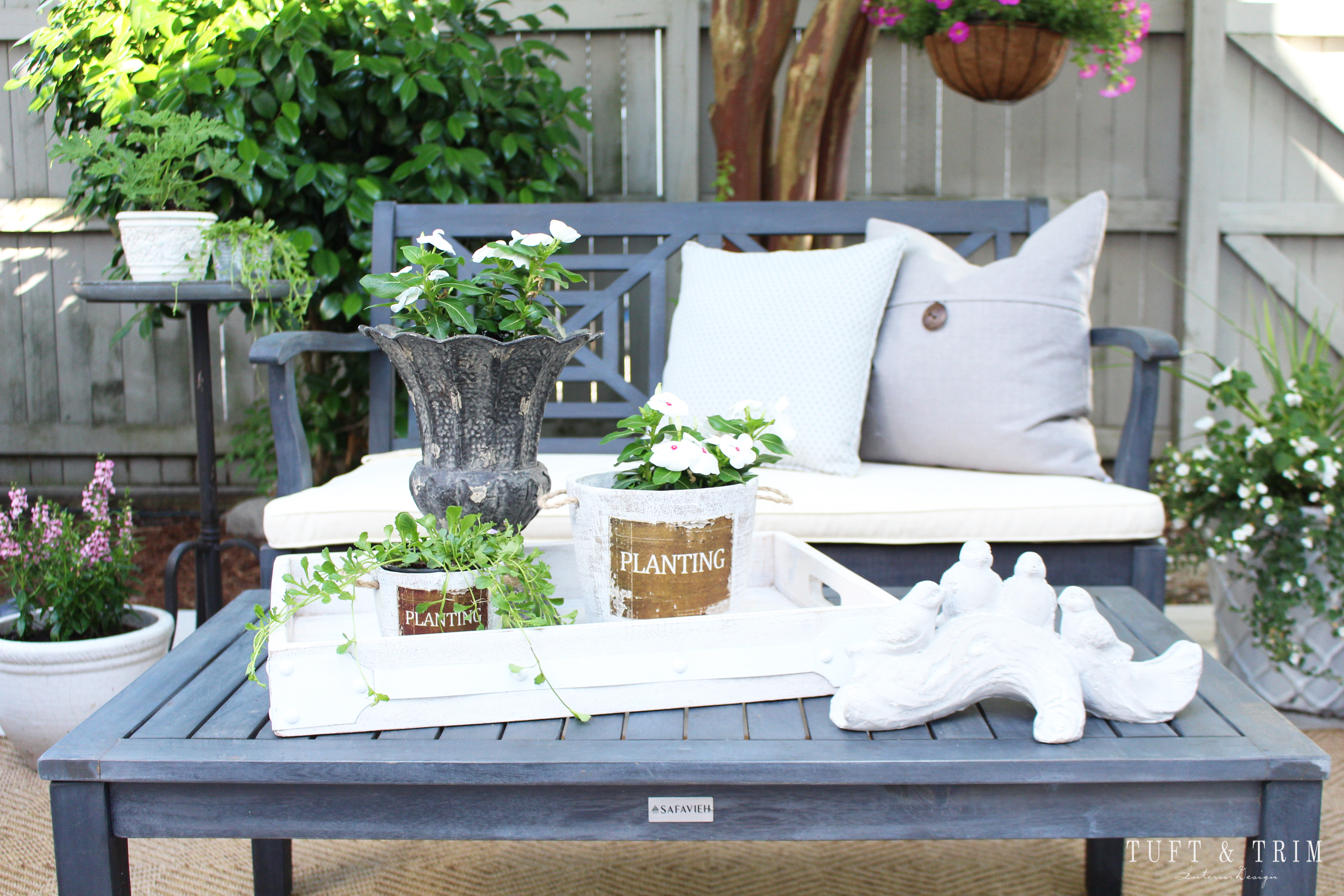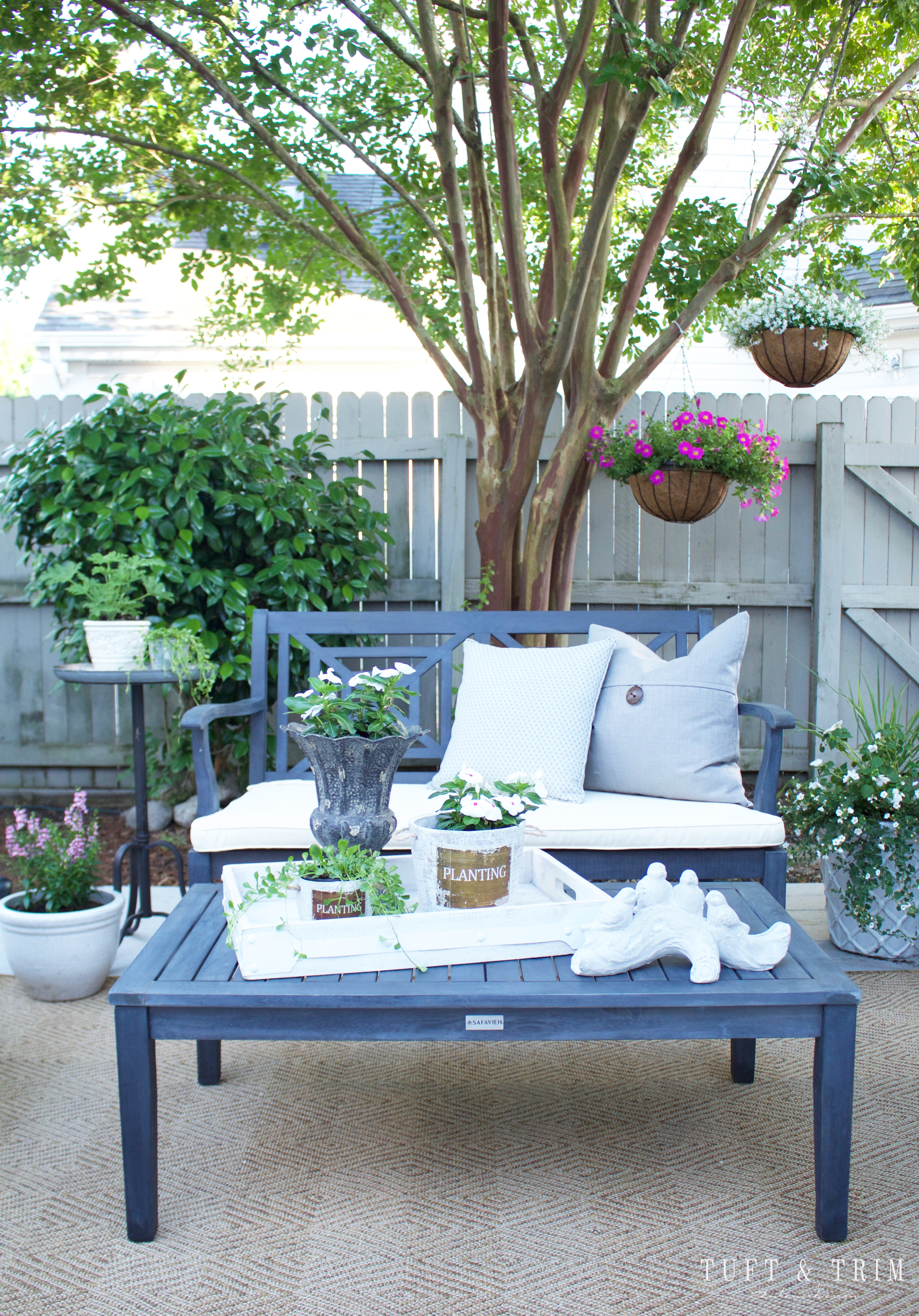 The area rug, cushions, and pillows make the space feel cozy and inviting.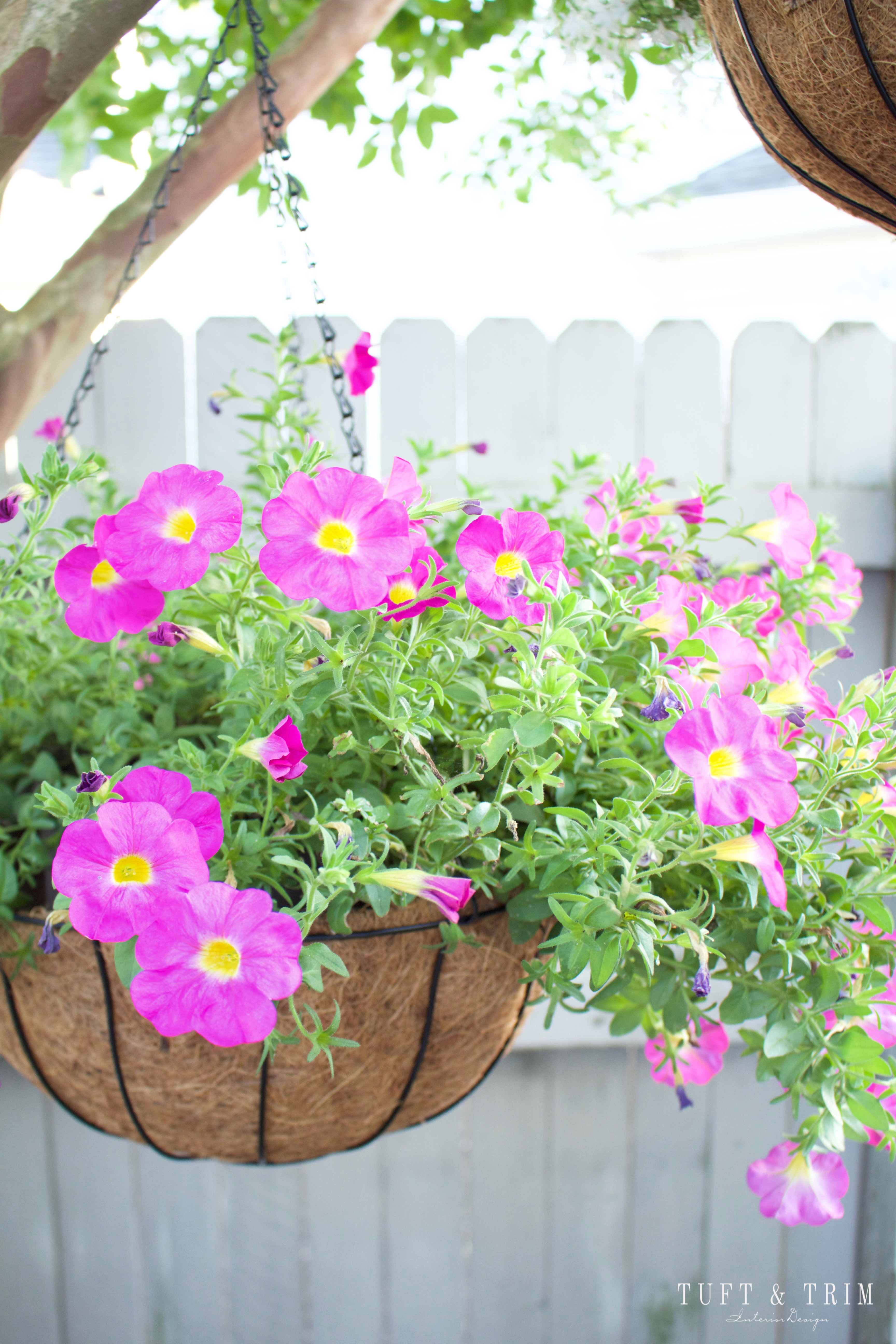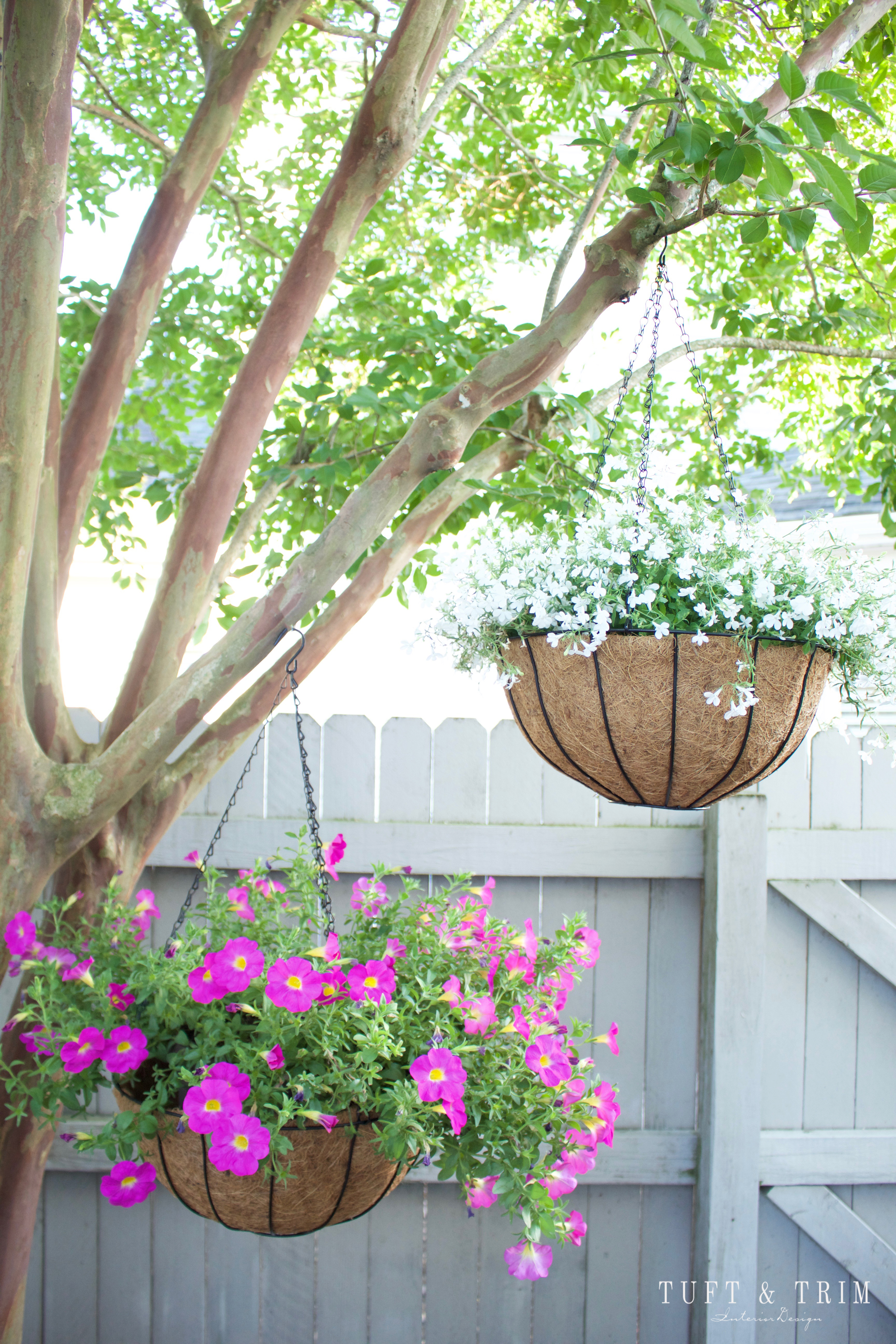 So now that you've seen our backyard at it's current state, lets take a step back to the before pictures. The transformation will blow you away!
Before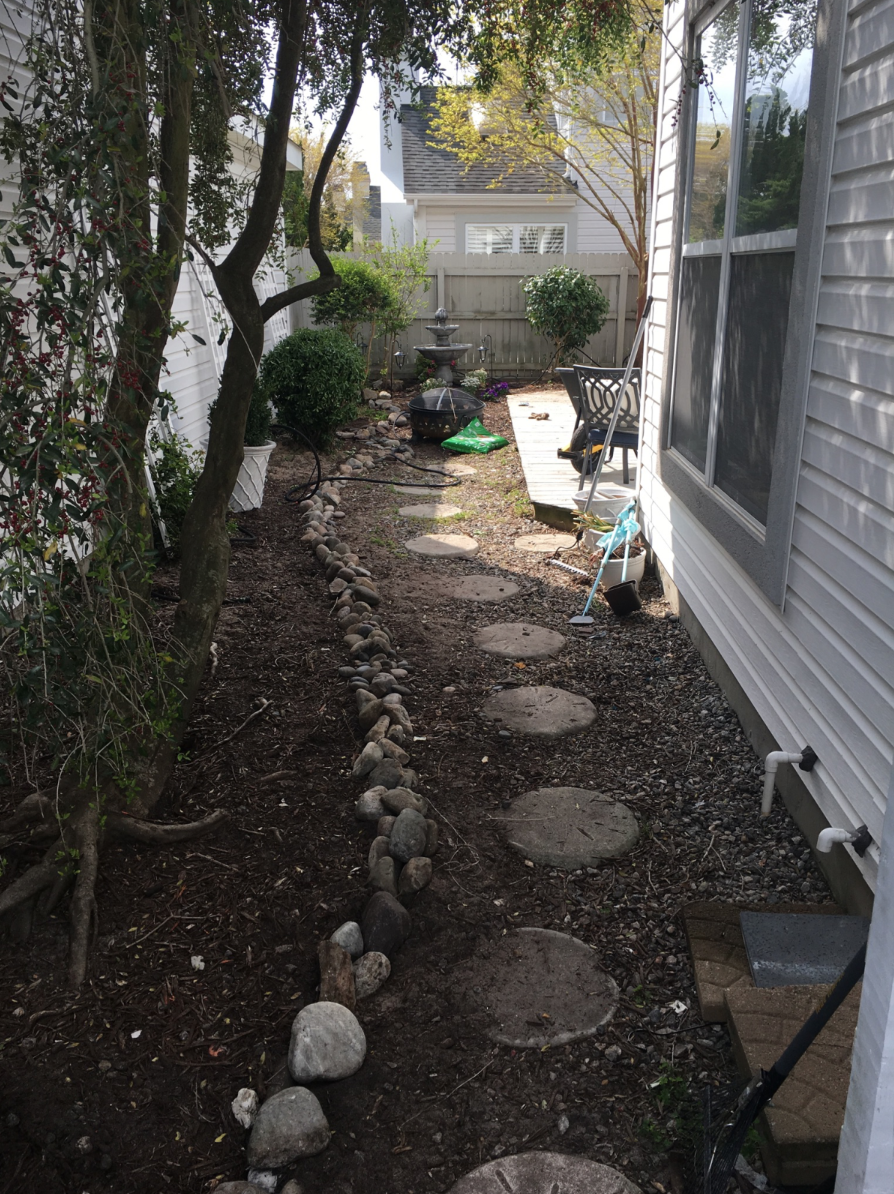 When we moved into our home last year, the whole backyard was overgrown and a mess. Lucky for me, my husband is a handy man and was able to put in a stone walkway as shown below. We loved the way it turned out and if you do too and are looking for something similar, you can shop it here.
During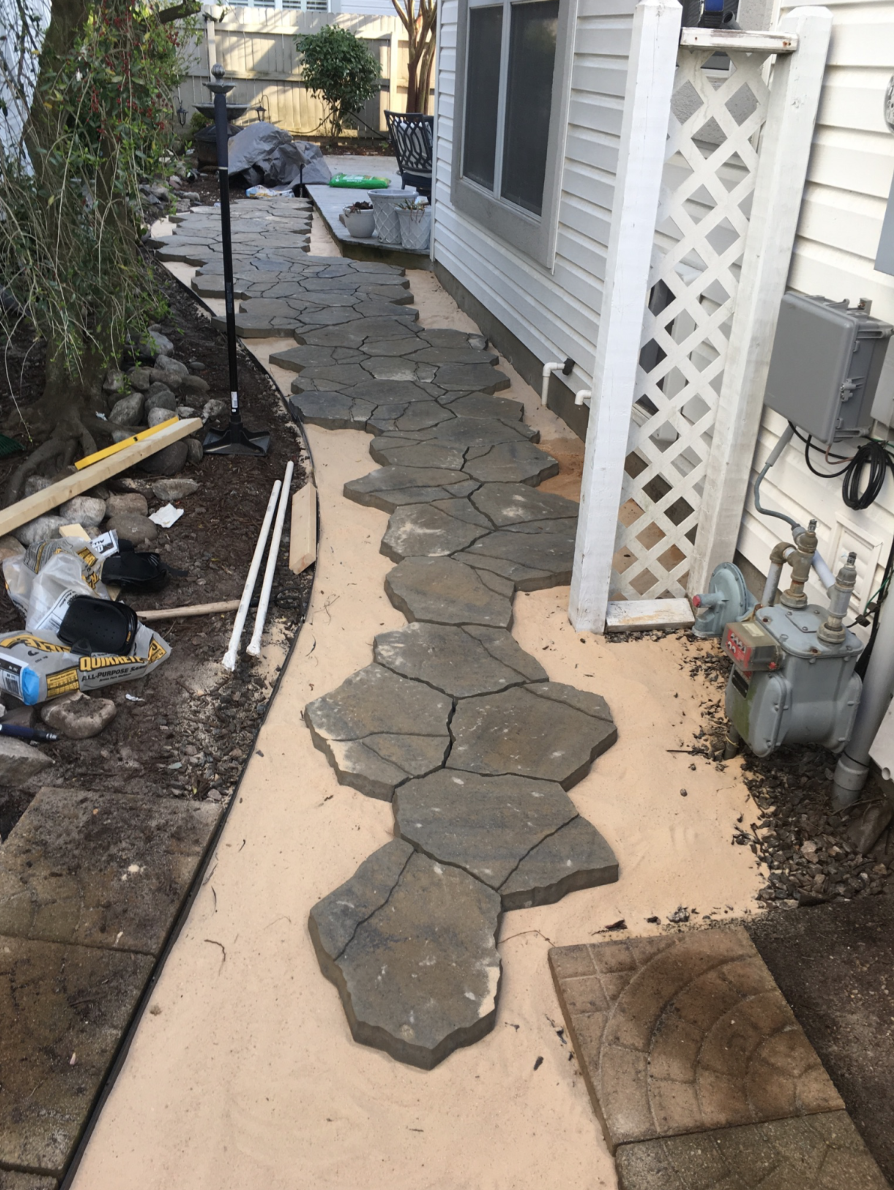 After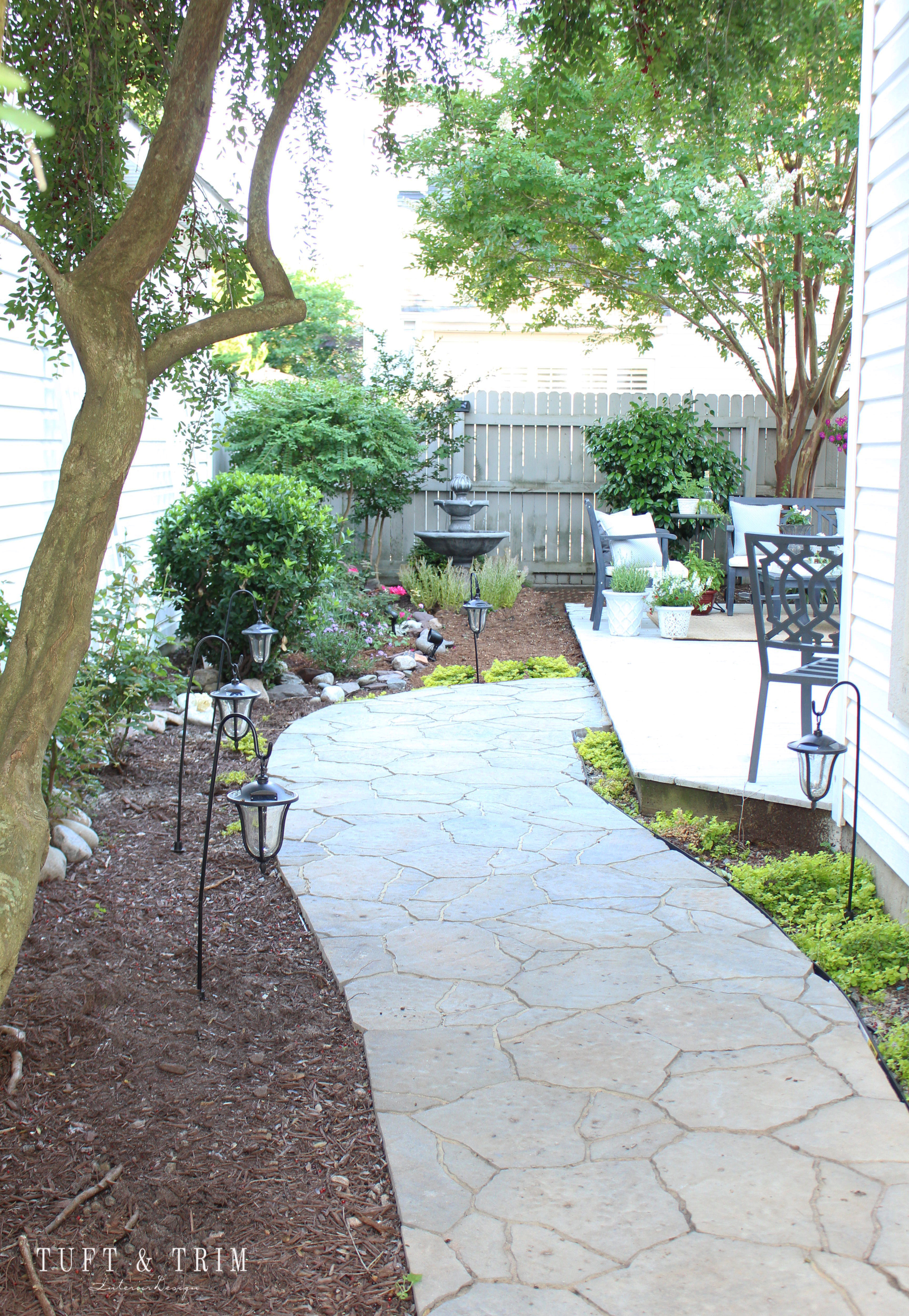 If your looking for ways to update your backyard, try some solar powered lighting. We lined the walkway with these hanging solar powered lights from Lowes. They made such a difference and really highlighted the new stone walkway.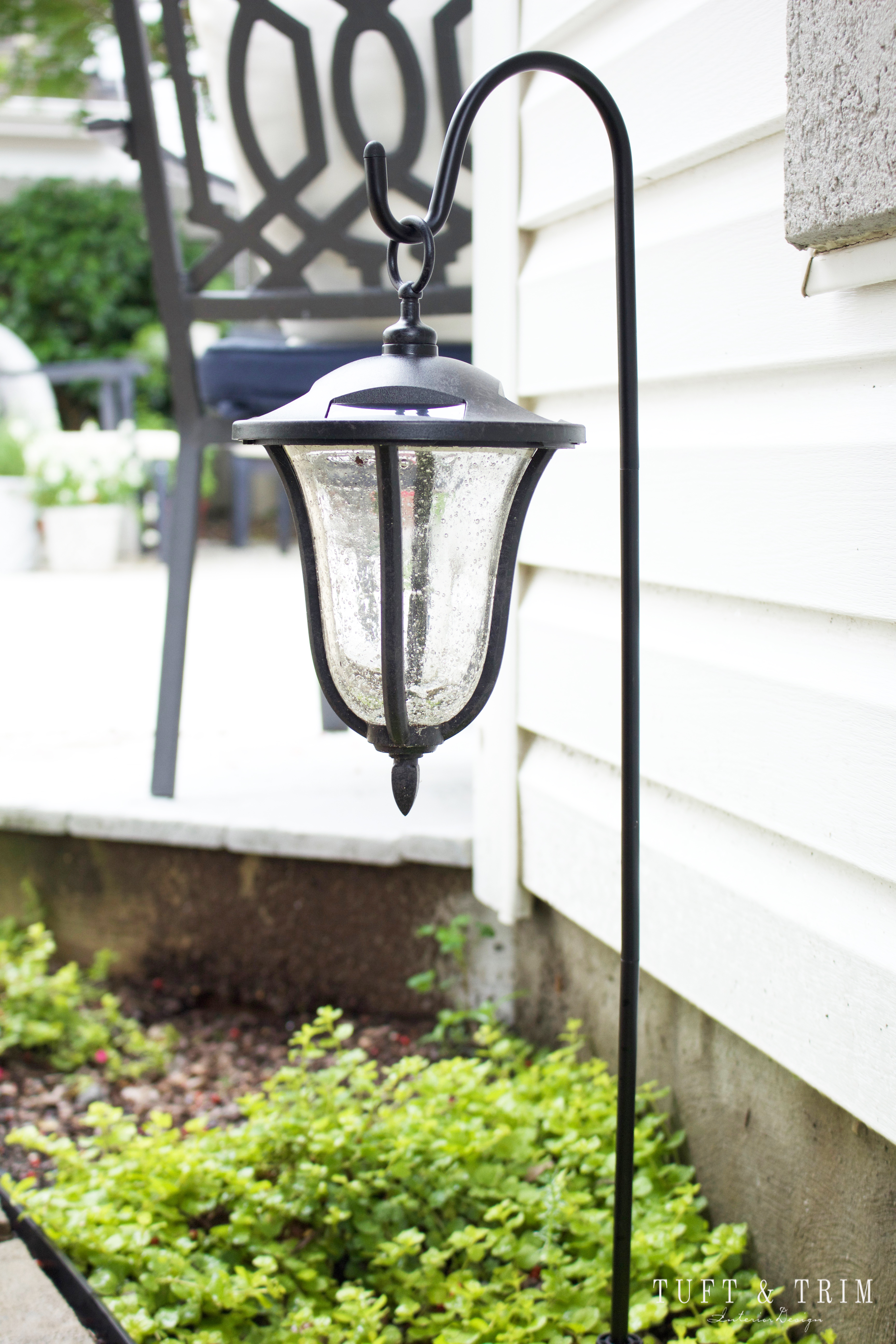 What do you think? Doesn't the new walkway make the world of difference? 
Before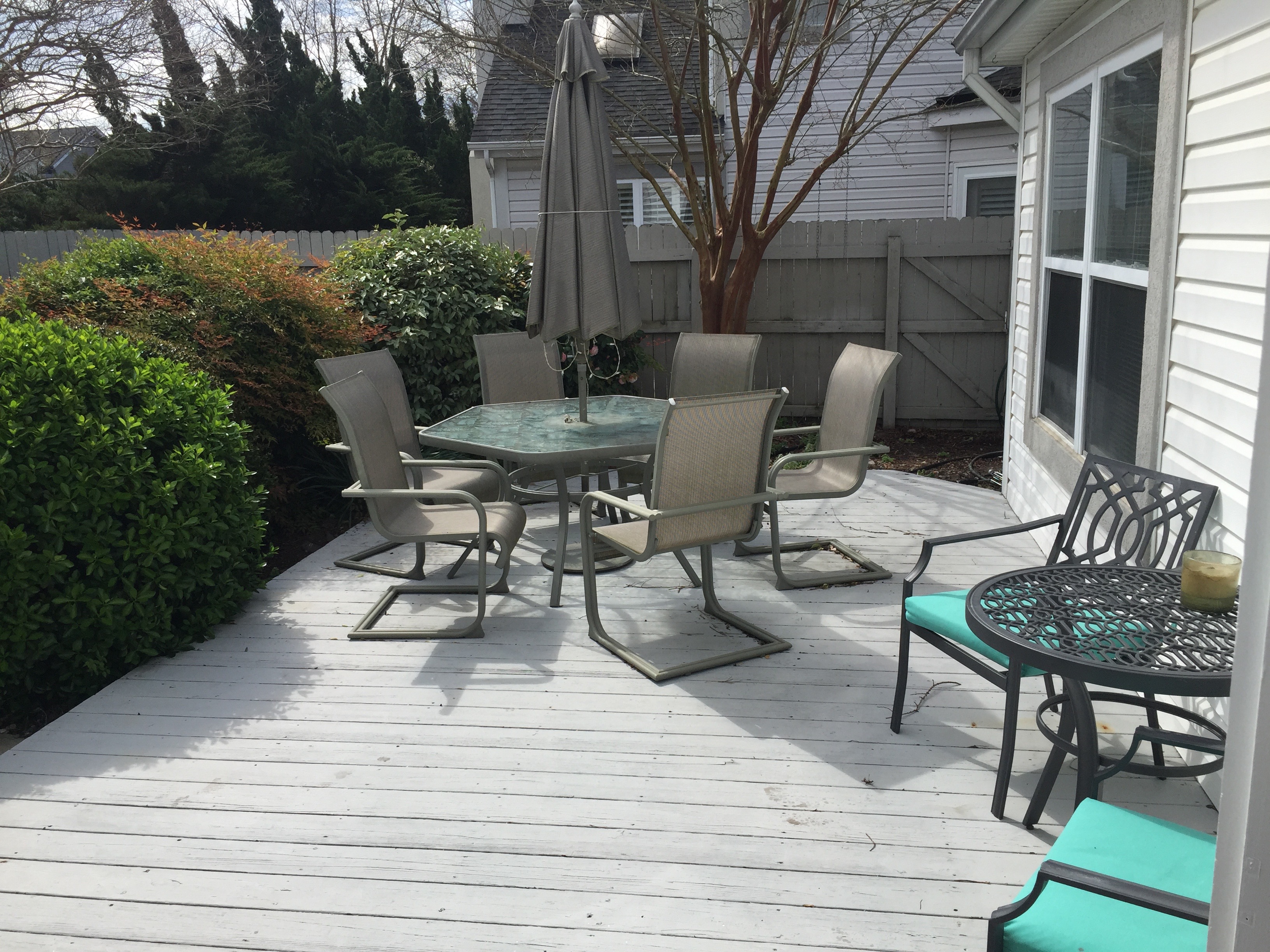 Here's a picture of the overgrown bushes we had framing the deck. Who would have known how much space we'd free up by trimming those down. We relocated 2 of them and removed one and it really changed the whole space.
After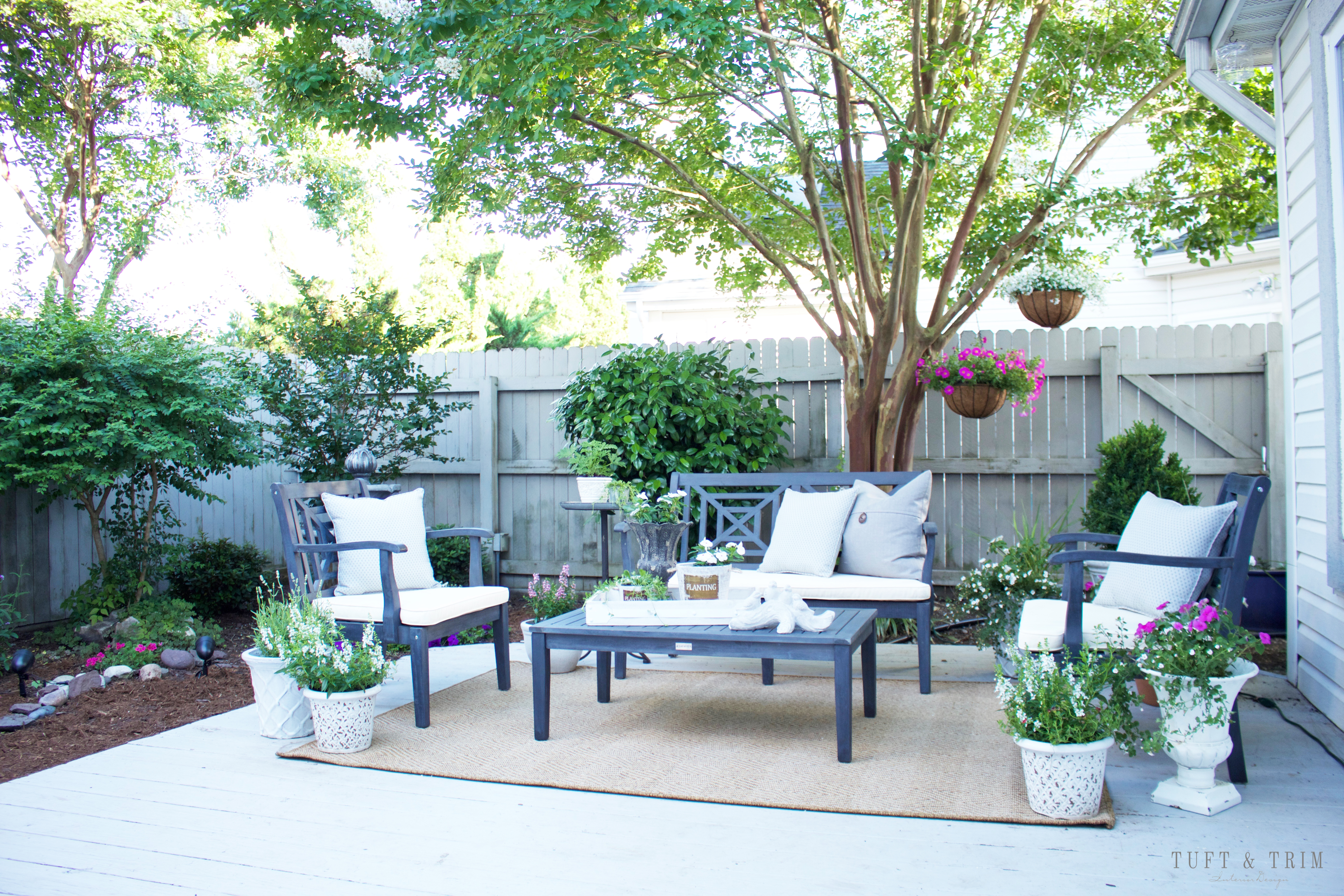 Isn't it amazing how those small changes affected the space? We love our new outdoor living space and look forward to improving our garden! If you are wanting to update your backyard but feel overwhelmed like I did, don't give up! This transformation happened over several months and with a small budget. You got to start somewhere! See anything you like? Shop the look below!
[carousel_slide id='3391′]
Thank you so much for stopping by, I hope you enjoyed my portion of the outdoor living tour. Please come visit again soon, and  if you're not already subscribed to my mailing list, please feel free to sign up below! You can also stay up to date by following me on Pinterest, Instagram, and facebook. Now on to your next stop with The Greenspring Home.

Widget not in any sidebars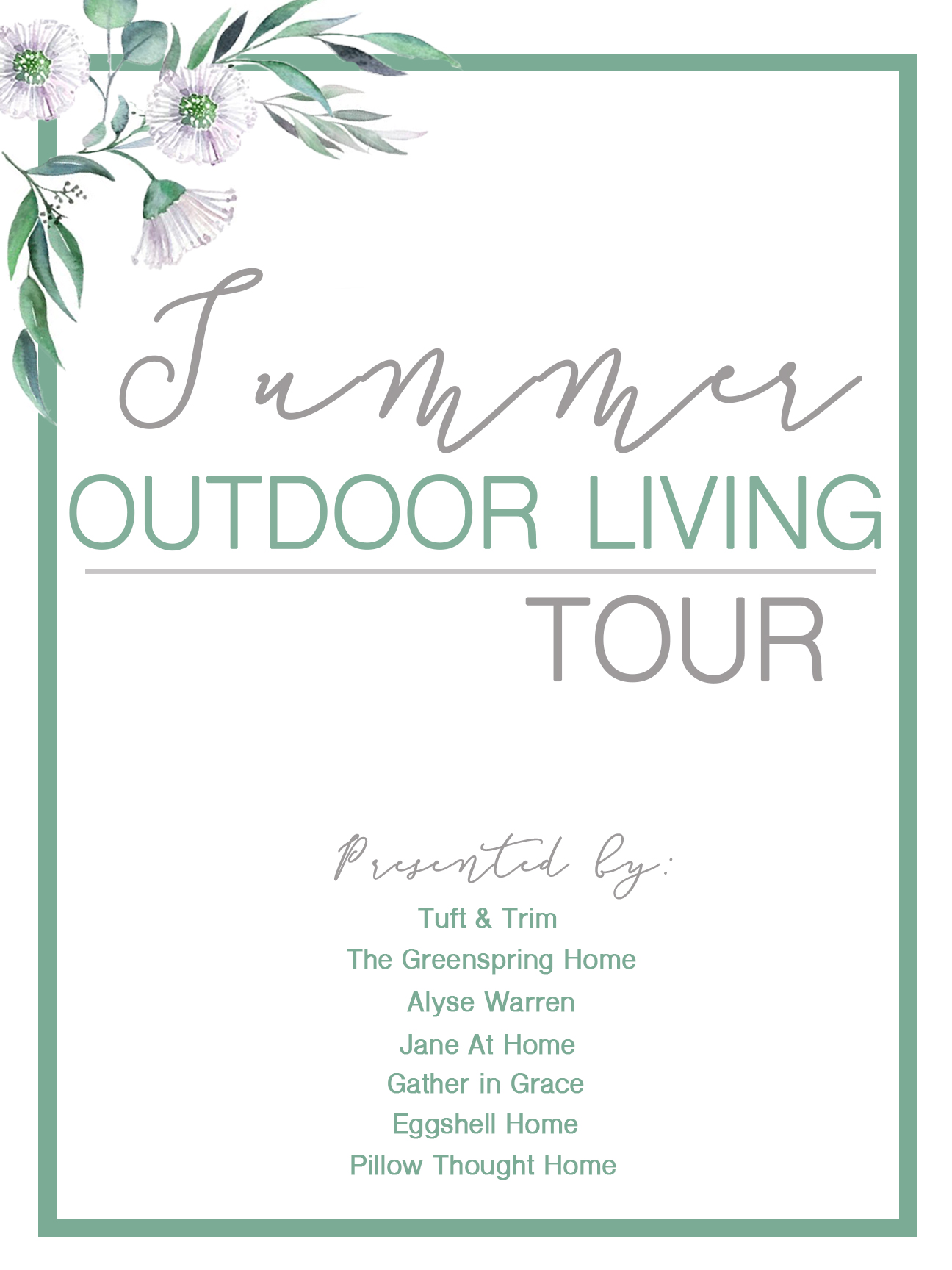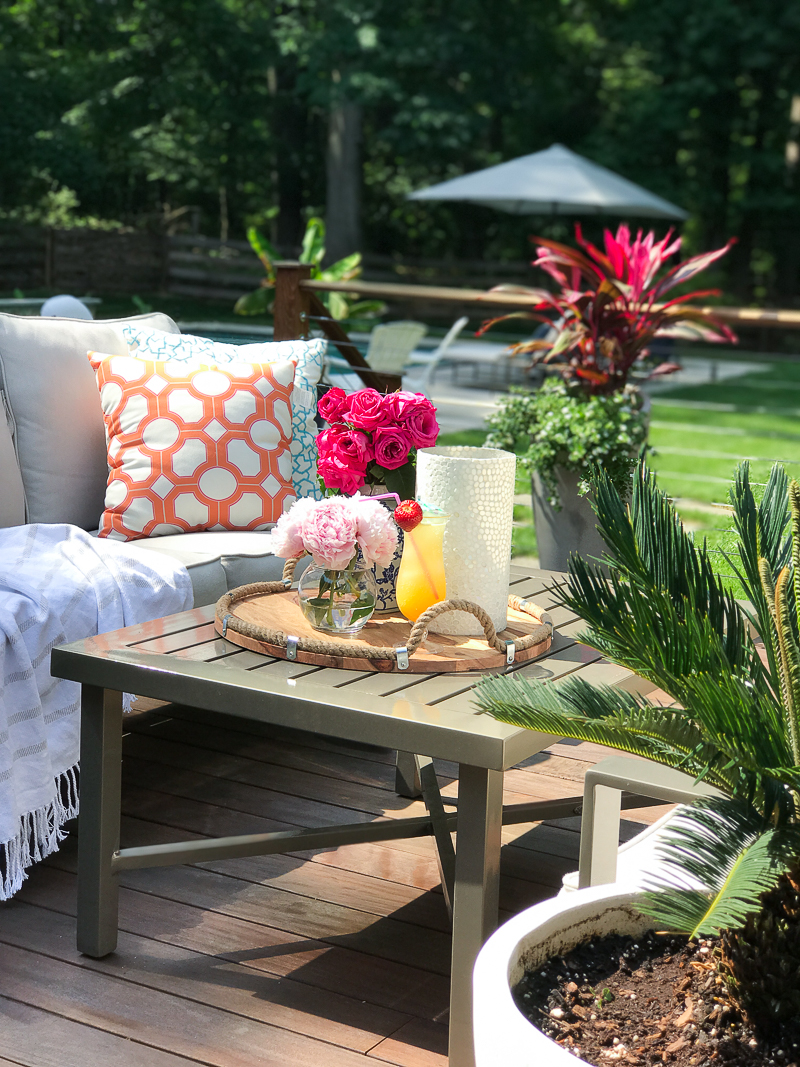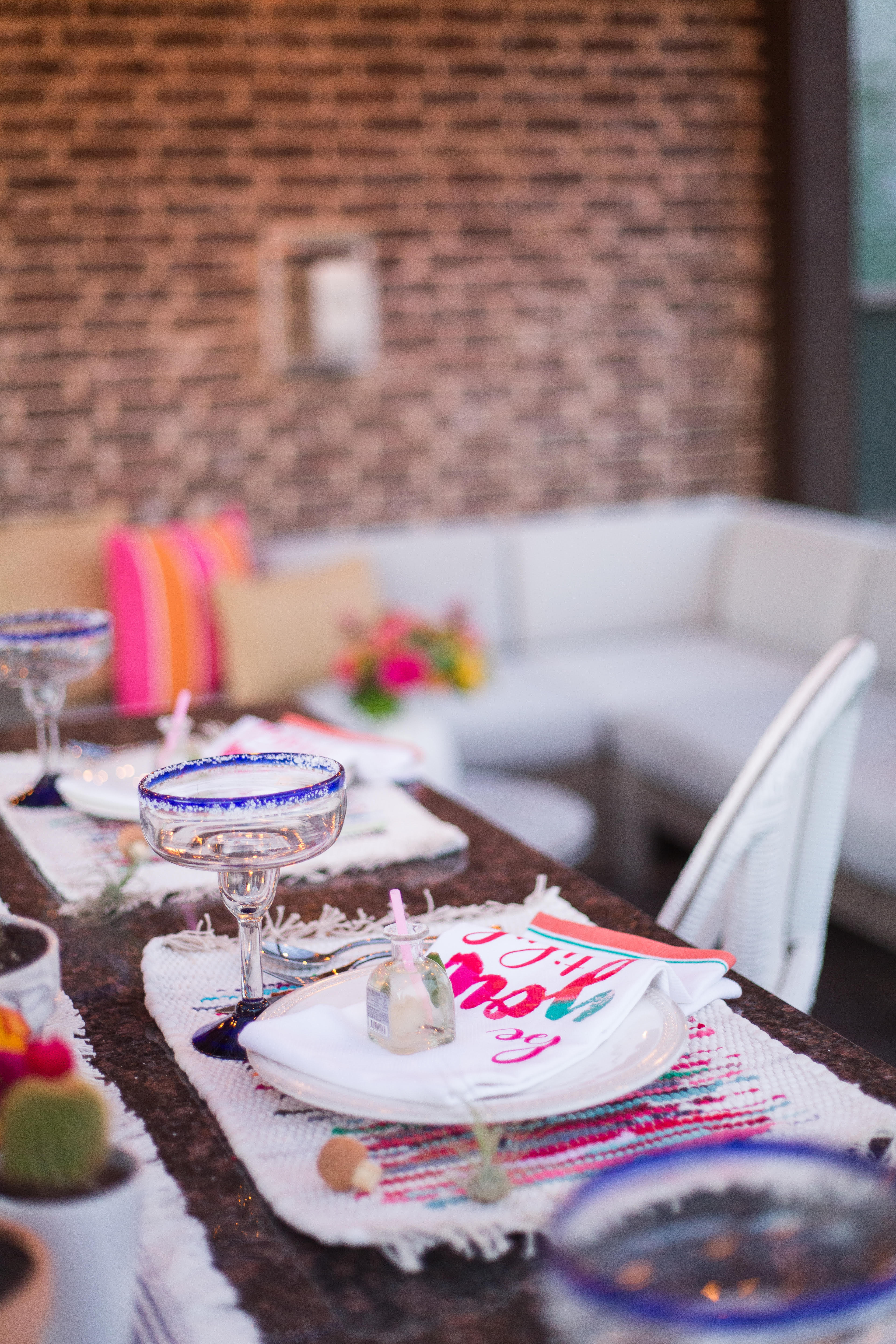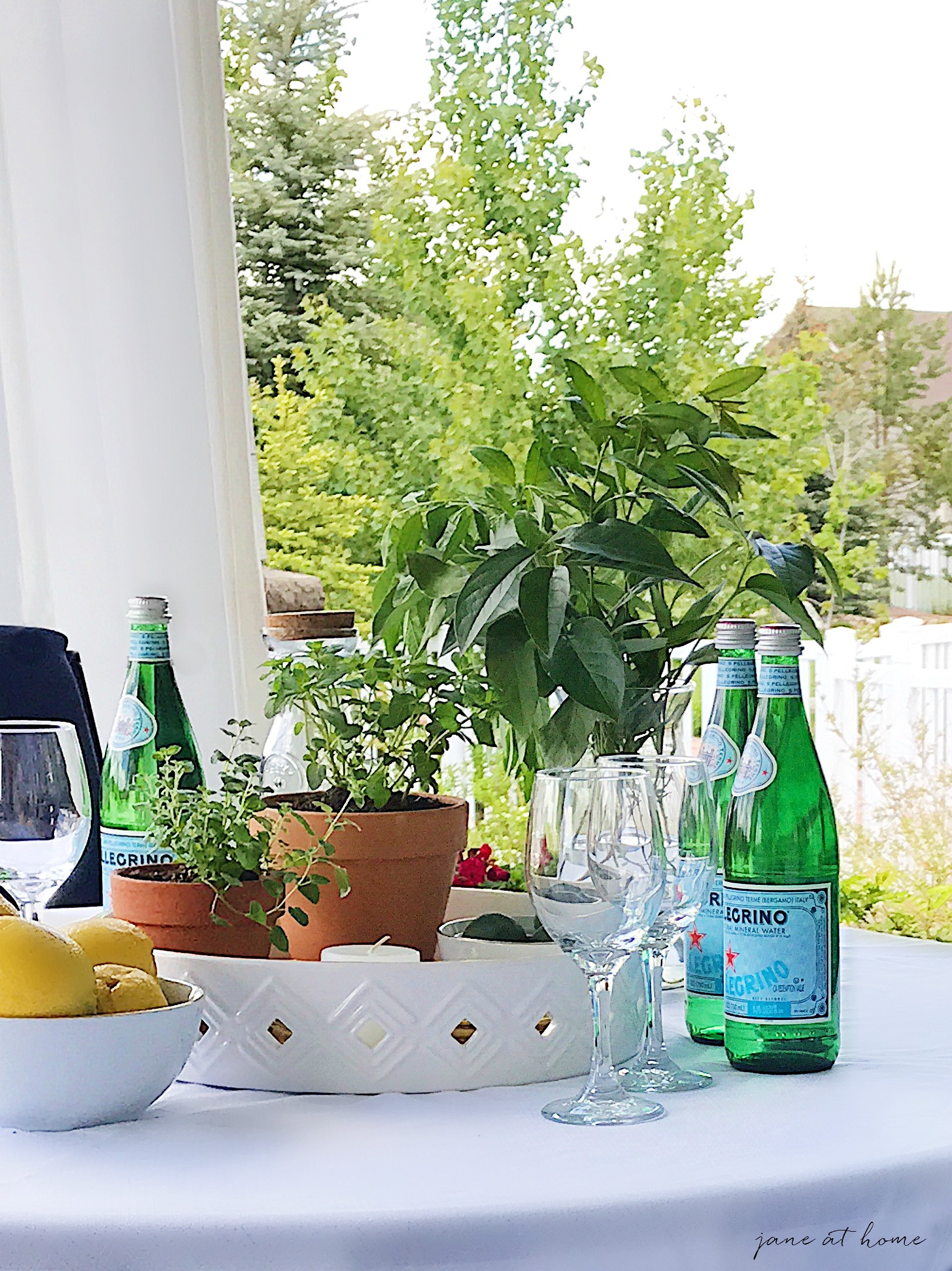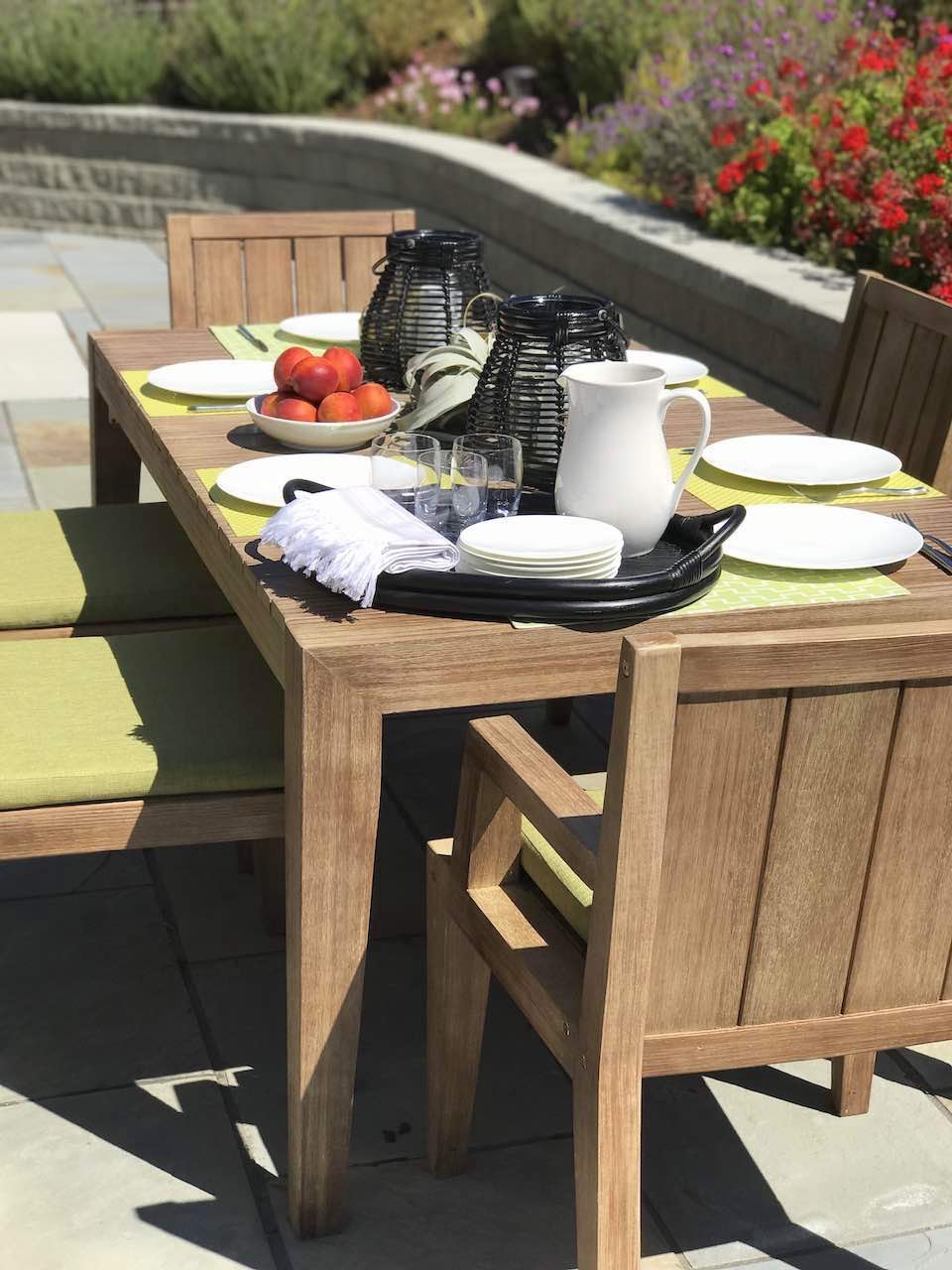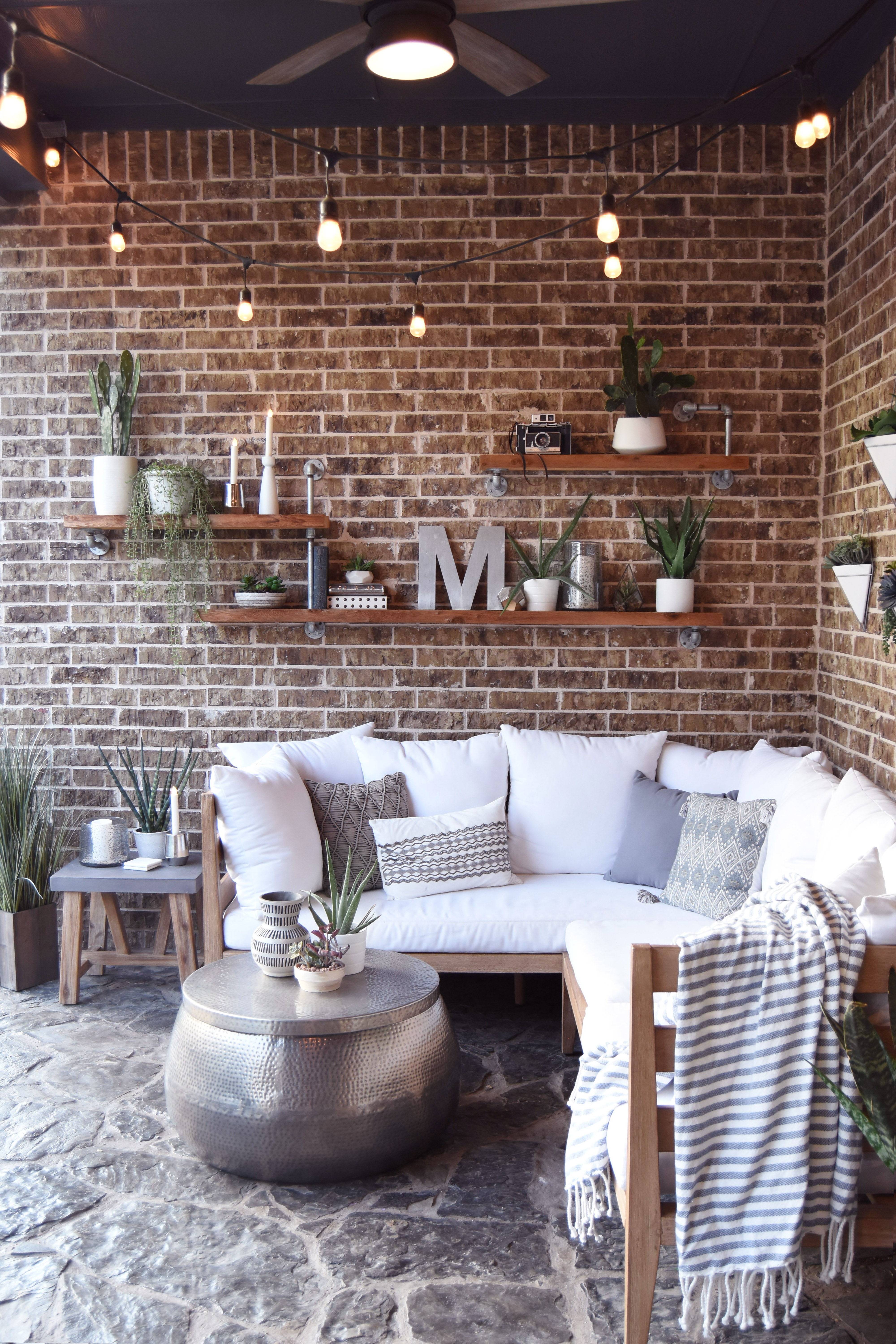 Related posts: