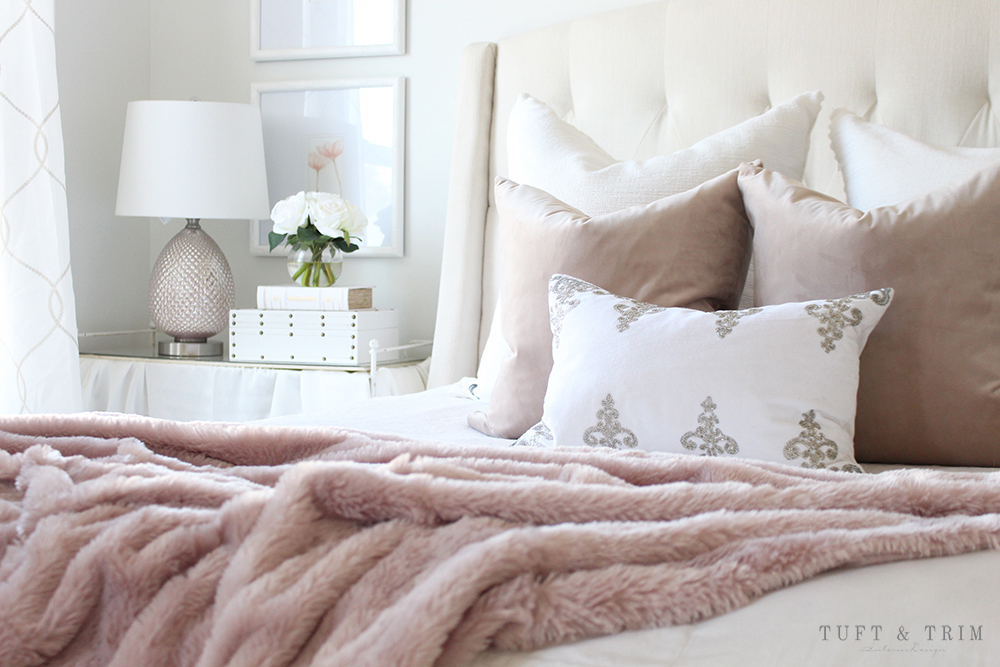 Today's the day! Thank you so much for stopping by and joining me for the final room design reveal. For those of you who haven't been following along, during the past two weeks I have been working on designing a bedroom and home office space. One of my goals throughout this project has been to show you, step by step, how you can create something beautiful, even with a small budget. If your interested in seeing the previous posts, you can catch up by following the links below:
Concept & Inspiration  .  Before Pictures   .  Progress & Sneak Peek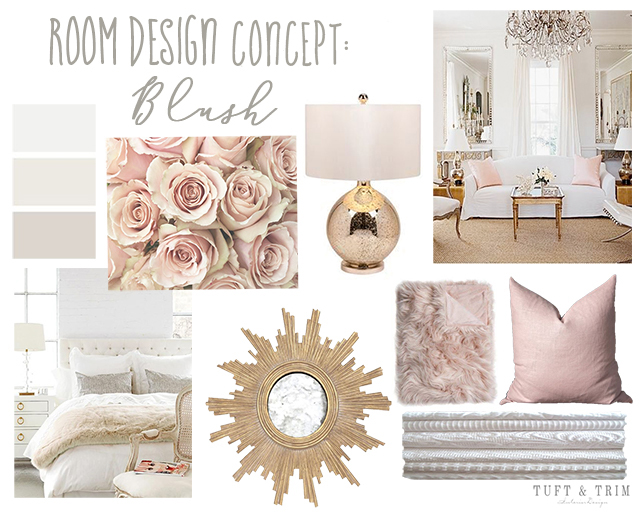 This design concept shows the look I was hoping to achieve. As expected, some things have changed, but overall, I think the final design aligns pretty close to what was originally planned. But I'll let you see for yourself.
Follow along as I reveal the final room transformation!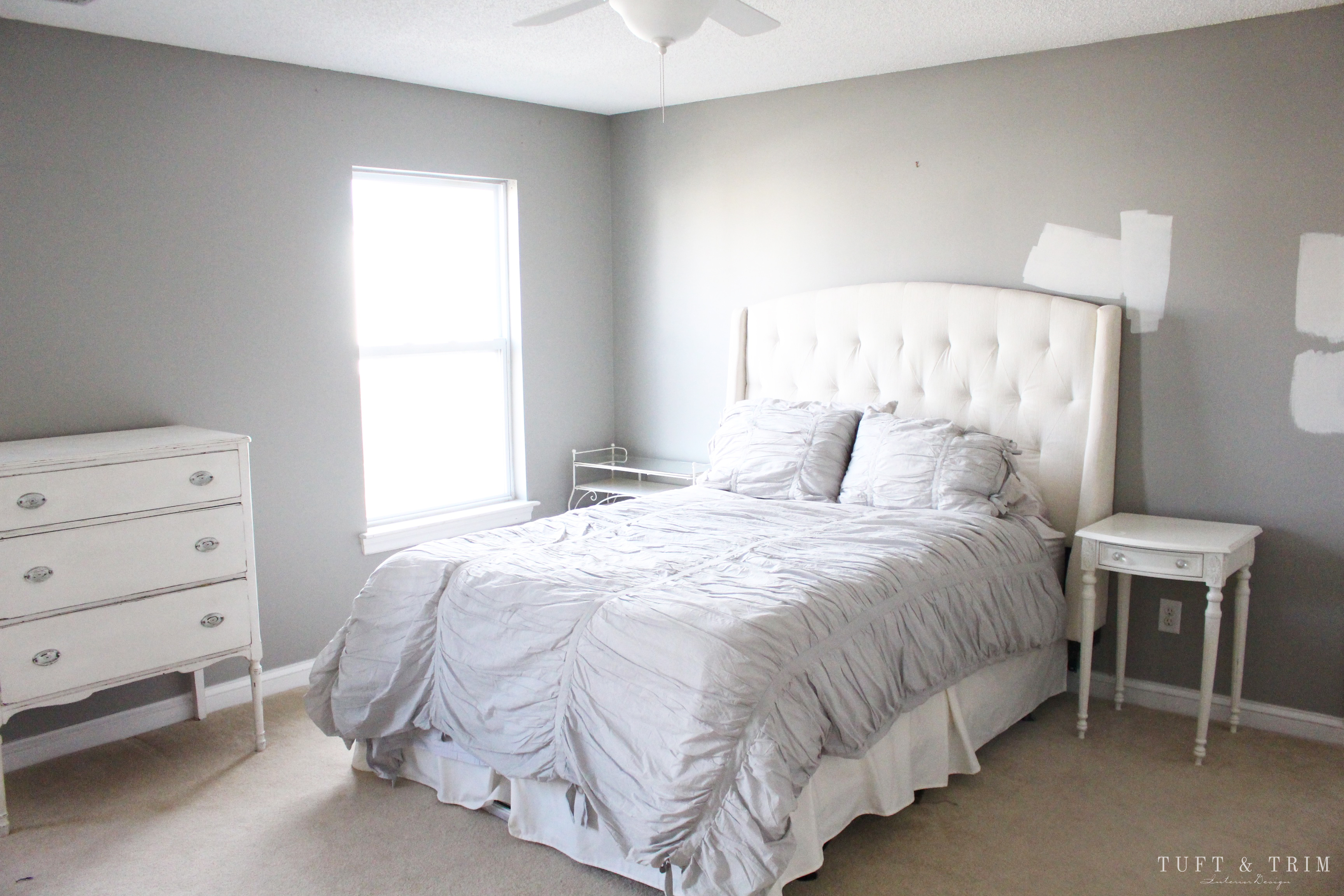 Lets get started by reviewing the previous rooms' decor. The walls were gray and the room needed to be brightened up. My intent was to use all the remaining furniture pieces and find ways to incorporate some of the stuff I already had, while updating some of the existing decor.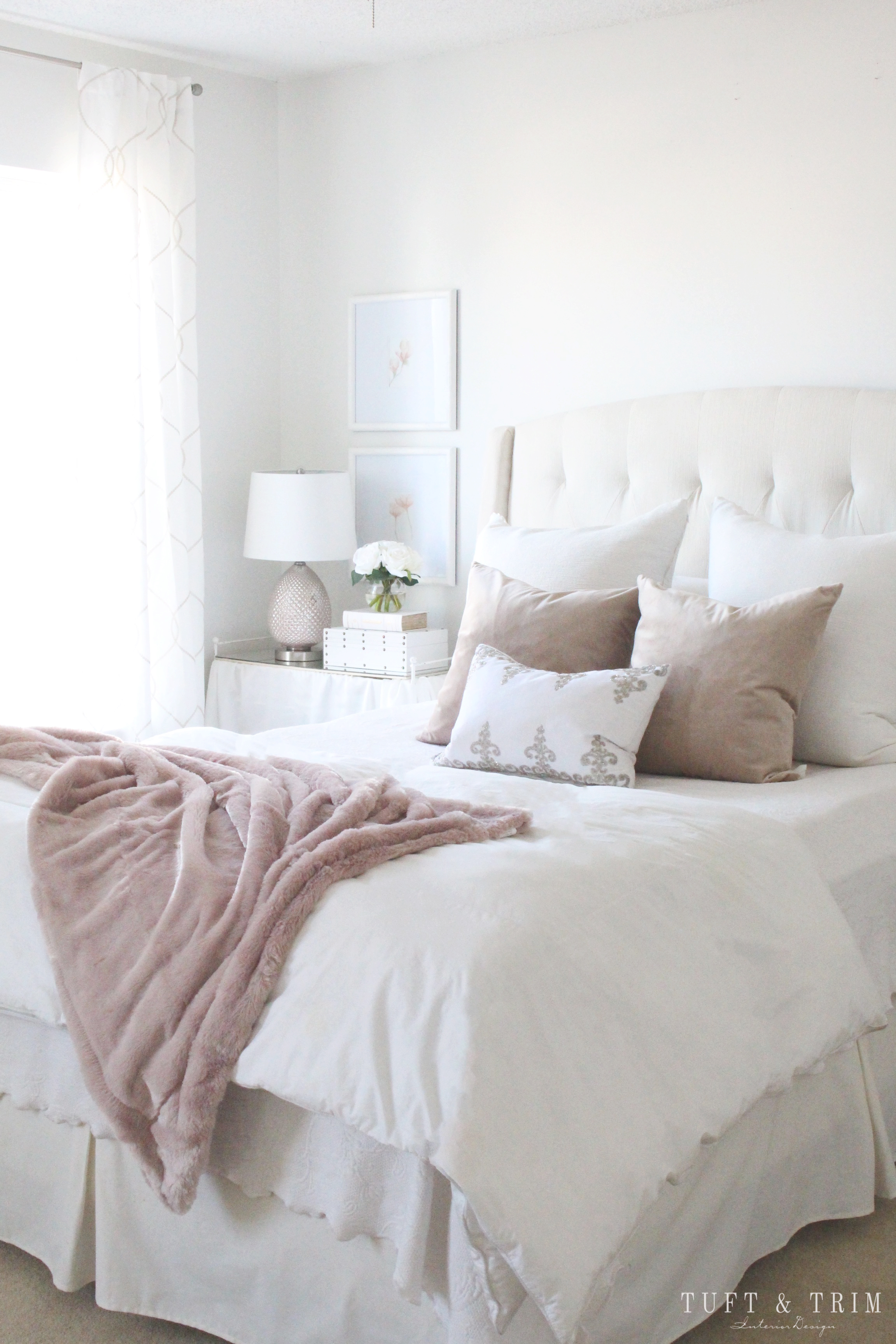 I'm so happy with the way this room turned out. The white paint really helped open up the space and give it a light and elegant look. Most of the bedding I already had, including this hand-me- down coverlet that's layered with my old duvet.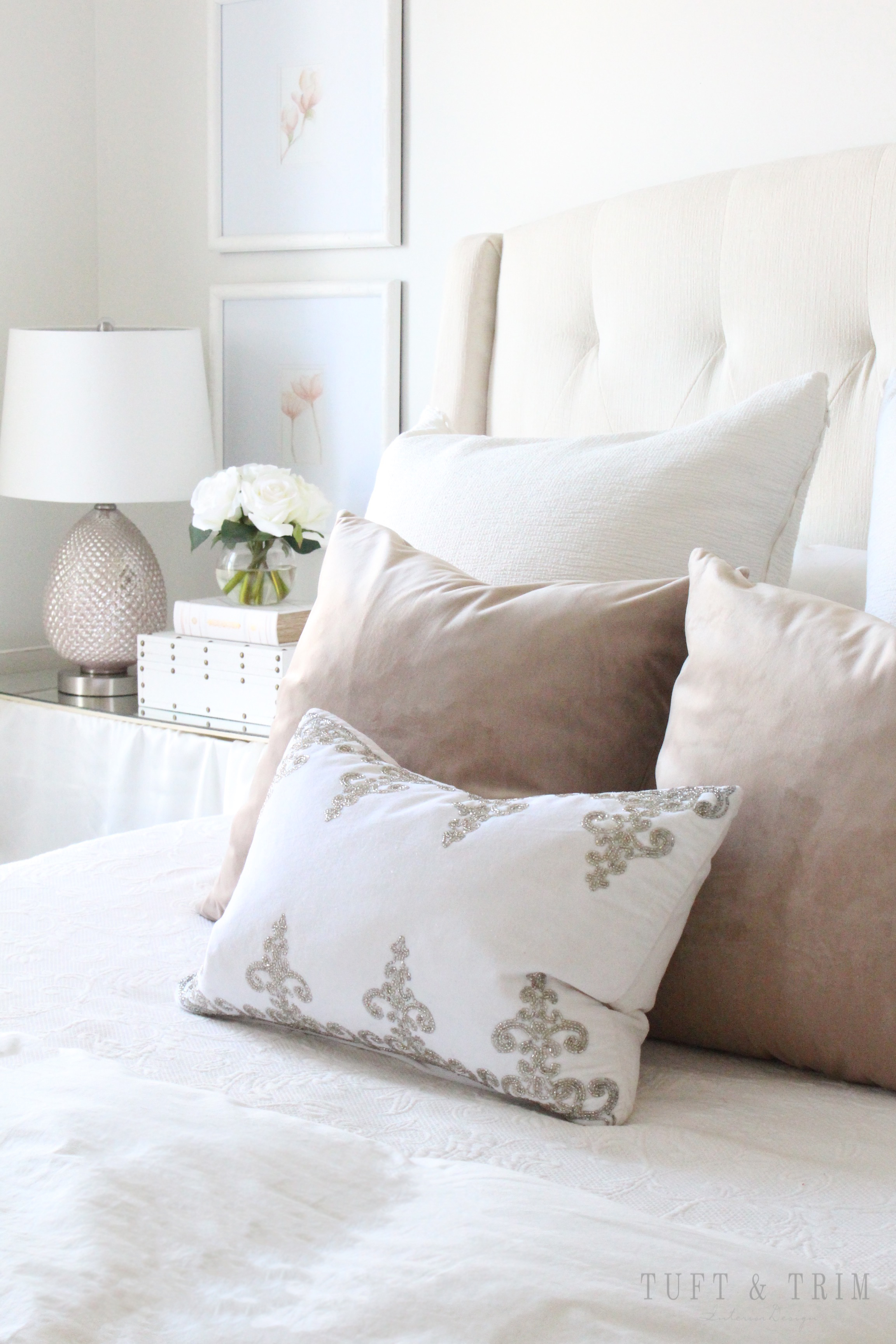 I used decorative pillows from Home Goods to add some color and brighten up the bed. I wanted to keep the bedding white so I can swap out the decorative pillows with different colors as time goes by. Its nice to have things that are versatile.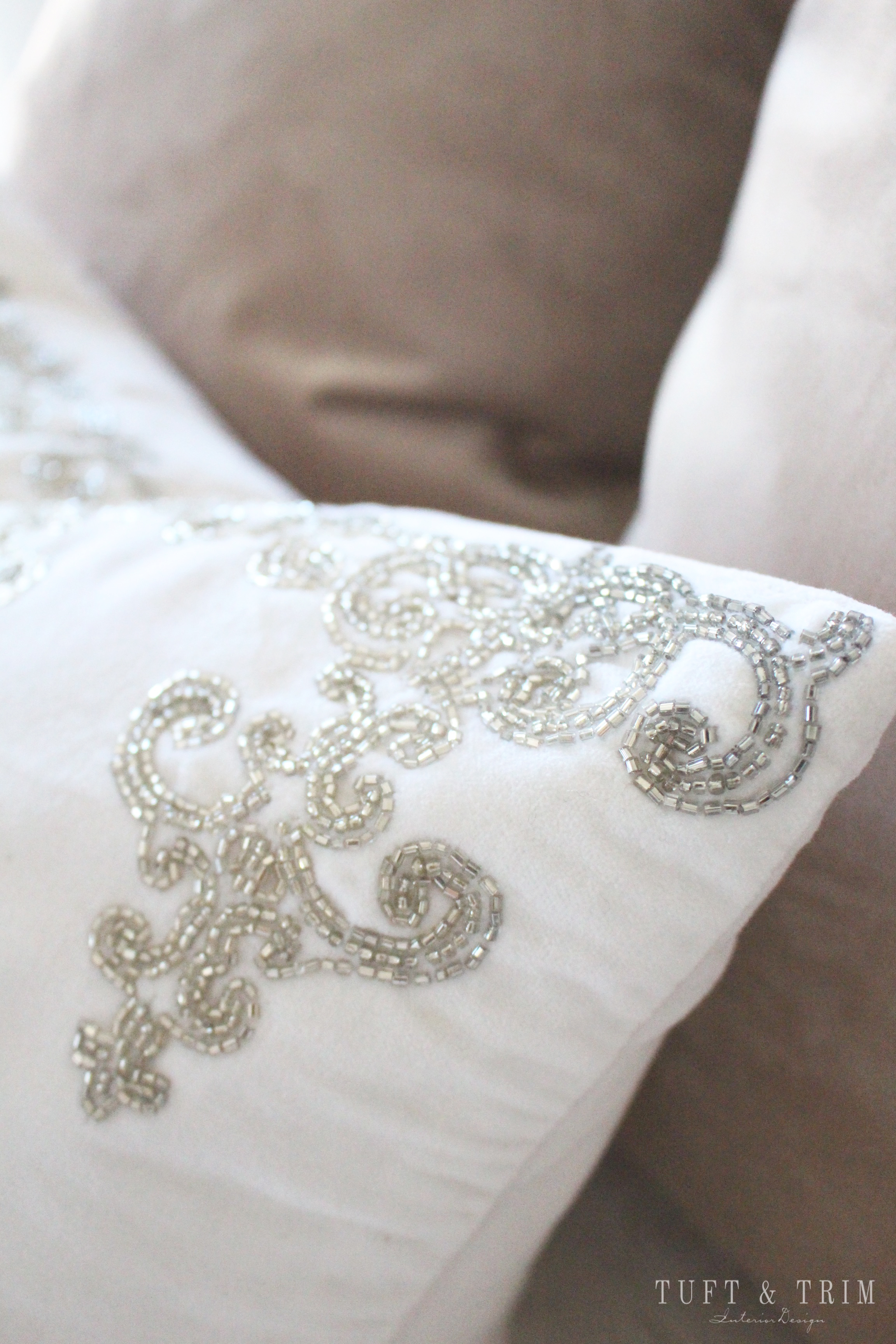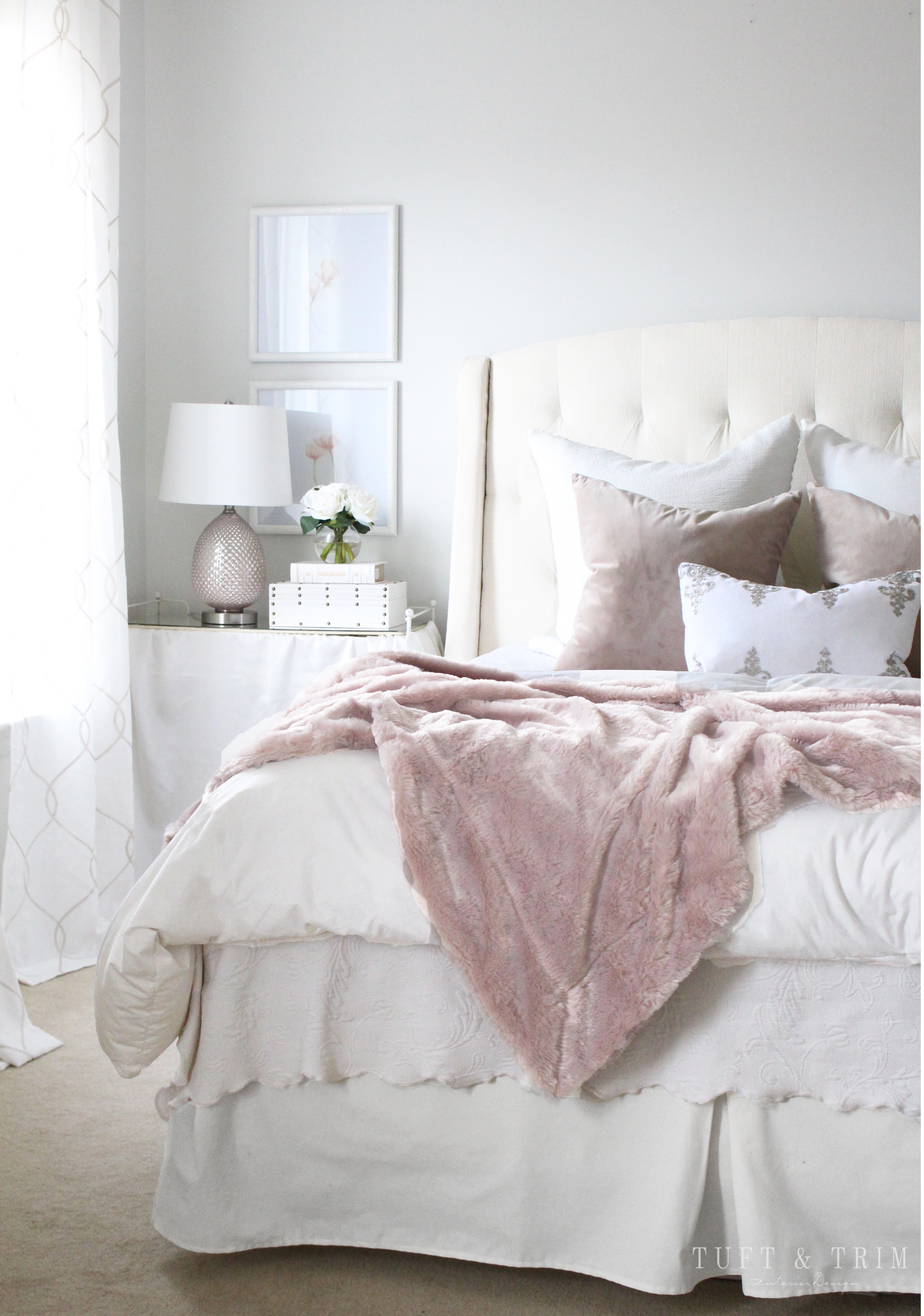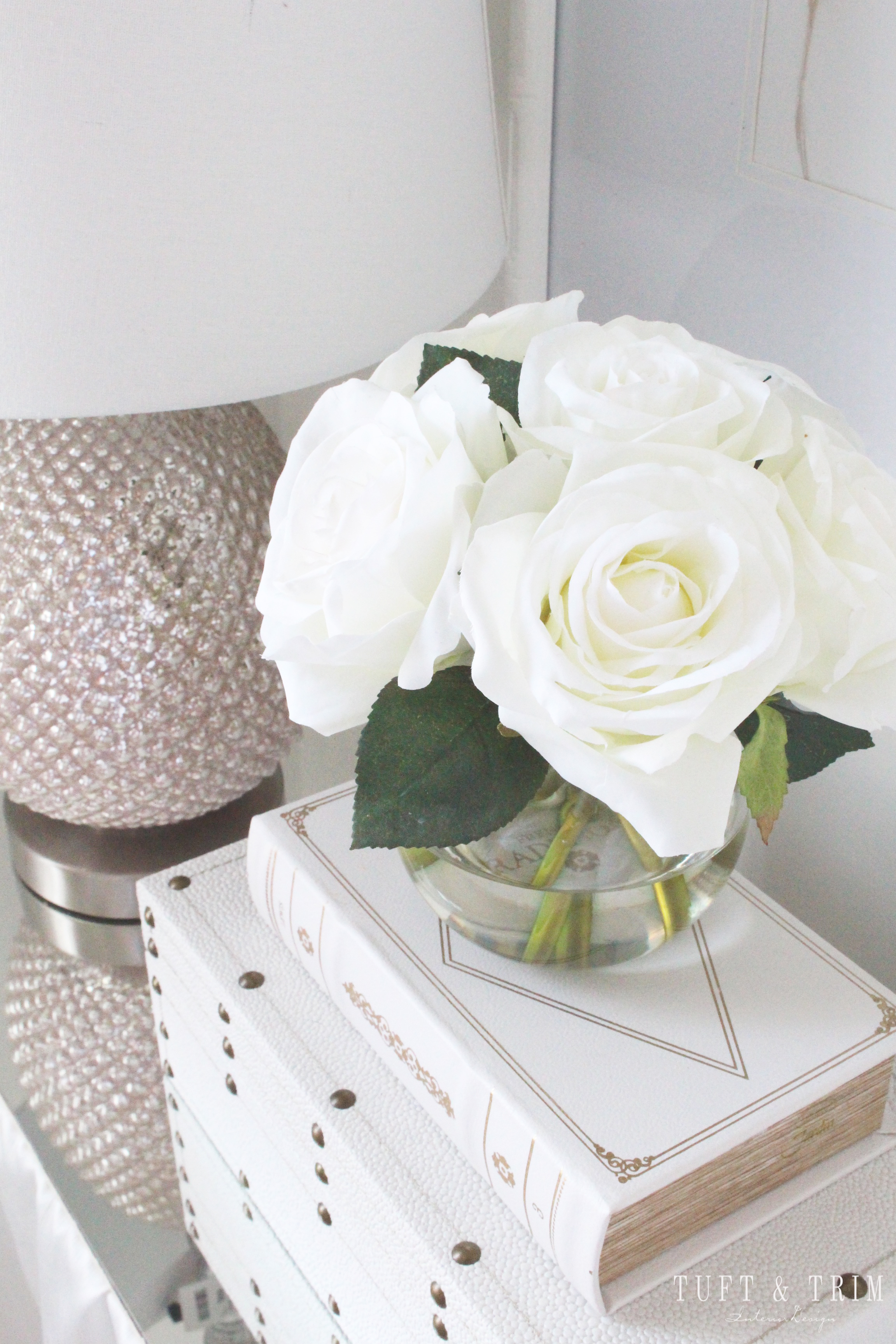 These bedside lamps are a mercury glass finish and covered with a soft pink glaze, coordinating perfect with the rest of the room.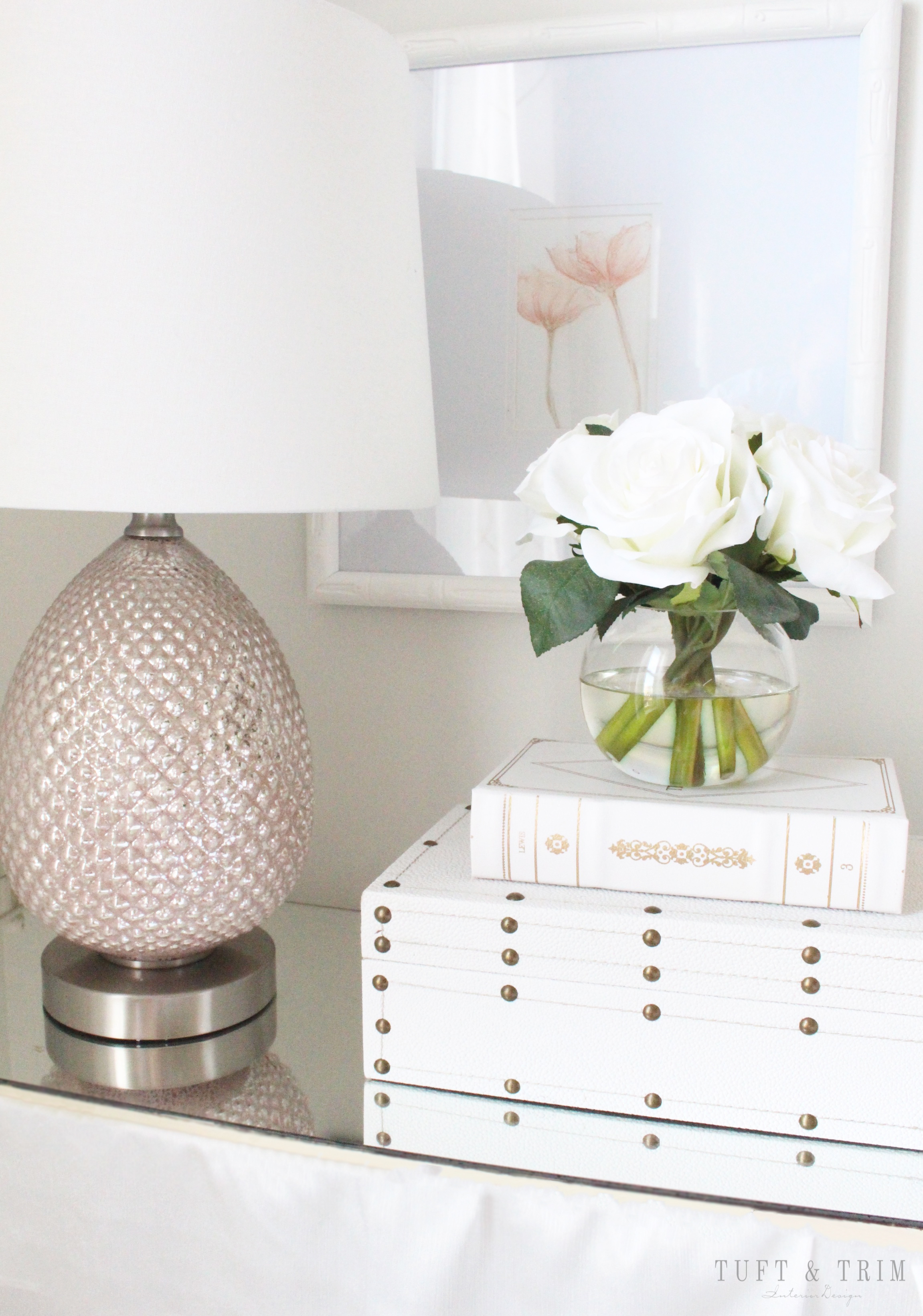 The bedside table is an antique vanity from my childhood. I love it's mirrored surface, but the legs are a bit busy so I draped fabric over the front to cover them. I enjoy the challenge of using old pieces and trying to think of ways to make them look better. Instead of always resorting to buying new furniture, think about ways to update what you have!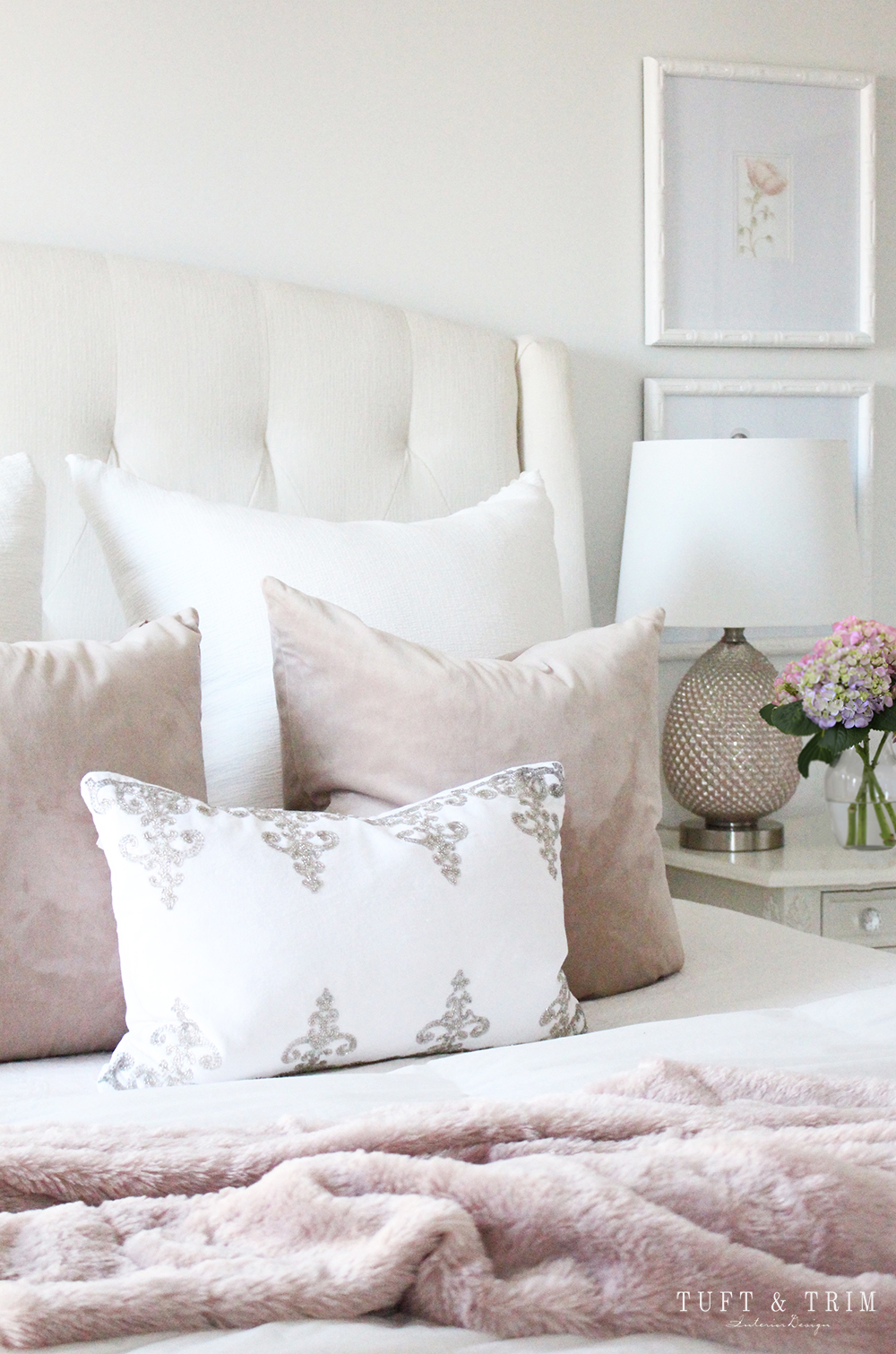 I always try to make beds look cozy and inviting, and throw blankets always help by adding texture, color, and layers.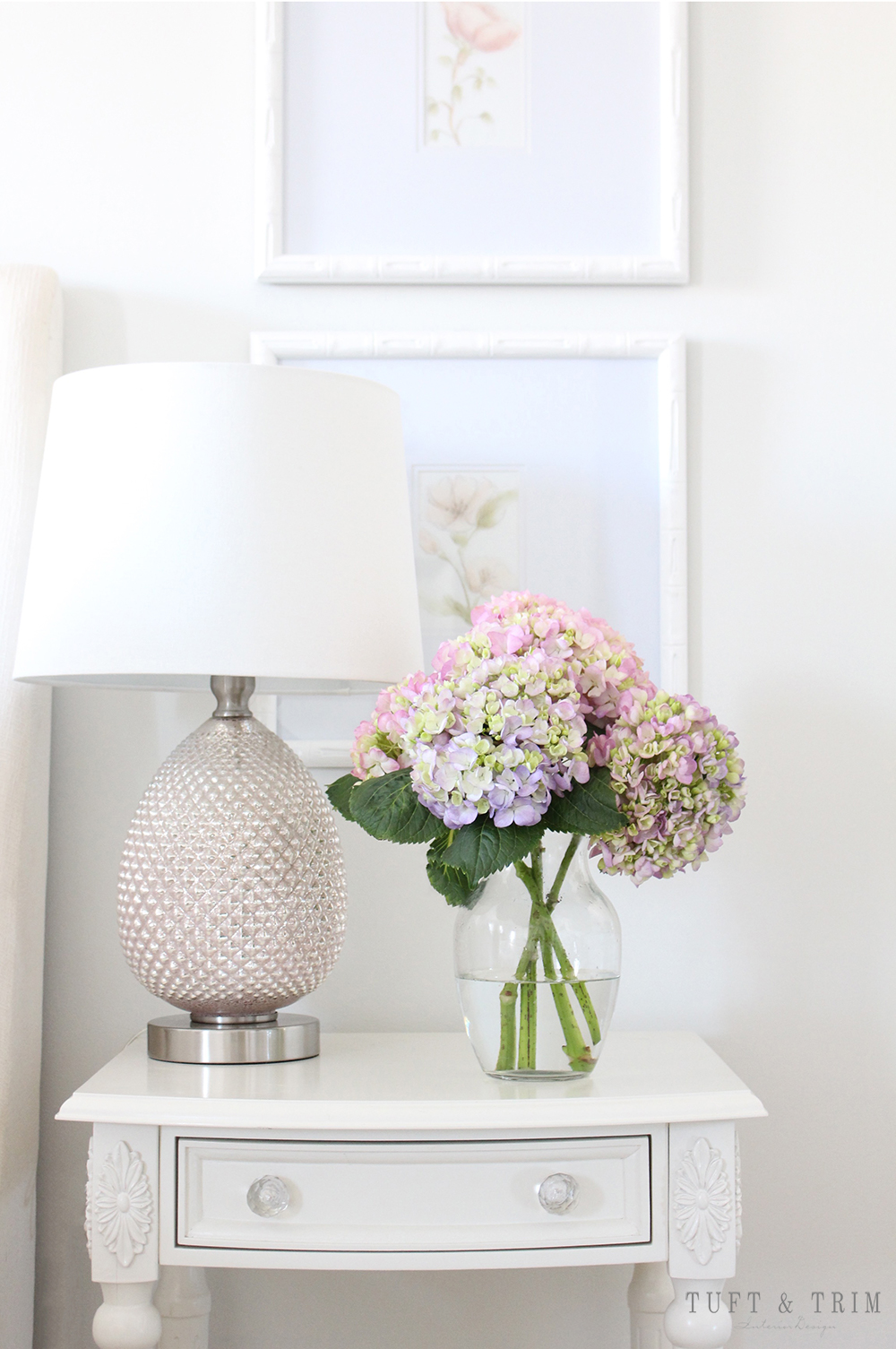 This is the same nightstand I had previously, but accessorized with fresh flowers and complimented with floral wall decor.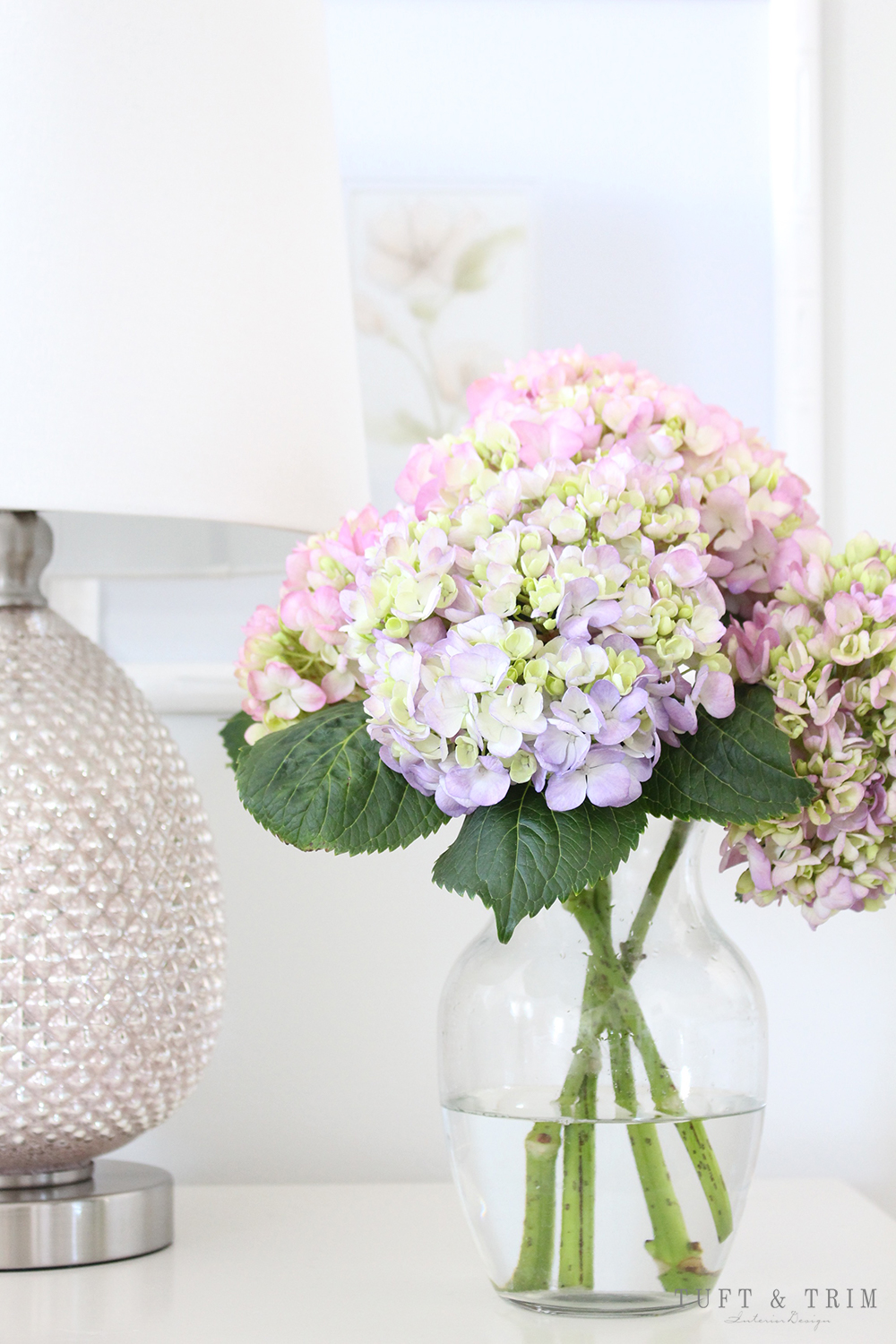 Wall decor can really impact a space, and around the bed is always a great place to showcase it. I ended up hand drawing these floral prints myself with pastels. I wanted something that was subtle and blended with the soft colors of the space, but had no luck finding something affordable. So I thought I might as well make something myself.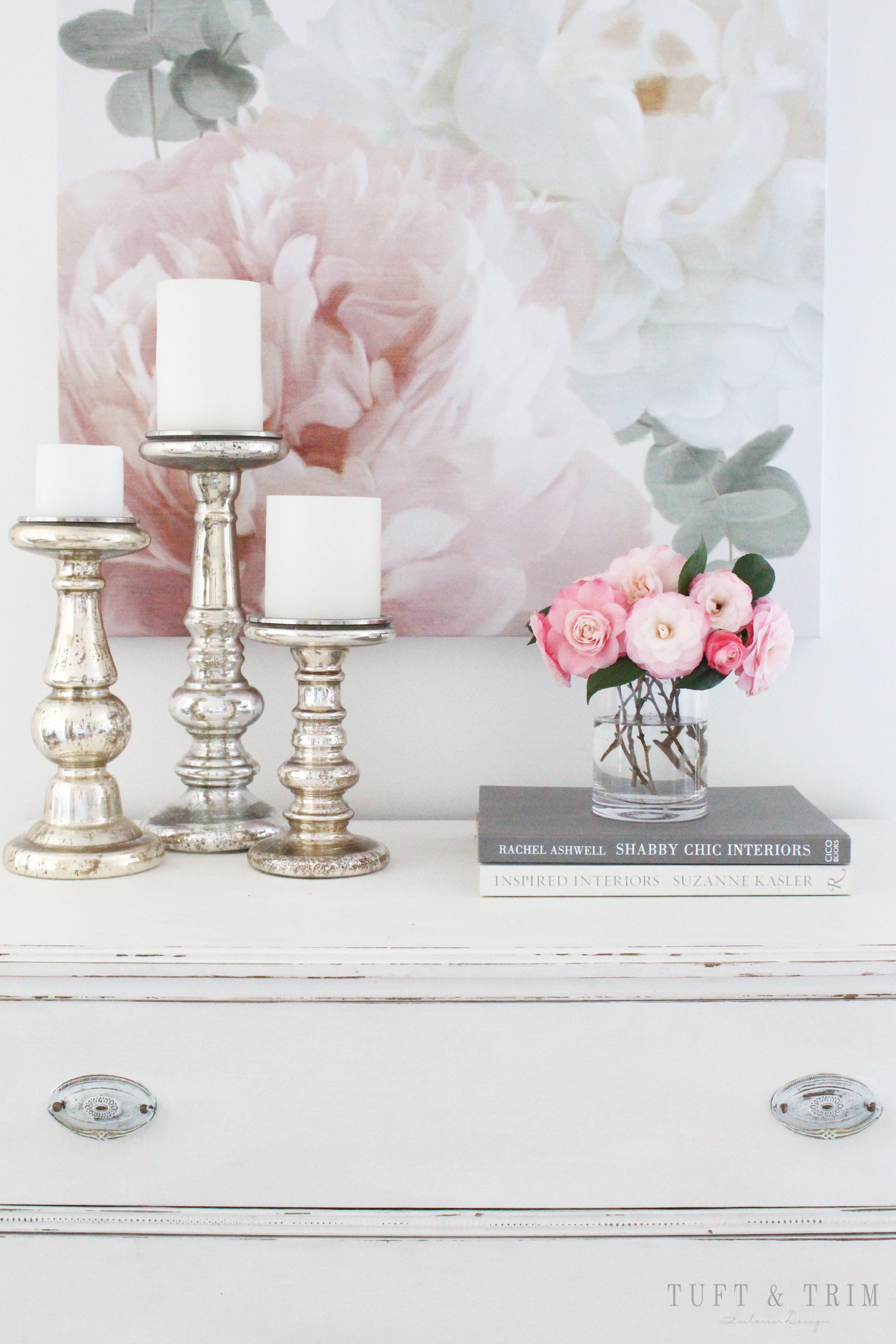 One of the main sources of inspiration for this room was this floral canvas . I referred to it when picking out paint colors, pillows, and decor. If your not sure how to start decorating a space, find a painting, pillow, or rug that has a color scheme you love, and then find things to coordinate with it.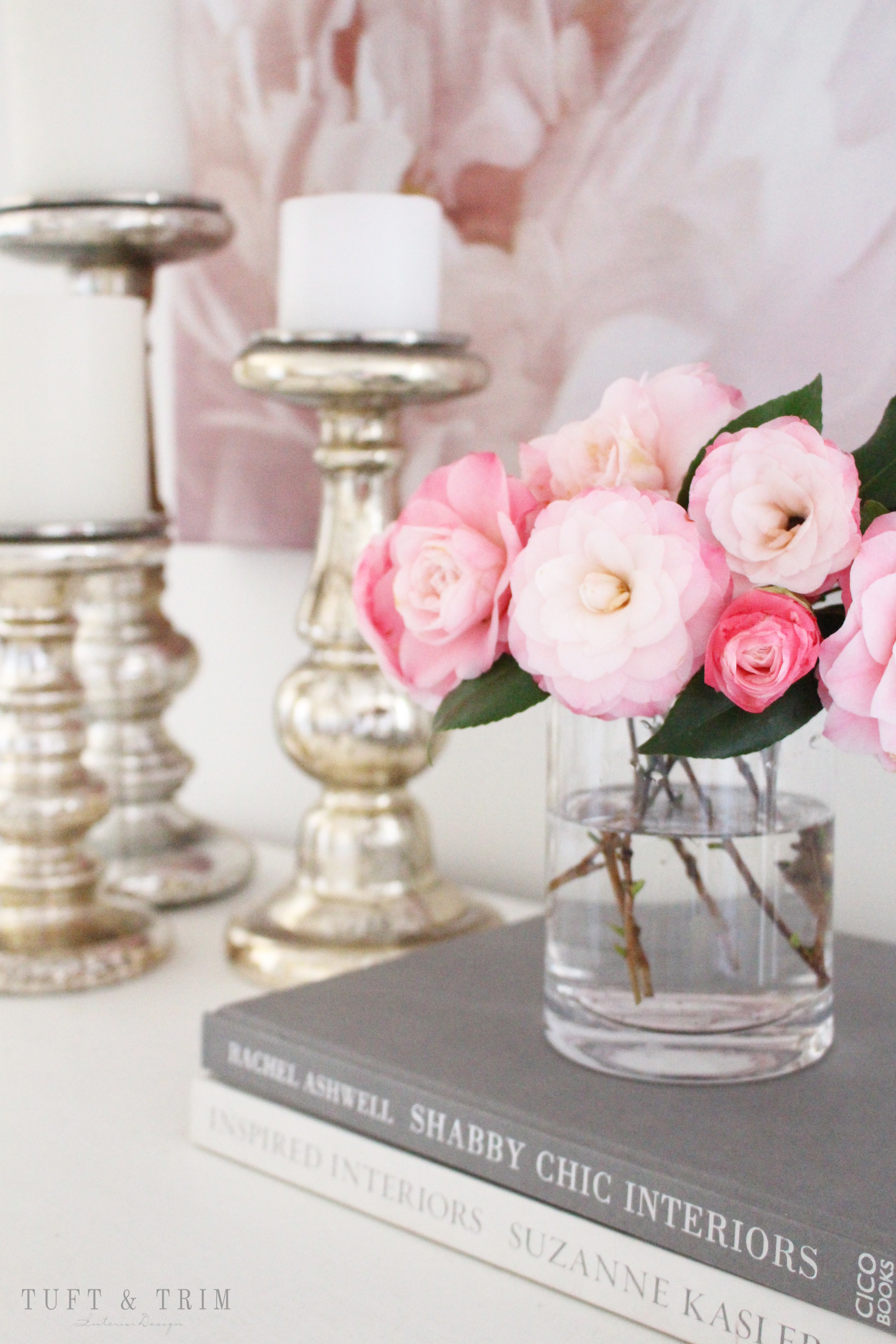 Flowers are my go to accessory. These camellias are from our backyard and I look forward to their blooms every year. Aren't they beautiful?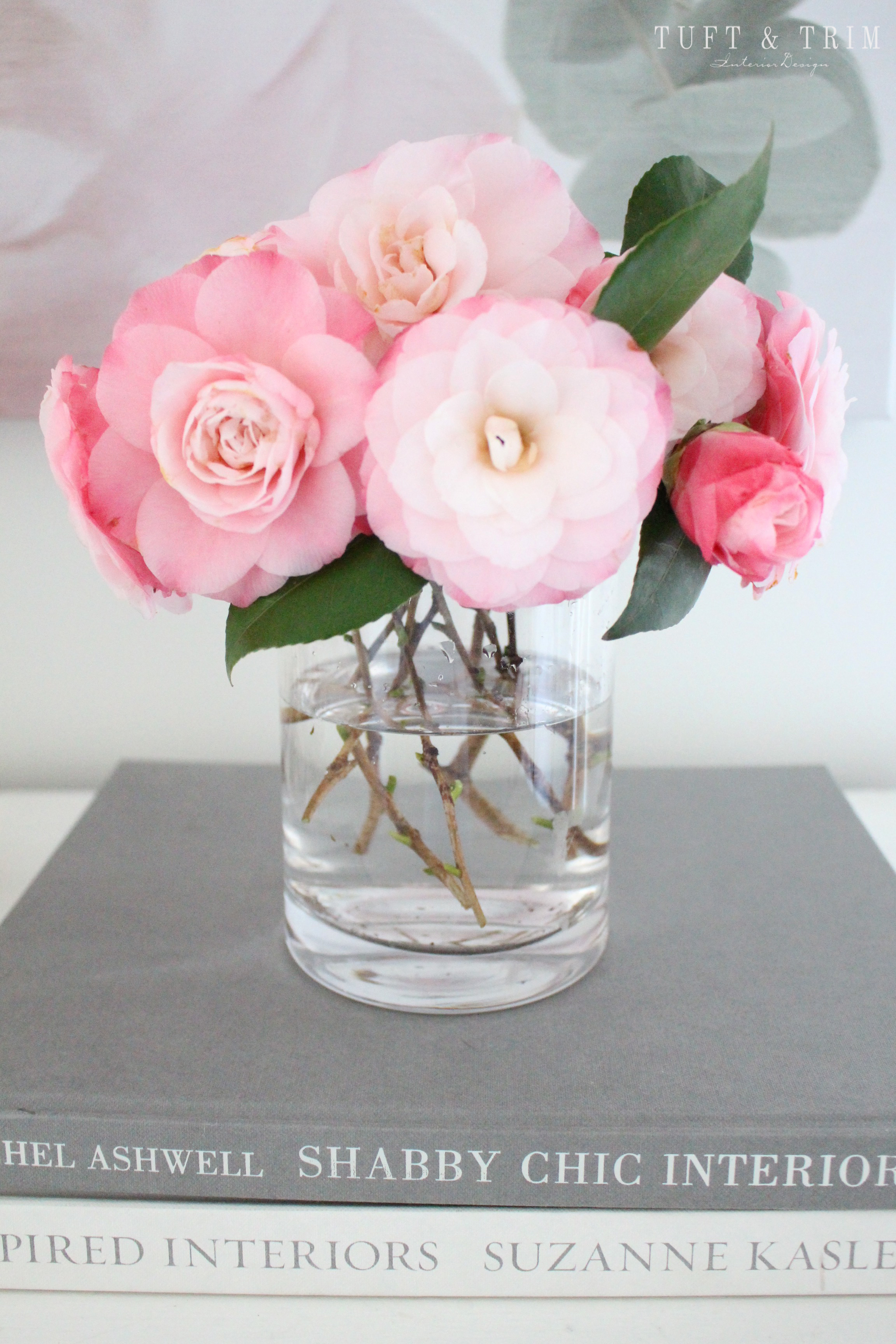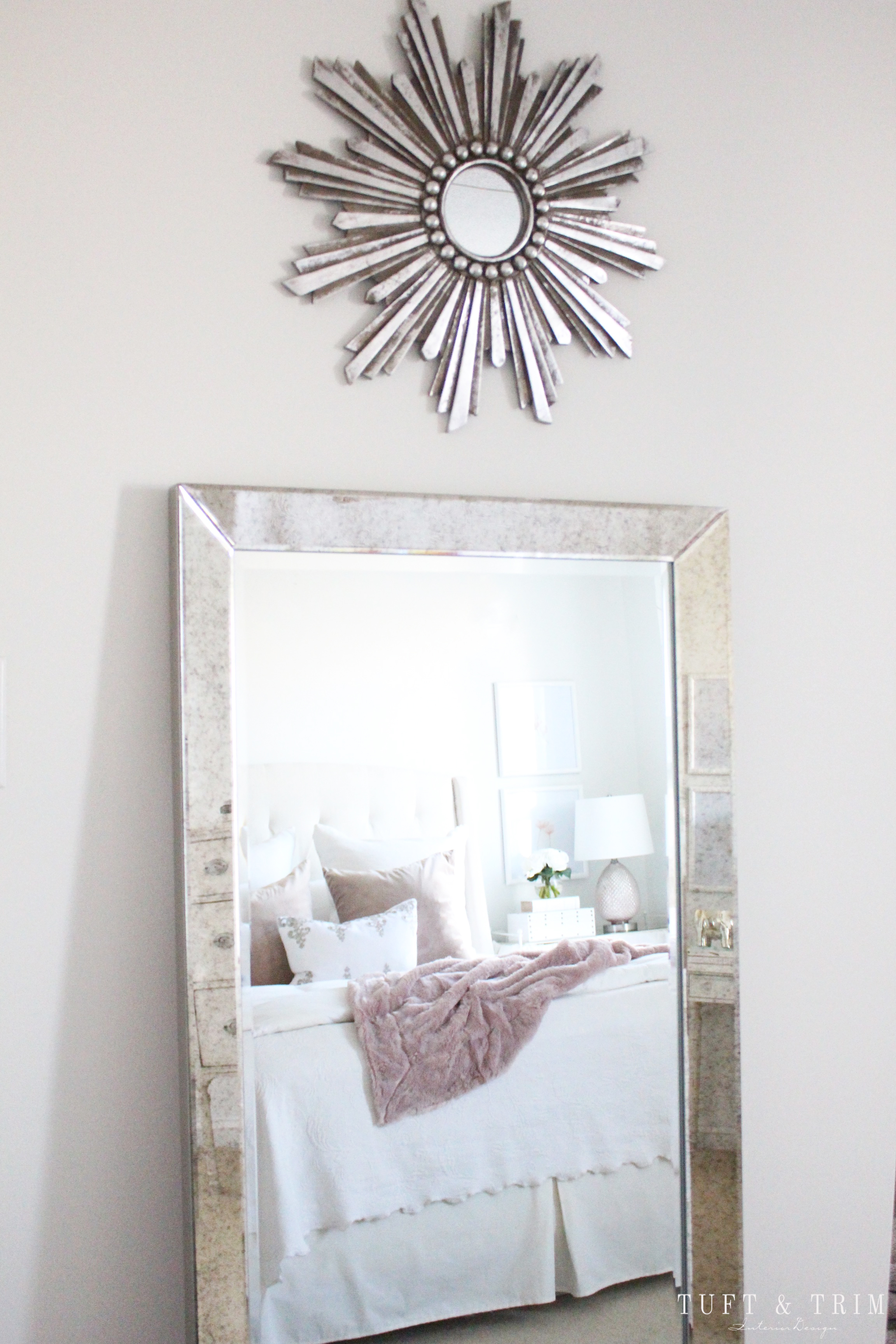 There was a tv on this wall that was never used, so I replaced it with this full length mirror. This mirror has an antiqued mirror trim and was so affordable, I had to have it. Another Home Goods find….no surprise there!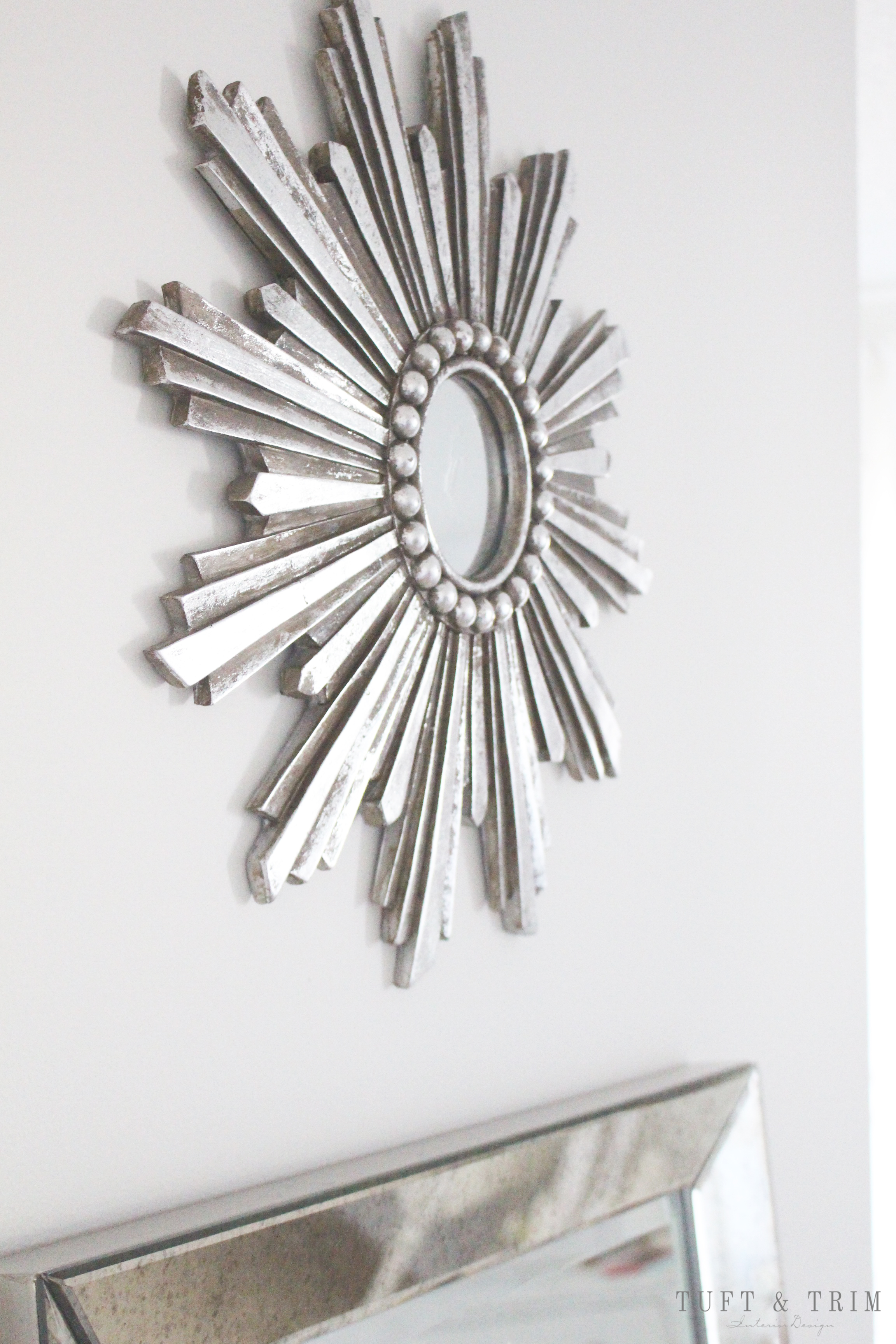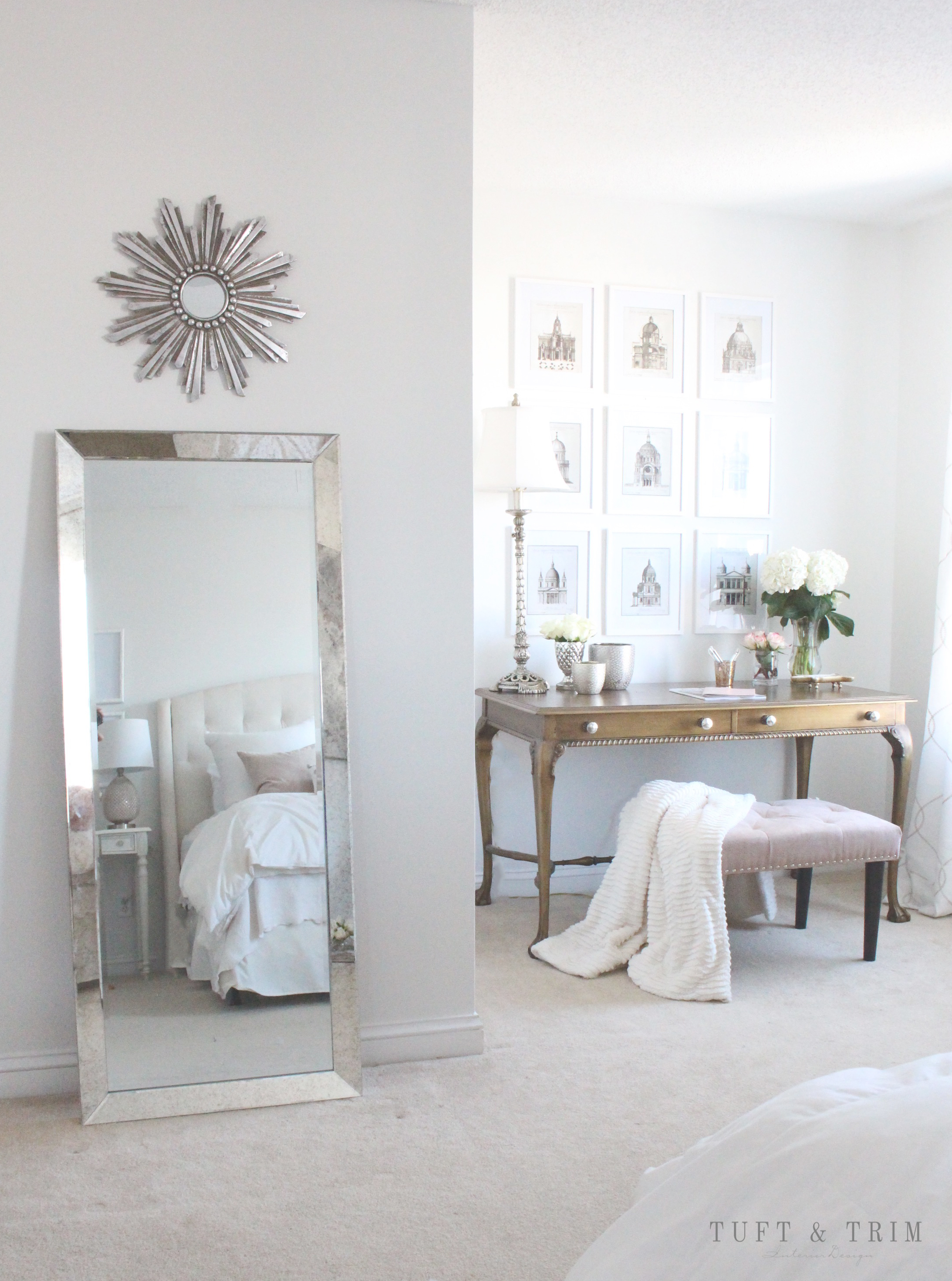 Here is the first peek at my favorite corner of the room, my office.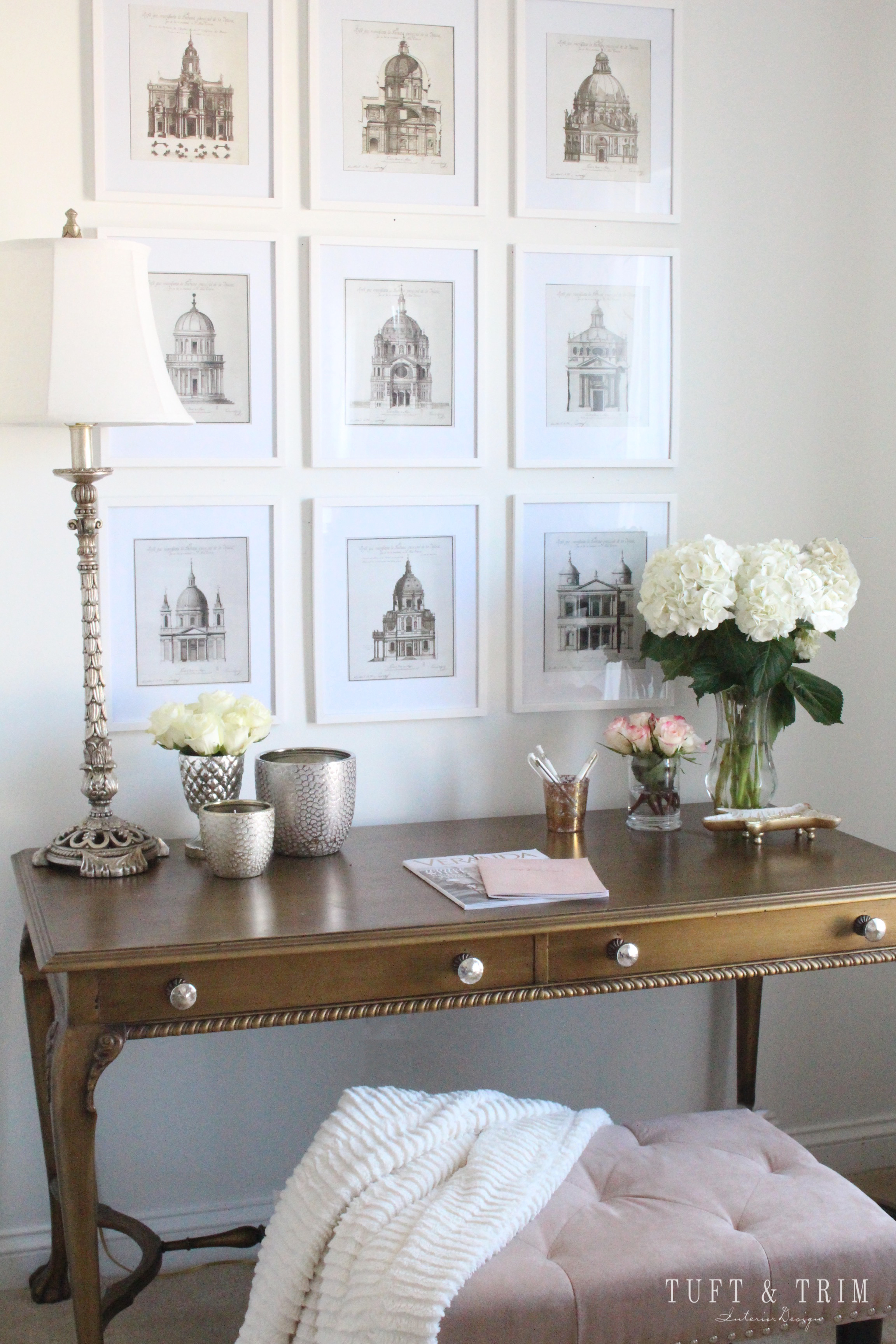 The best part of this corner, in my opinion, is the classic french architectural prints provided by  Restoration Art Prints . I wanted something design related and loved the idea of architectural sketches, but they were incredibly hard to fine. Restoration Art Prints was so fun to work with and the quality of the prints exceeded my expectations. A big thank you to them for providing these gorgeous prints!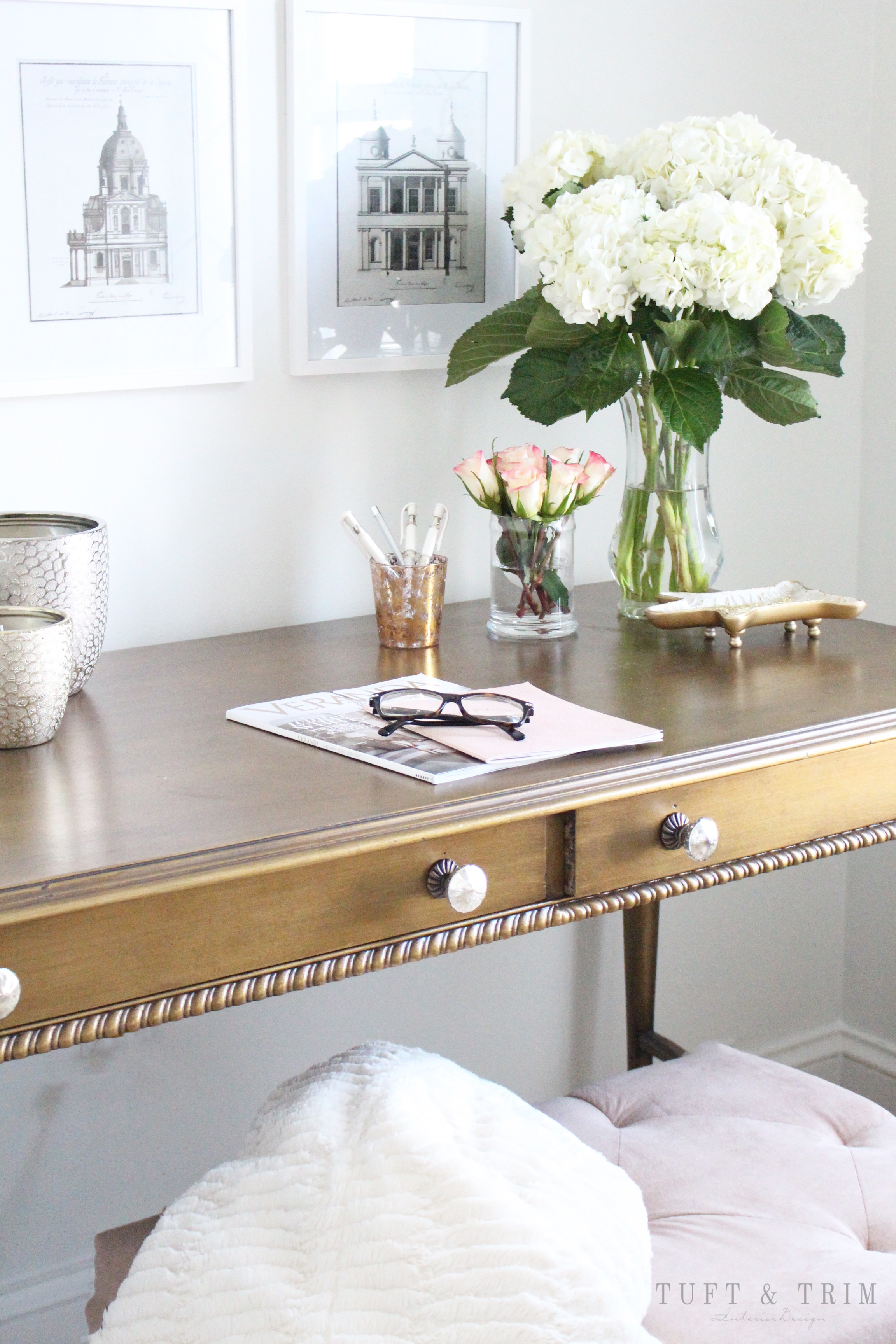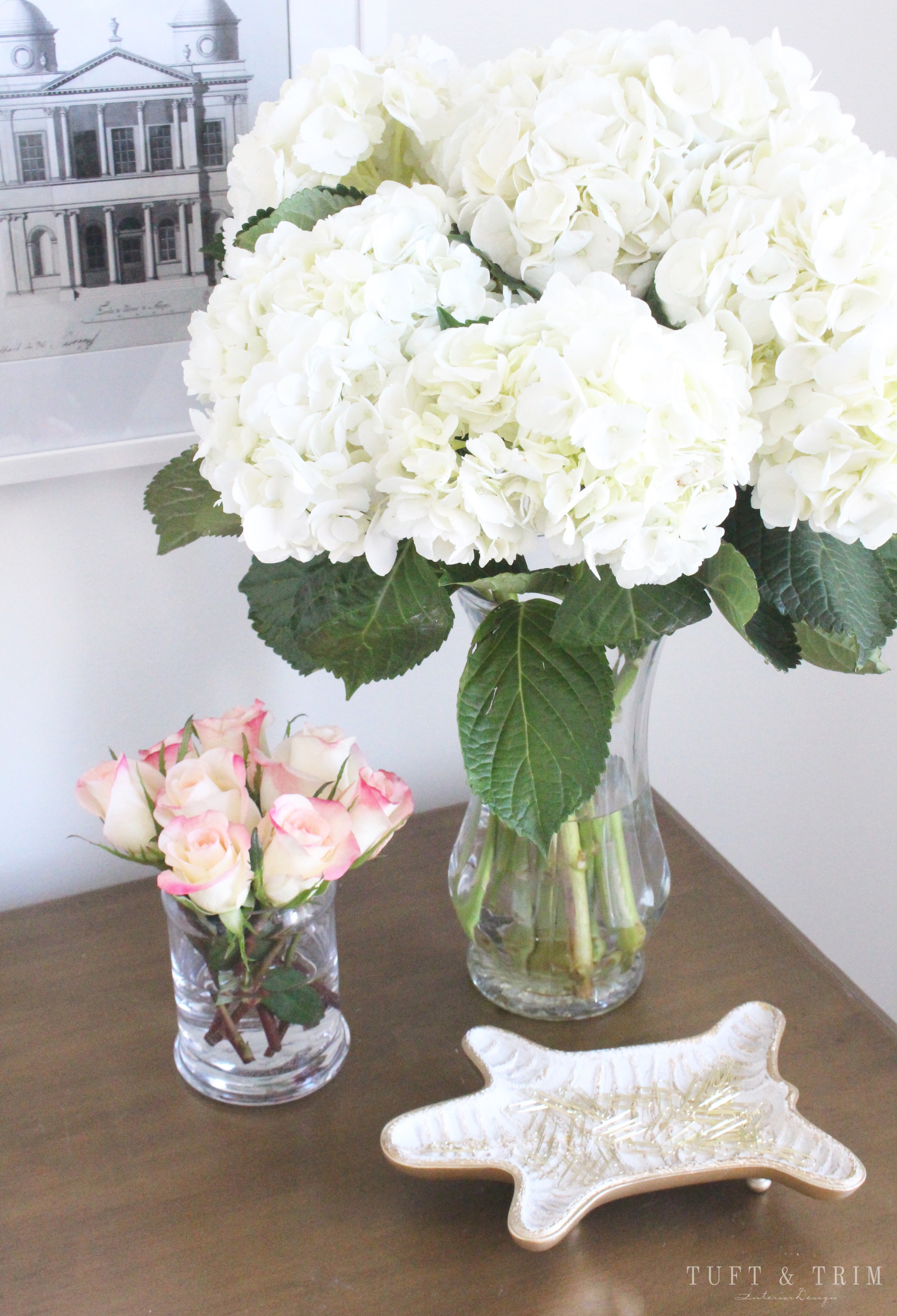 You can never have too many flowers. Trader Joes is my go-to for affordable floral, and hydrangeas are number one on my list.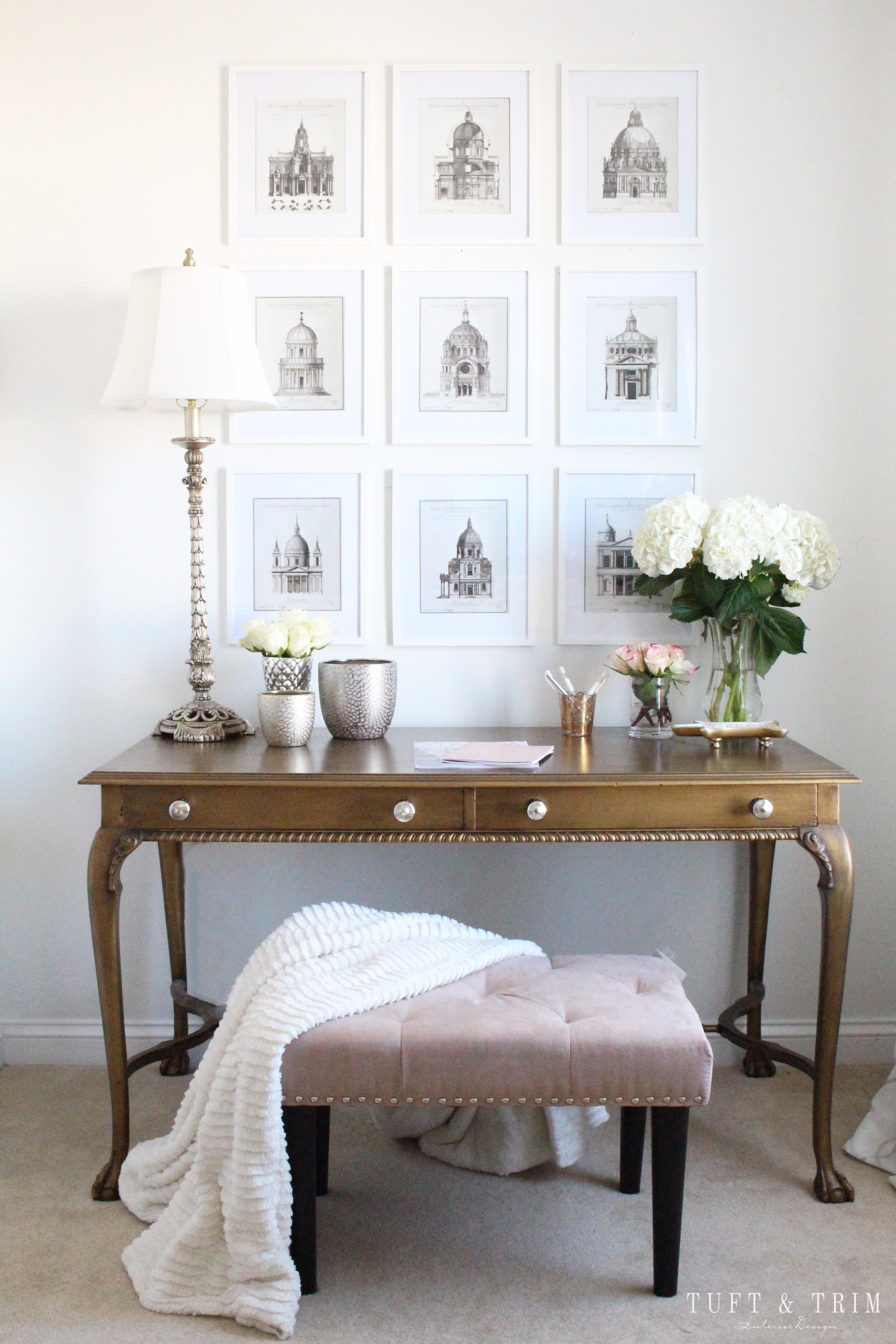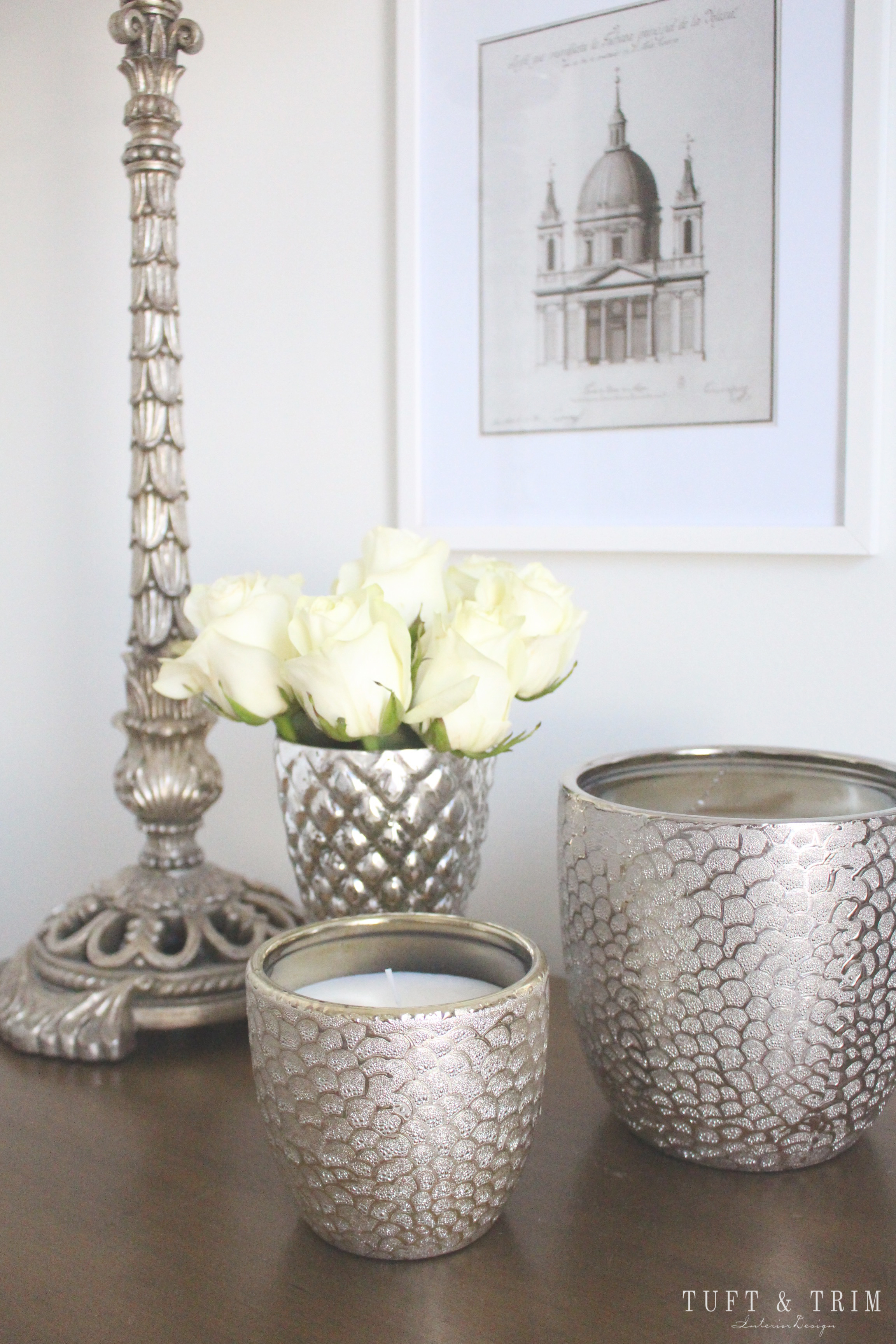 These glamorous candles are from the metallic collection by Thompson Ferrier. Not only are they beautiful, but they smell AMAZING!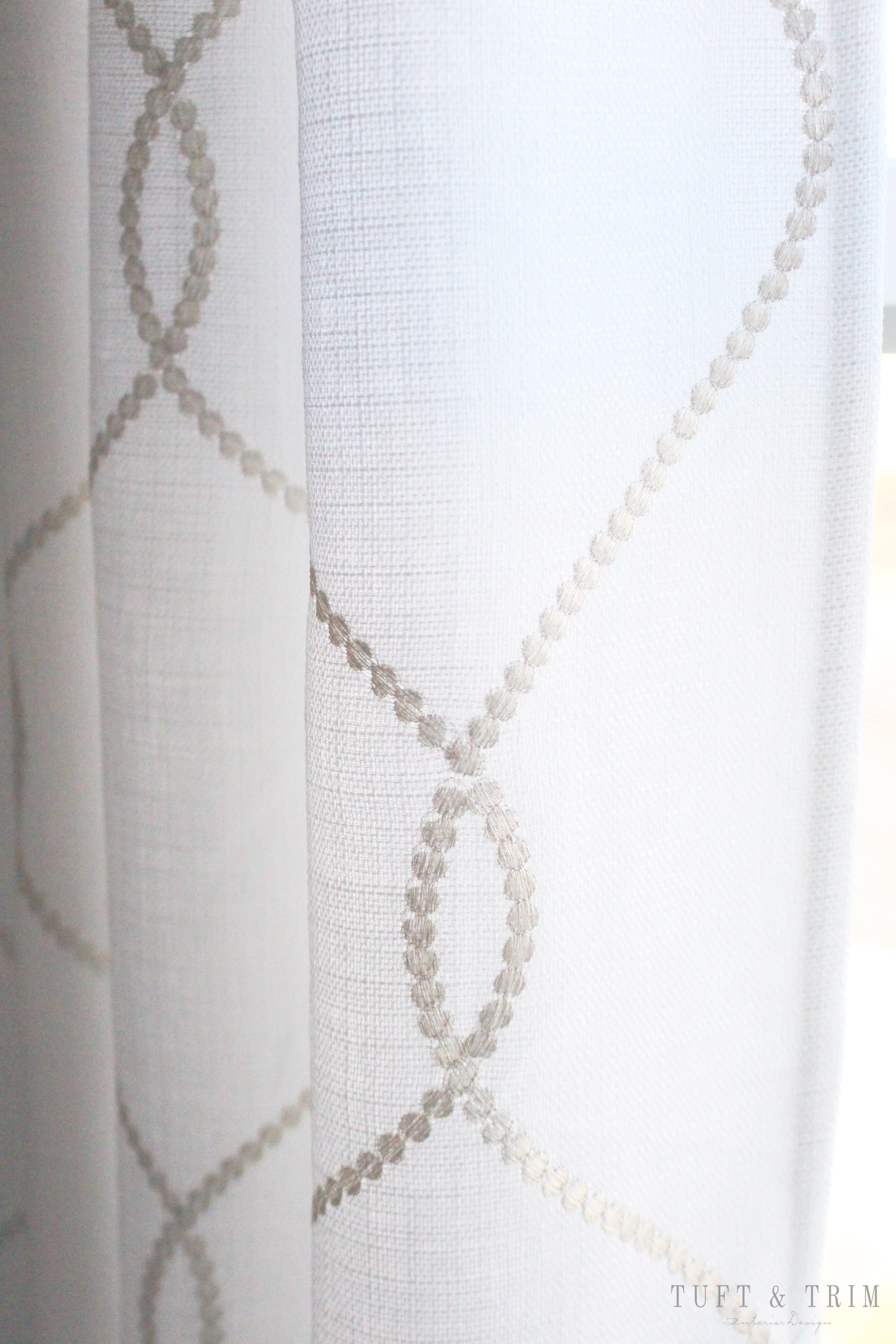 These new drapes bring a breath of fresh air compared to the busy pattern of the previous drapes. I wanted something subtle, but still liked the idea of having a pattern somewhere. The soft gold braid embroidered on these linen panels was the perfect amount of pattern.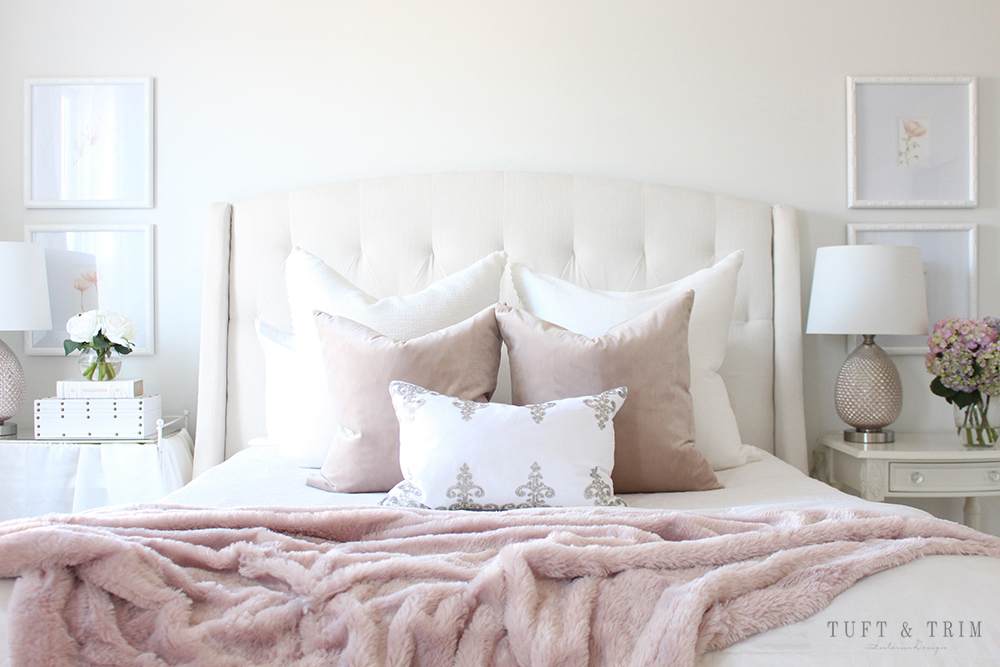 In just two weeks I was able to create a space I love, and it didn't require a large budget. I hope that after watching this transformation unfold, your inspired to tackle that room you keep putting off!
Thank you so much for following my room design! Feel free to subscribe so you can stay updated on my future projects. You can also follow me on Pinterest or Instagram for more home decor inspo! 

Related posts: