Getting a late start to 2018, but excited to share with you what's been in the works! If you followed along last year, you saw my master bedroom reveal. This year, I'm taking it up a notch and switching some things up. Although I'm working on a limited budget, which I'm sure a majority of you can relate to, I've managed to find some good deals that will make this room fabulous. Follow along as I share my concept board and design scheme for the space, along with pictures of the current bedroom.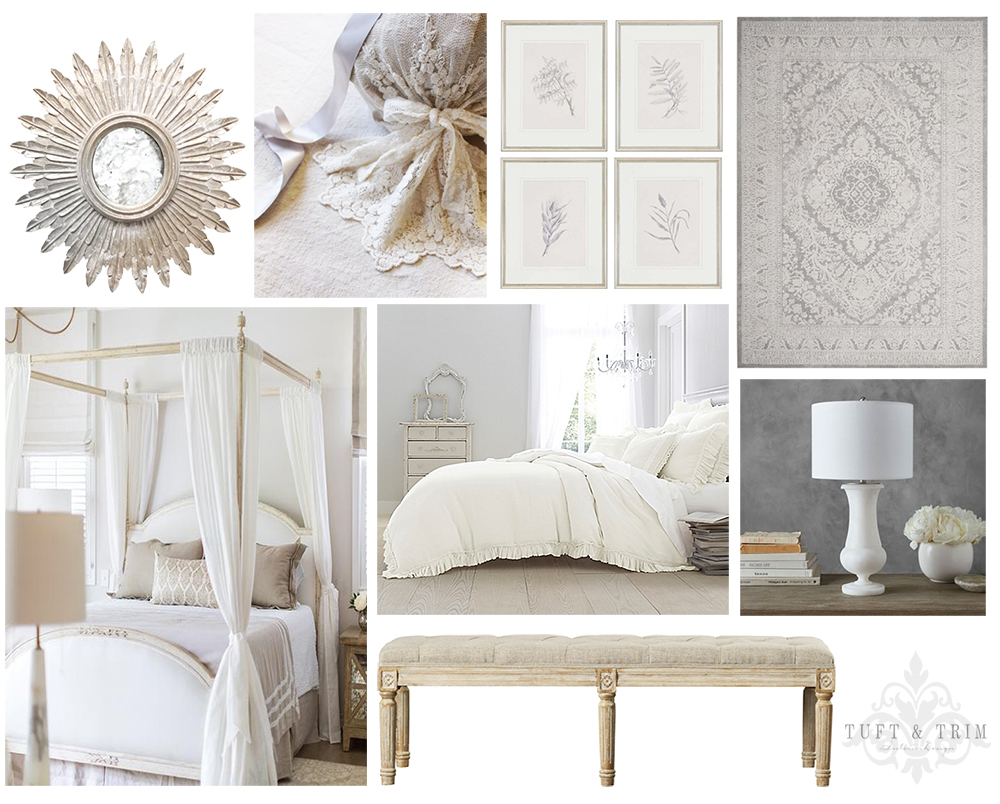 Canopy Bed Design: Marie Flanigan Interiors
The concept for this room hasn't changed, as it still has a rustic french influence. But I felt like it needed more. I plan on incorporating a soft gray area rug and an upholstered bench at the end of the bed. I'd also like to find some mirrors for each side of the bed and new bedside lamps.  I want to simplify the bedding from all the patterns and go a more simple route with a soft white ruffled linen duvet and pillows. Instead of the busy patterns, I plan on incorporating lace on the pillows to add some shabby chic. The paint on the walls will be updated to a soft white instead of the current beige (which I try to lighten in pictures because it's so terrible). Most of the furniture will remain the same, but I did replace a piece that needed to go. 
Now that you have seen the design scheme, let me show you the current room so you can see what we're working with. Not that it needs much help, but you know I can't go long without updating a room!
*This post contains affiliate links.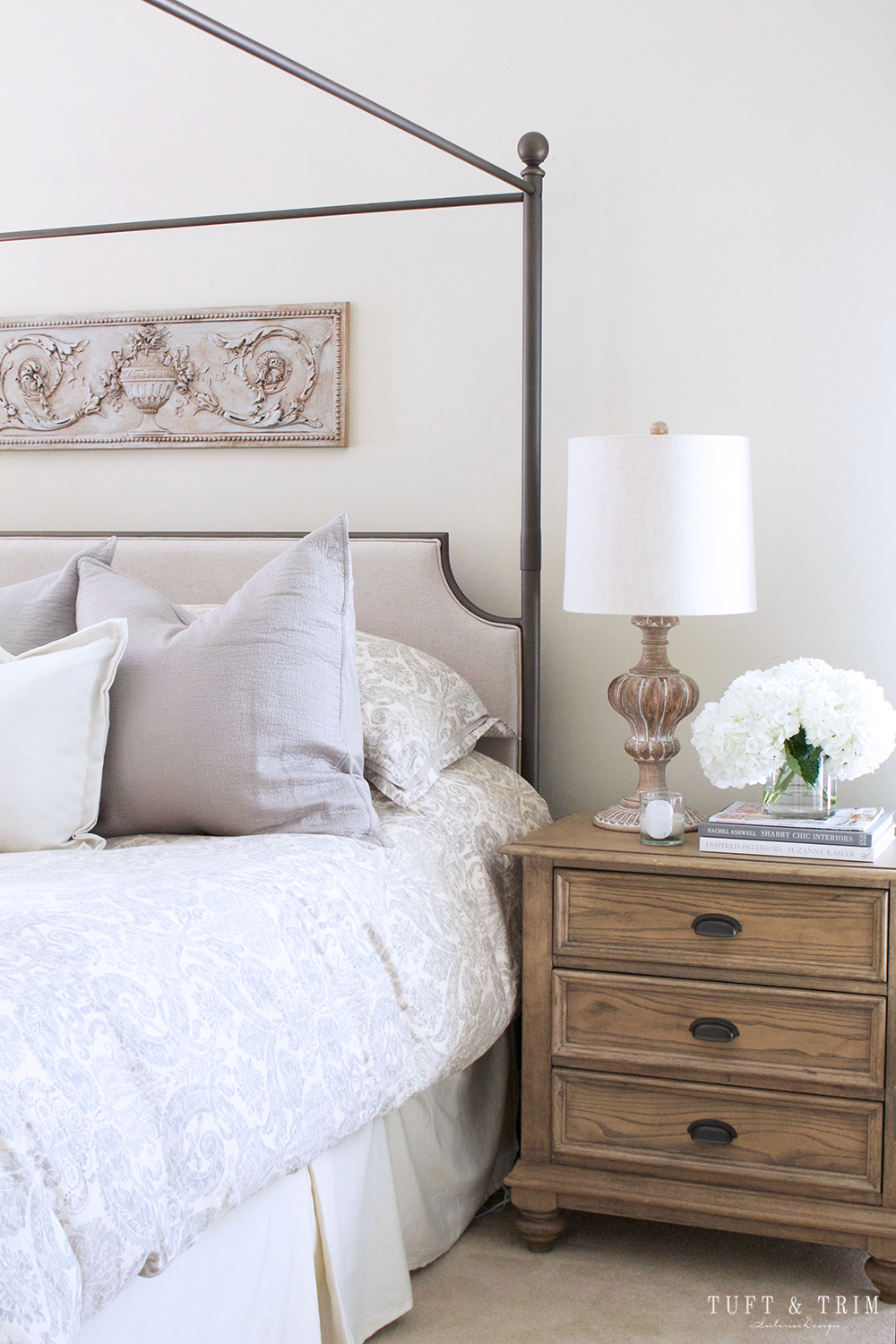 I love this bedding and am sad to see it go (mainly because it doesn't show ANYTHING-including dog hair). The white may be a challenge to keep clean…but I'll make sure to have bleach on hand. I tend to lean towards romantic/busy patterns so I'm trying to go a more simple route. The combination of ruffled linen and lace will make a statement without being too busy.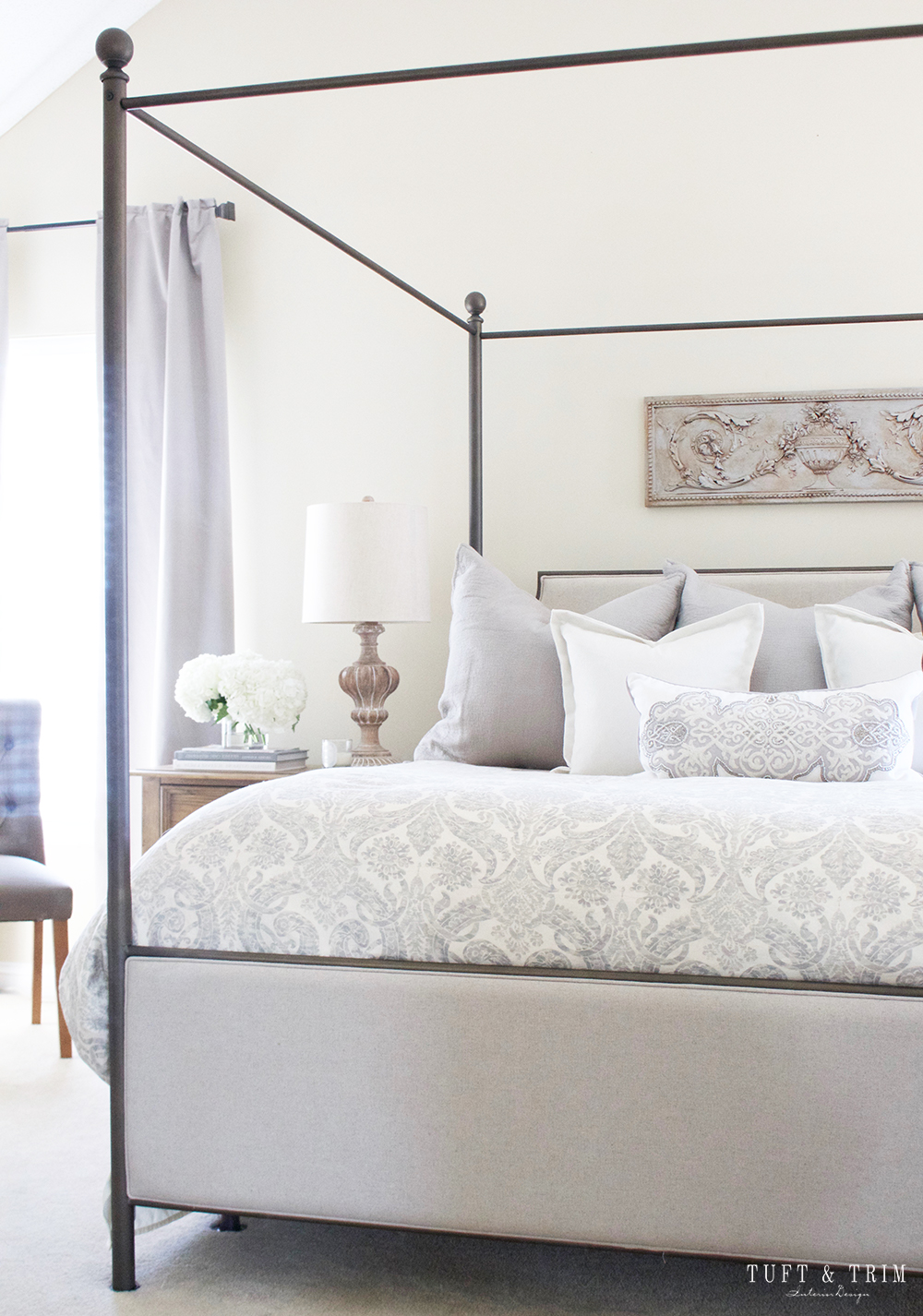 I'd love to replace the fan with a chandelier, but I have yet to find a way to talk my husband into it.  I guess the summers are just too hot here in Virginia to live without a fan in the bedroom….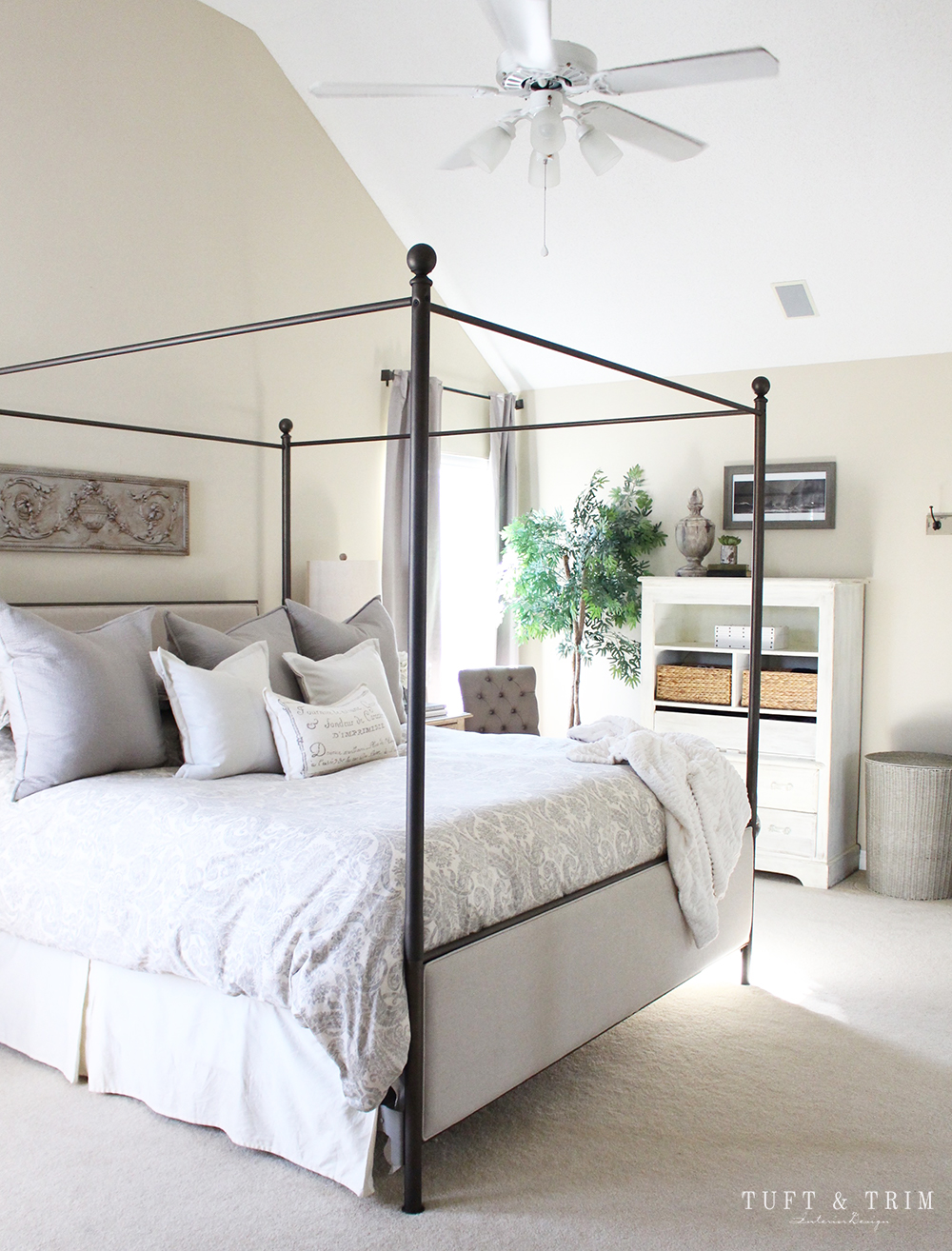 Please excuse this not so flattering picture of our bedroom. I plan on getting rid of the old dresser and tree in the corner and replacing with a chair and antique chest of drawers. I sewed the curtains a couple years ago and I think it's time to update them to some linen drapes. And there's plenty of space in front of the bed for an upholstered bench, don't you think?
If you're not familiar with my design process, the concept is the first phase. For both client's projects, and my own, I always start with a design concept for the room. This helps guide me as I pull together the furnishings and decor. I've already selected a majority of the items so now all I have to do is start putting it together. Make sure to stick around and subscribe so you don't miss the room reveal!
Thank you so much for stopping by!

Related posts: