I love seeing how a couple of easy changes can make such a difference in the look and feel of a room.
I found our house online while we were still living in California. I didn't even see it in person before
we bought it, but I knew from the pictures it had great potential. As you can see in the before pictures,
the previous choice of decor wasn't my taste. However,  I was able to see past it's current state and
envision how I could make the most of the room with the little budget I had. I wanted long drapes that
accentuated the high ceilings, a large chandelier that created a focal point, and a rug that brought
texture and a variation of color to contrast with the table and floor. These are just several of the key
design elements that can transform an average space into an inspiring one.

Follow along as I brake down and explain each  design element that contributed to this dining
room's transformation. Hopefully after reading some of my decor tips, you'll find the confidence to
start a room makeover yourself!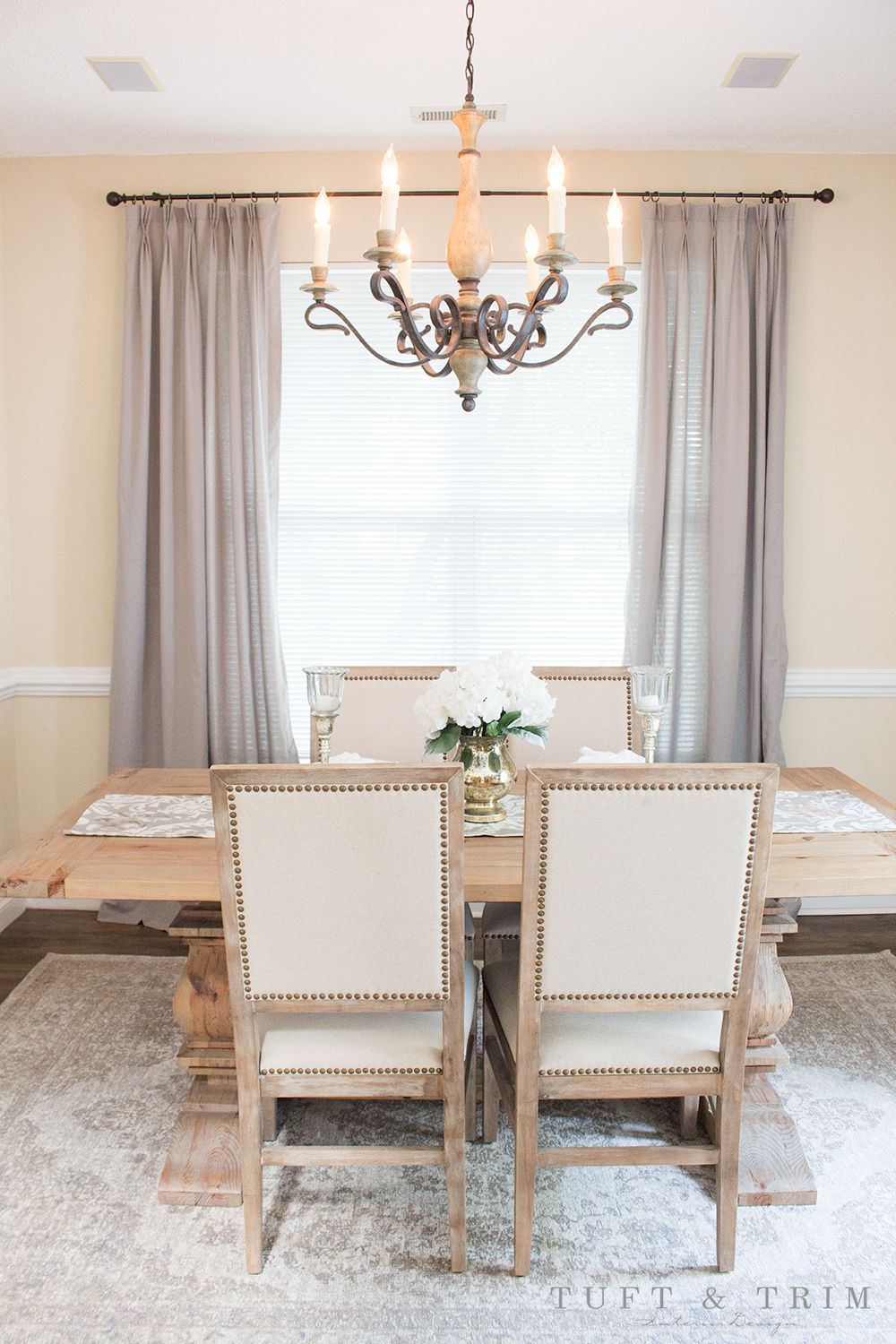 FINISHED DESIGN
Lighting
This chandelier from Joss & Main was the perfect statement piece for our dining room.
Several years ago there is no doubt I would have selected a crystal chandelier or something fancy,
but I've made it a real effort to meet my husband in the middle and try to find pieces that are still
elegant, but not overly feminine. He likes things that are industrial and rustic and I like light decor
 and french antiques, so our house has become a mix of rustic pieces with romantic lines and a soft,
neutral pallet.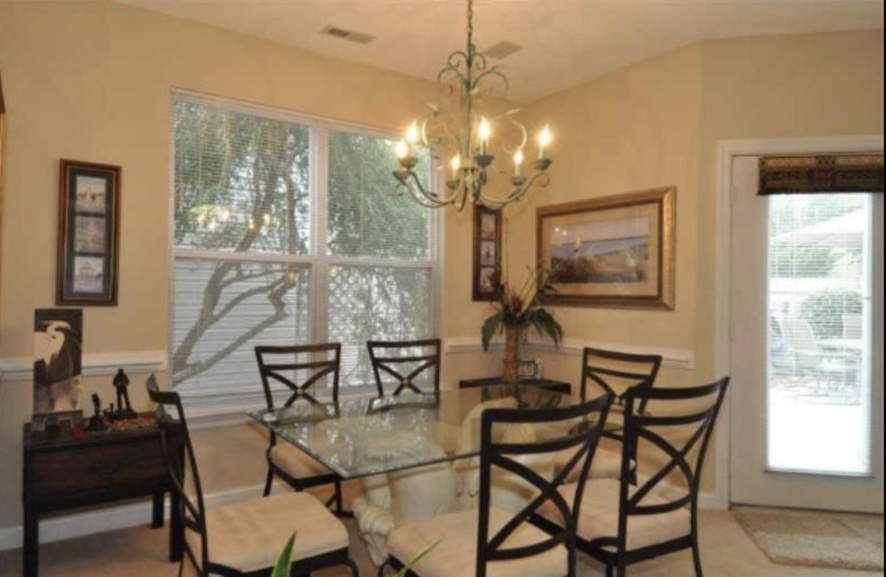 BEFORE
AFTER
Rug
It's amazing the difference a rug can make in a space. I loved this rug because it's not too loud
and has a perfect variety of grays and neutrals that keep it consistent with the rest of the house.
It's pattern is soft and subtle, but is elegantly detailed with traditional characteristics.
And would you believe I got it on Overstock? Goes to show you, you don't have to spend a
lot of money to create a beautiful space!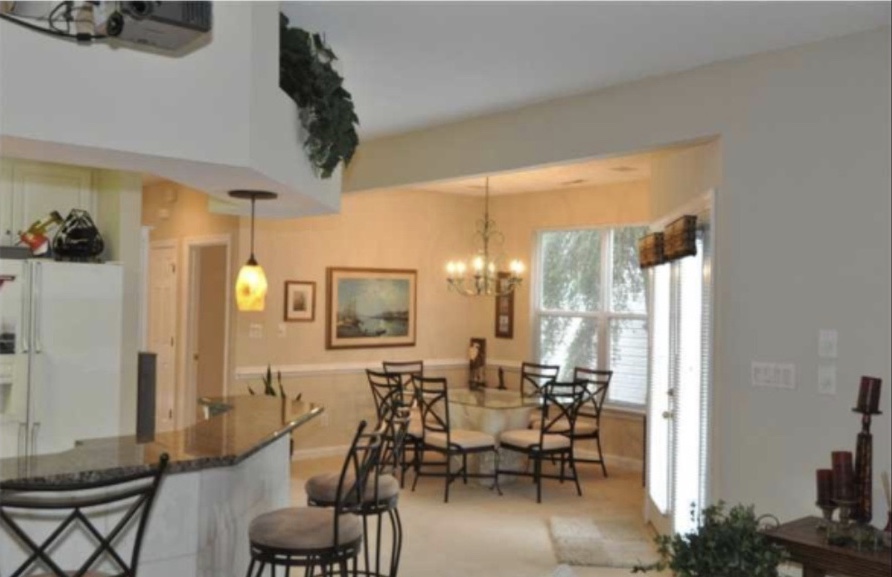 BEFORE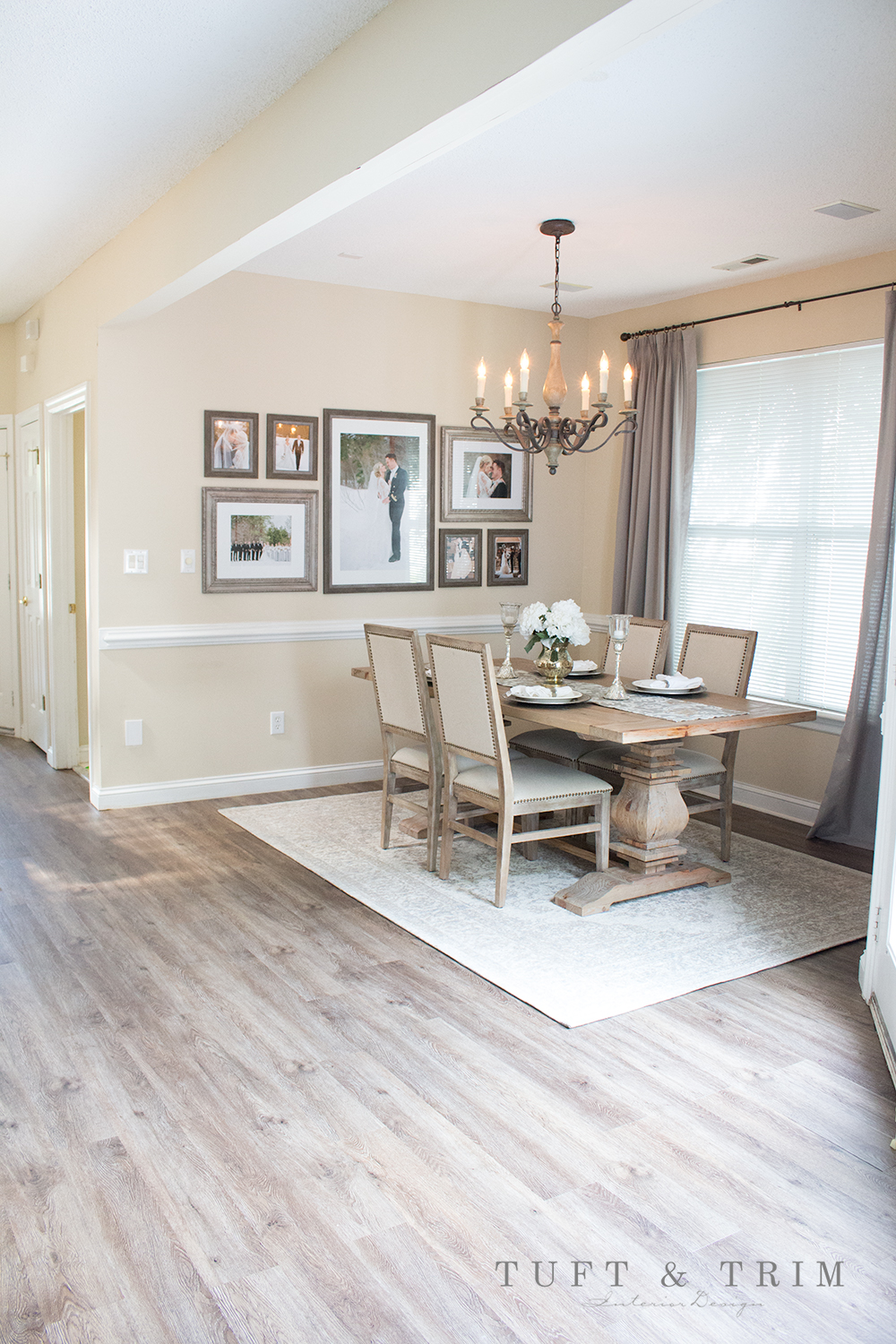 AFTER
Furniture
The table is one of my favorite pieces in the room, it's made of a reclaimed pine and stained with a
soft gray that enhances the wood's grain. It actually ended up being a bit lighter than I expected,
but I think that's what makes this room so warm and inviting. I had already had the chairs which ended
up matching the table perfectly with their light wood trim and linen cushions. I love how any scratch
made on the wood only enhances it's aged character.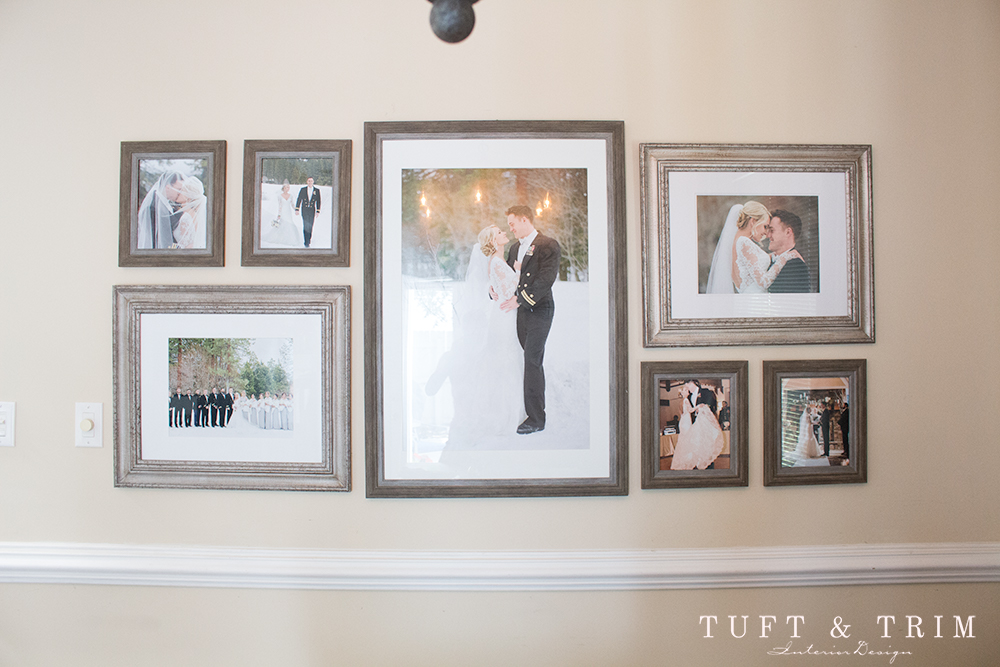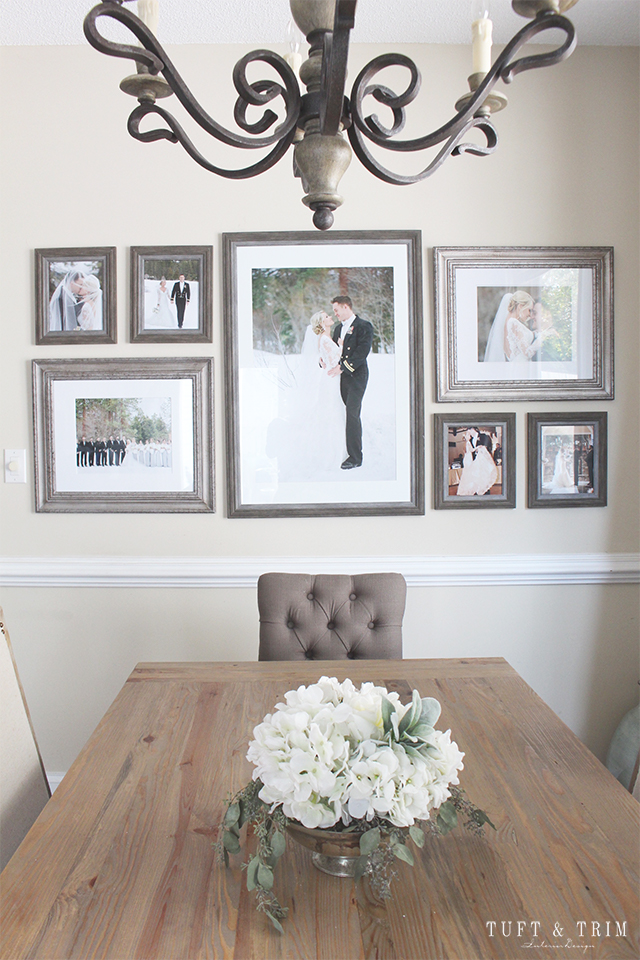 Gallery Wall
I wanted to put some wedding photos up somewhere and was running out of places so they
ended up in the dining room. I know, they are a little aggressive and I'm sure some of them will be
replaced with future baby pics or artwork at some point. But I do like having pictures up, it makes
the space feel personal. I also feel that bigger is usually better when it comes to wall decor..at least when
you have the room for it. But it is important to stay proportional to the wall space you have, you definitely
don't want to overpower the wall!
Flooring
The previous flooring was white carpet, which was NOT gonna fly with a dirty puppy and a
husband that forgets to take off his boots. So, without spending a fortune, we decided to buy
vinyl plank flooring and install it ourselves to save some money. Hardest project I've ever taken on,
but totally worth it in the long run. It looks and feels like wood floor and is both durable and
water resistant, we have loved it so far. 
Drapes
I made them! Stay tuned for the tutorial 🙂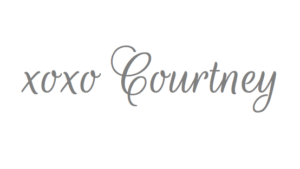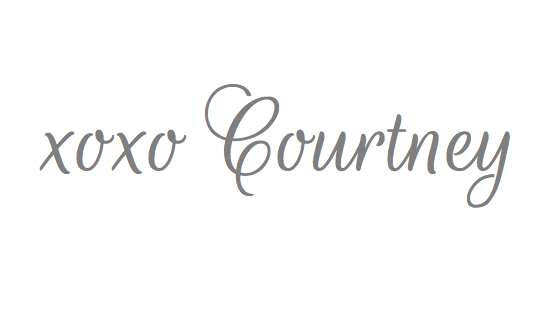 Widget not in any sidebars

Related posts: