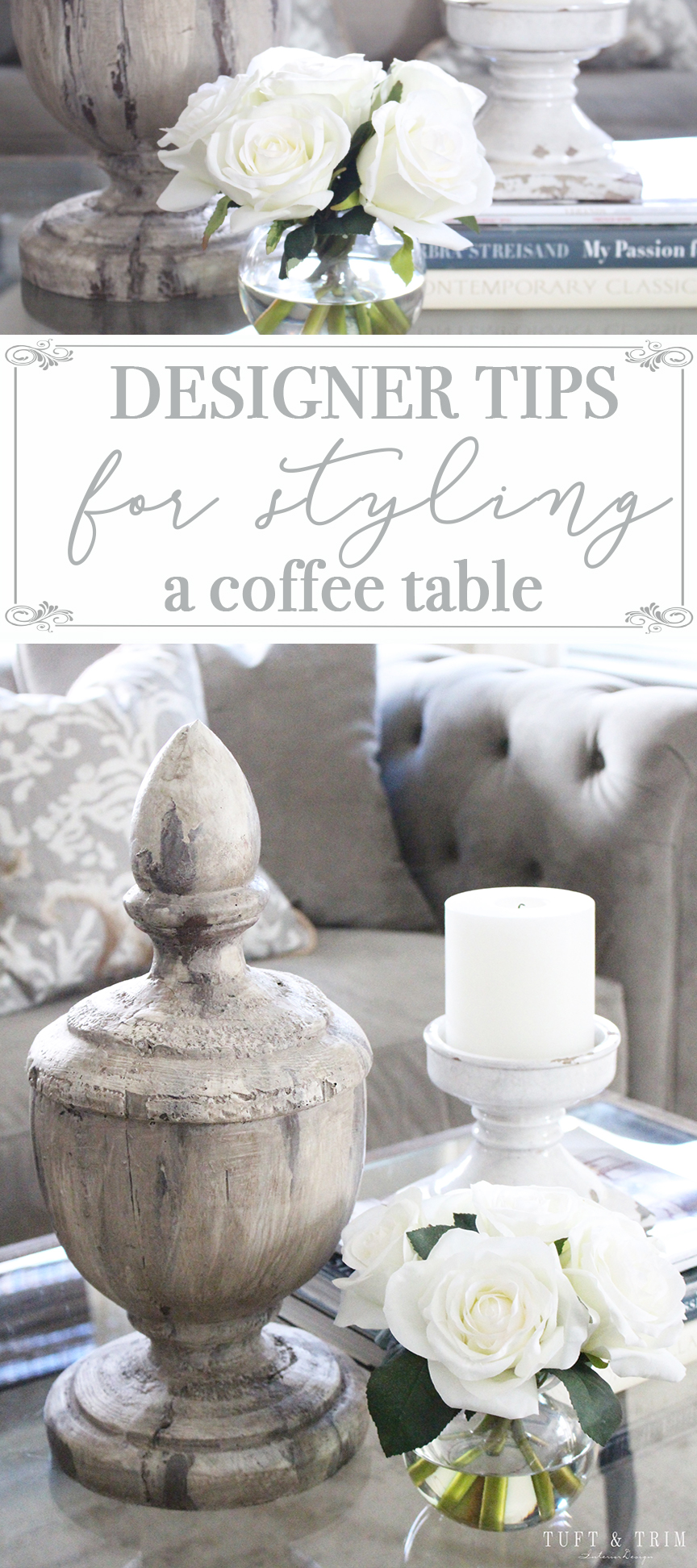 Are you looking for ways to update your home decor, but not sure where to begin? The coffee table is a
perfect place to start! I'm here to help and will walk you through how to style it like a designer. First,
there are several items that are "must-haves" for achieving a well styled coffee table. Follow along as I
take you through each design element and provide tips on how to incorporate them in your own home.
1.
---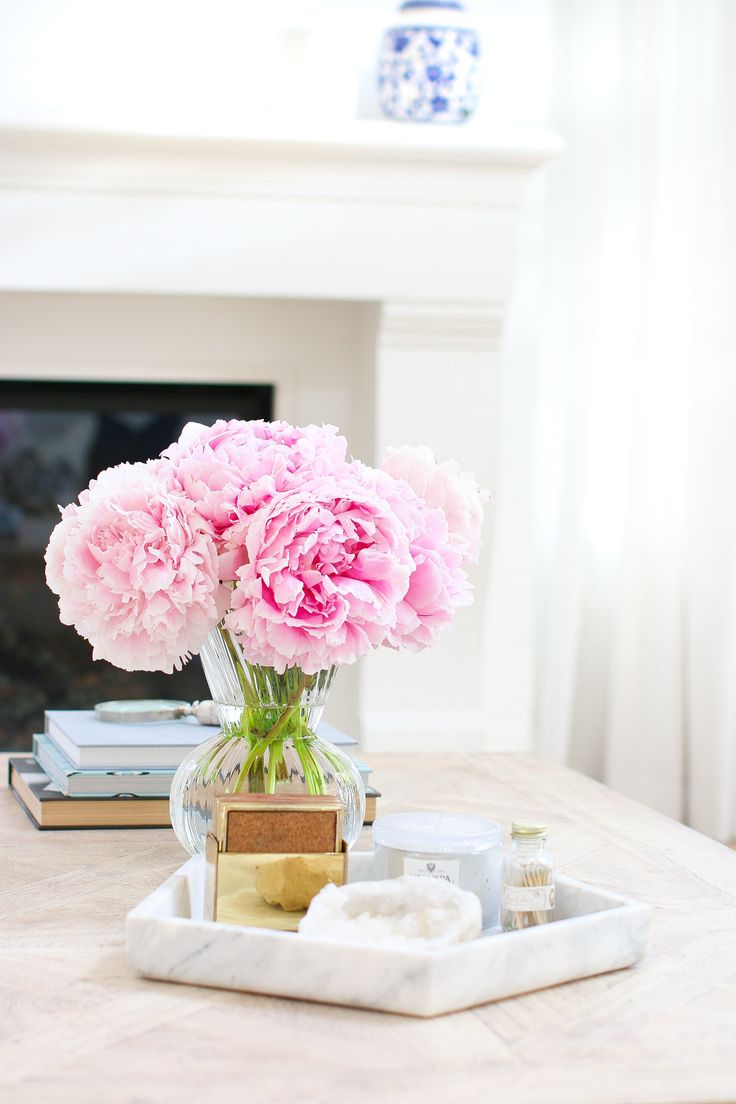 Although this may seem like a re-occuring theme, flowers and plants really are great for 
decorating, and especially on coffee tables. The picture above would look completely different
and bare without the bright pink flowers. Flowers not only bring color, but they also bring
dimension and help fill the empty space, which is often what a coffee table needs.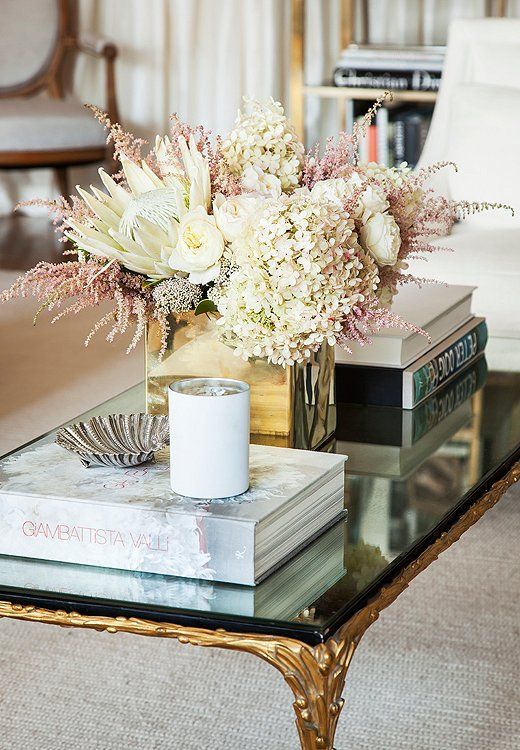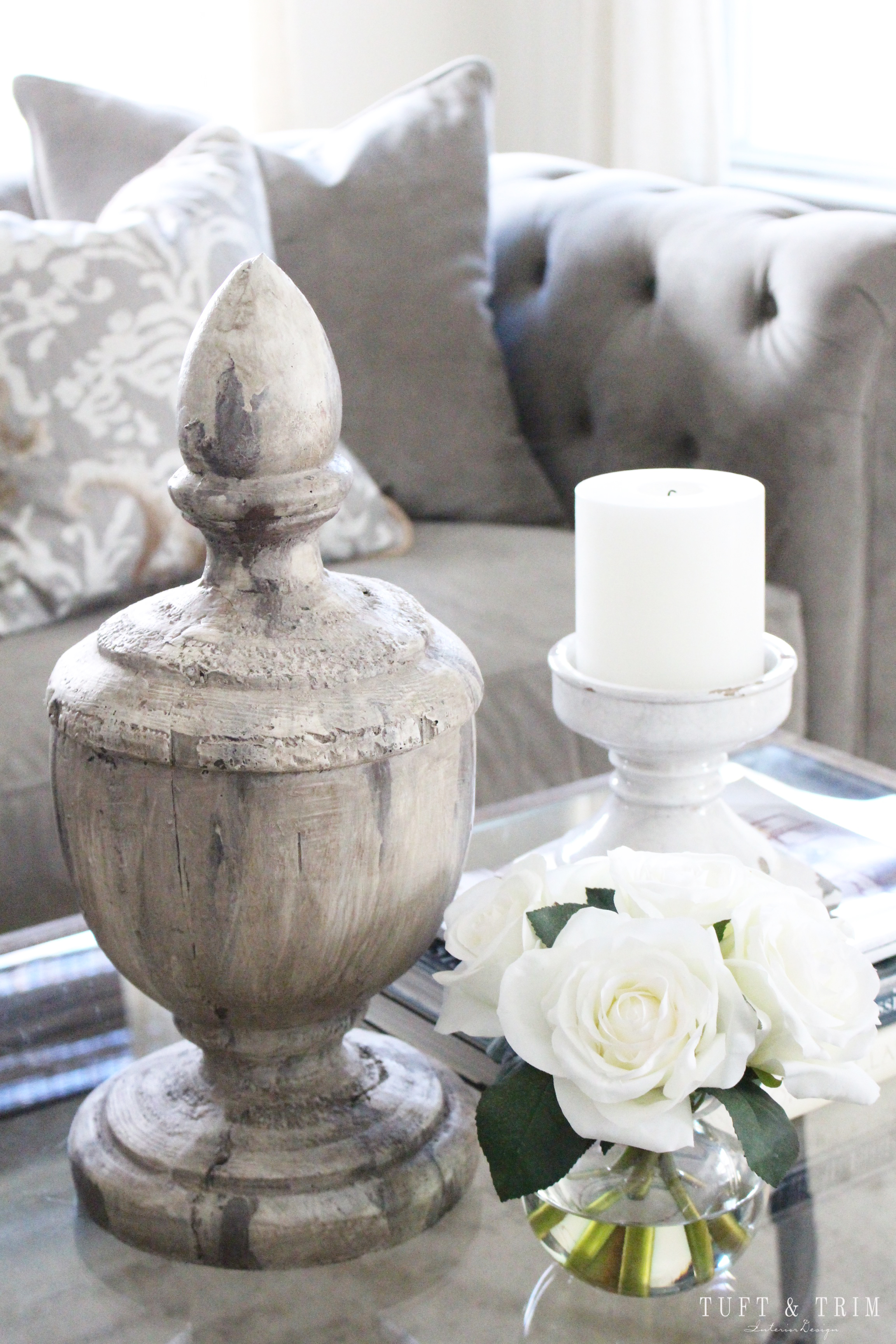 If you don't have the time or energy to use fresh flowers, try getting faux flowers. As much as 
I love fresh flowers, I can't deny my lack of a green thumb, so I often stick with faux flowers.
I found these faux roses at Home Goods and they help soften my coffee table, as well as bring
dimension. Notice I have a grouping of three items, all different heights. I'll cover this 
again shortly, but take note as you see this common theme in each design.
2.
---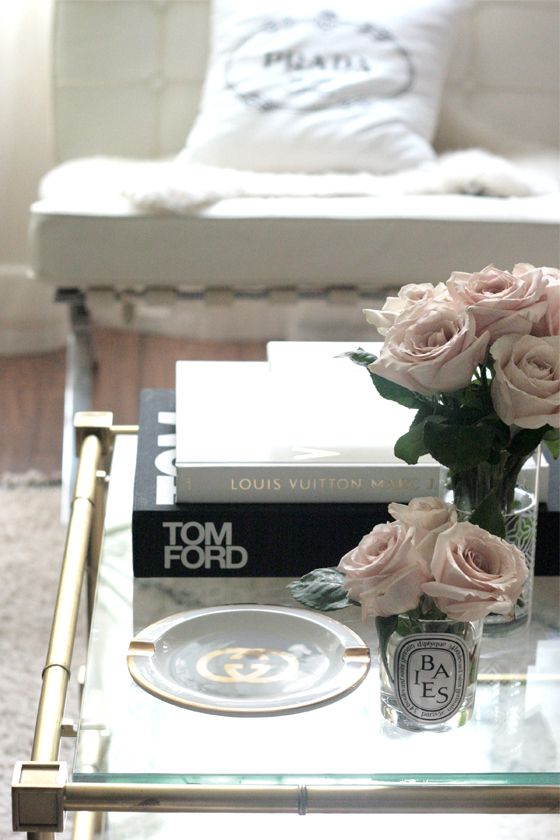 source
Although we want our coffee table looking good, lets talk about functional. Stacking books is a great
option, not only for style, but for entertaining. It's nice to have something to look at when your
bored or have company over.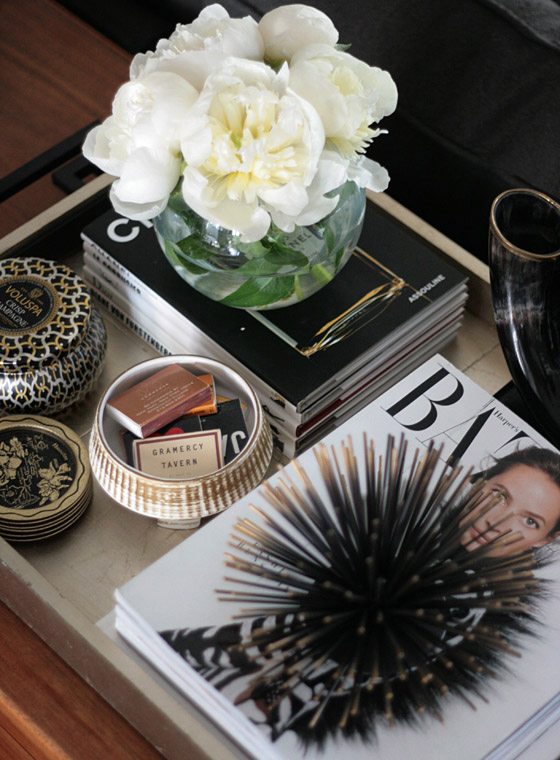 If books don't fit your budget, try magazines, like in this lovely design. I like featuring all my 
favorite magazines on our coffee table, but I usually display the nicer ones like Veranda or 
House Beautiful. Stacking both magazines and books helps create dimension and looks great
when topped with flowers or a figure like in the look above.
3.
---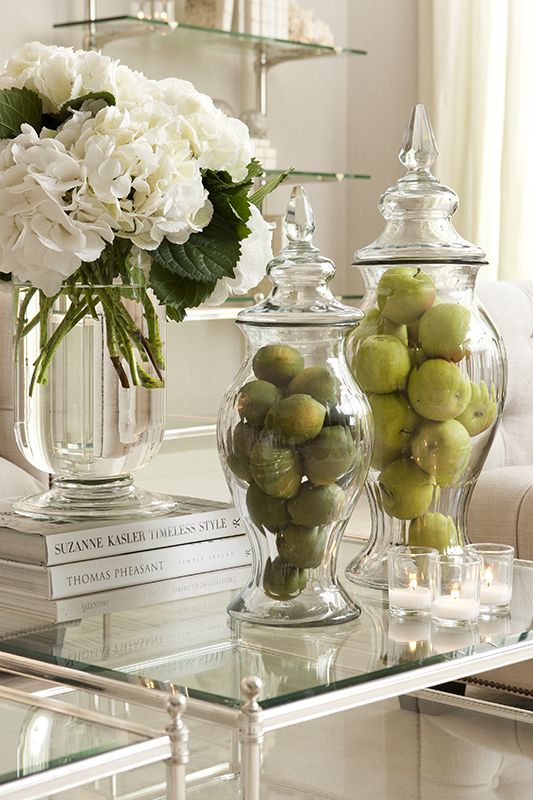 Notice how the coffee table above is styled with layered books, flowers, glass jars, and candles. 
All of these elements are styled in a way that creates different dimensions. The jars are staggered
at different heights, and the flowers on top of the books create even more height. Not sure 
what to put in the jars? Try fruit like they did, it's a great way to incorporate color.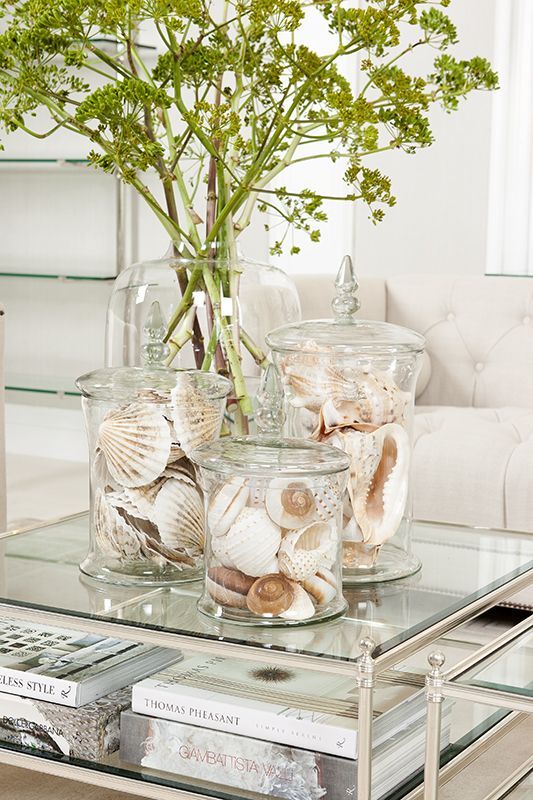 Again, we see staggered glass jars that are all different heights, along with a plant extended
above it. If your home has a beach theme, adding shells to the vases is a great way to emphasize
that.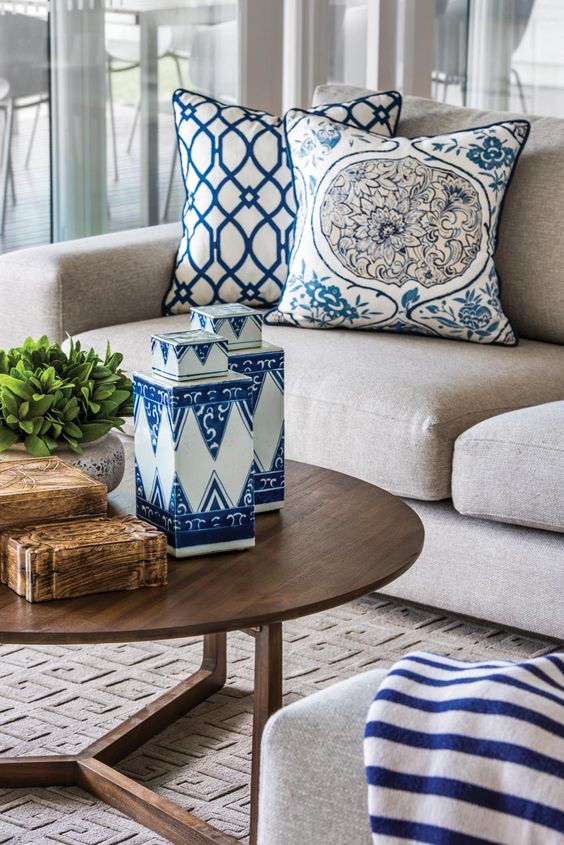 Try finding decorative jars that match your pillows, or the rooms color scheme. These blue and
white jars are styled beautifully, alongside a green plant, and some stacked wood boxes. 
4.
---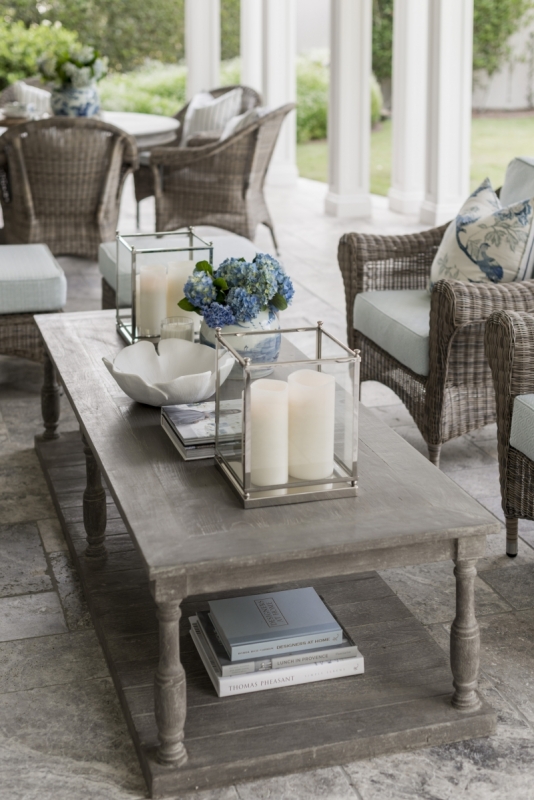 I know I'm not the only one that has an obsession with candles. Candles are not only pretty
to have around the house, but they smell amazing, and set a cozy mood. I love how Verandah 
House Interiors uses these pillar candles in the glass vases, along with the blue hydrangeas, 
stacked books, and decorative bowl.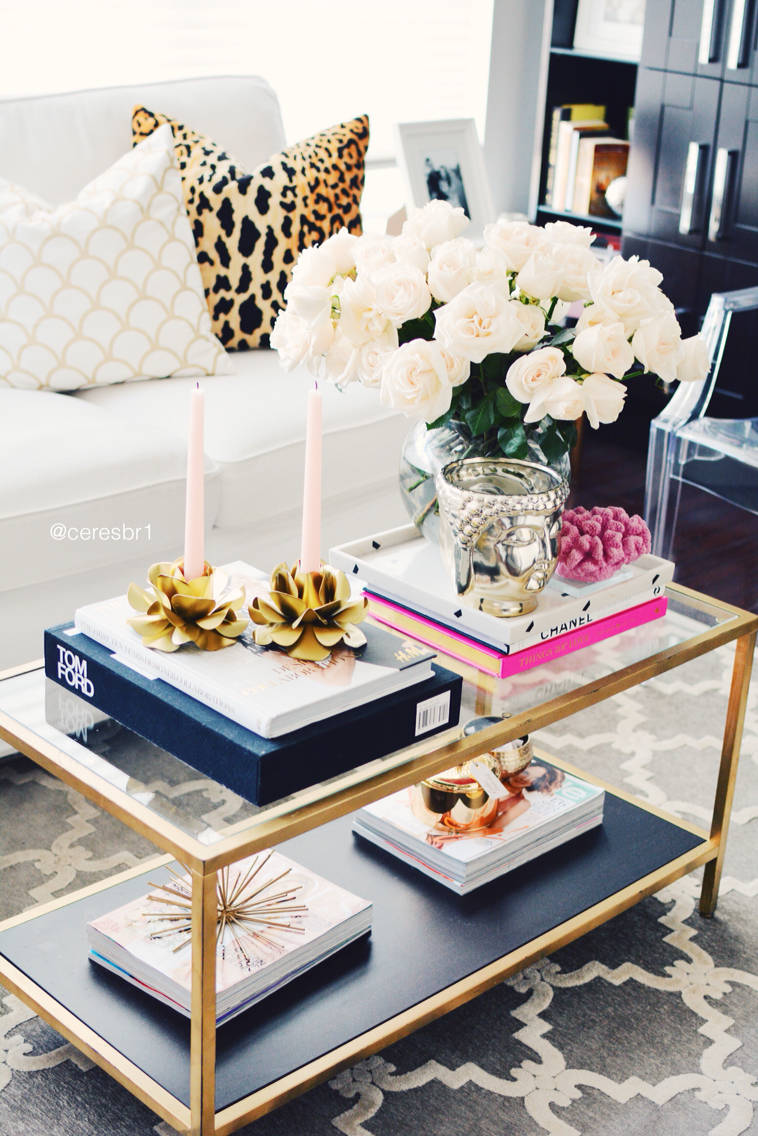 If your wanting to showcase more personality and vibrance in your home decor, take notes
on this beautifully styled coffee table above. The perfect combination of color, balance,
and personality.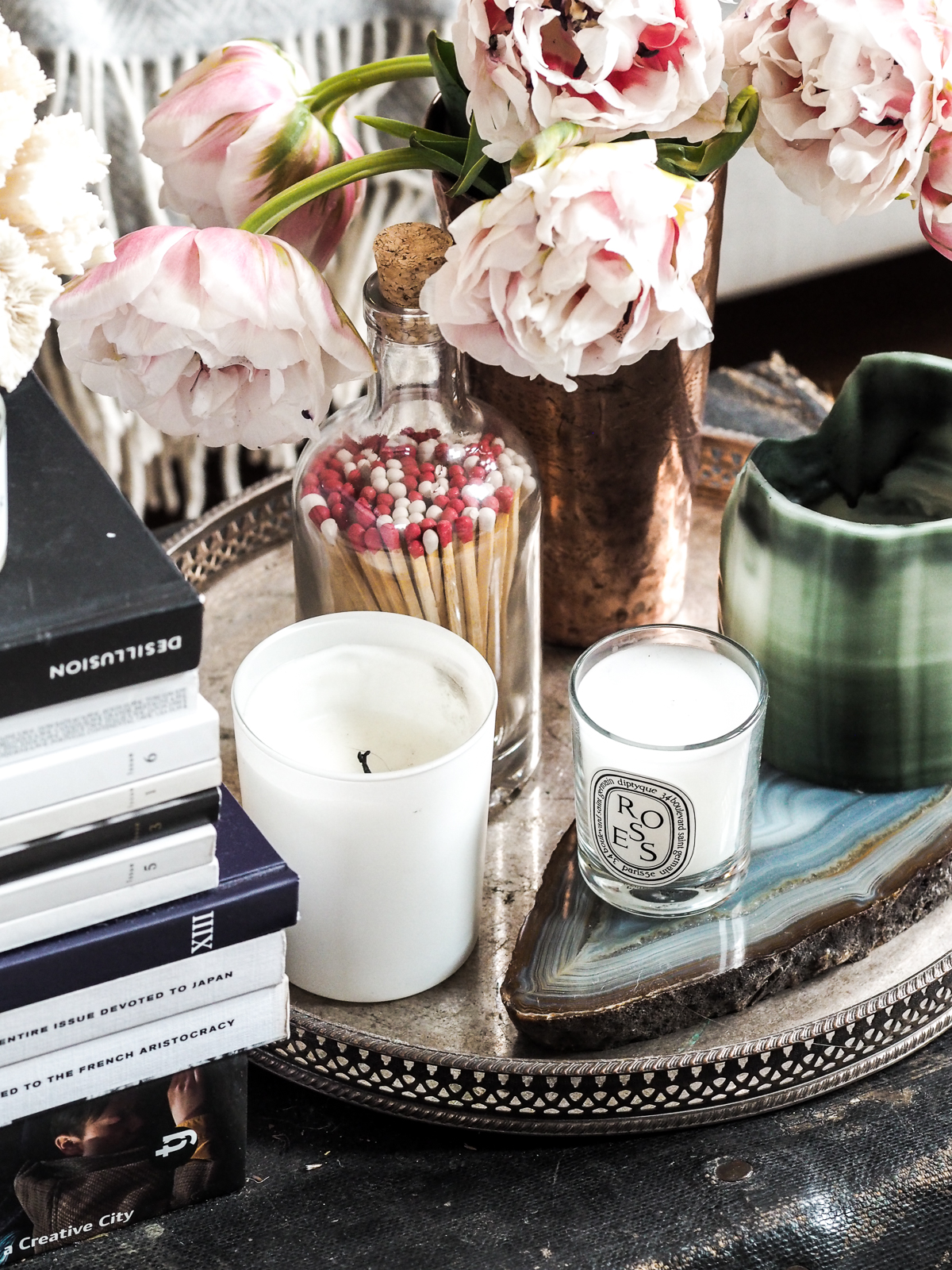 You can even group together different styles of candles for a more eclectic look.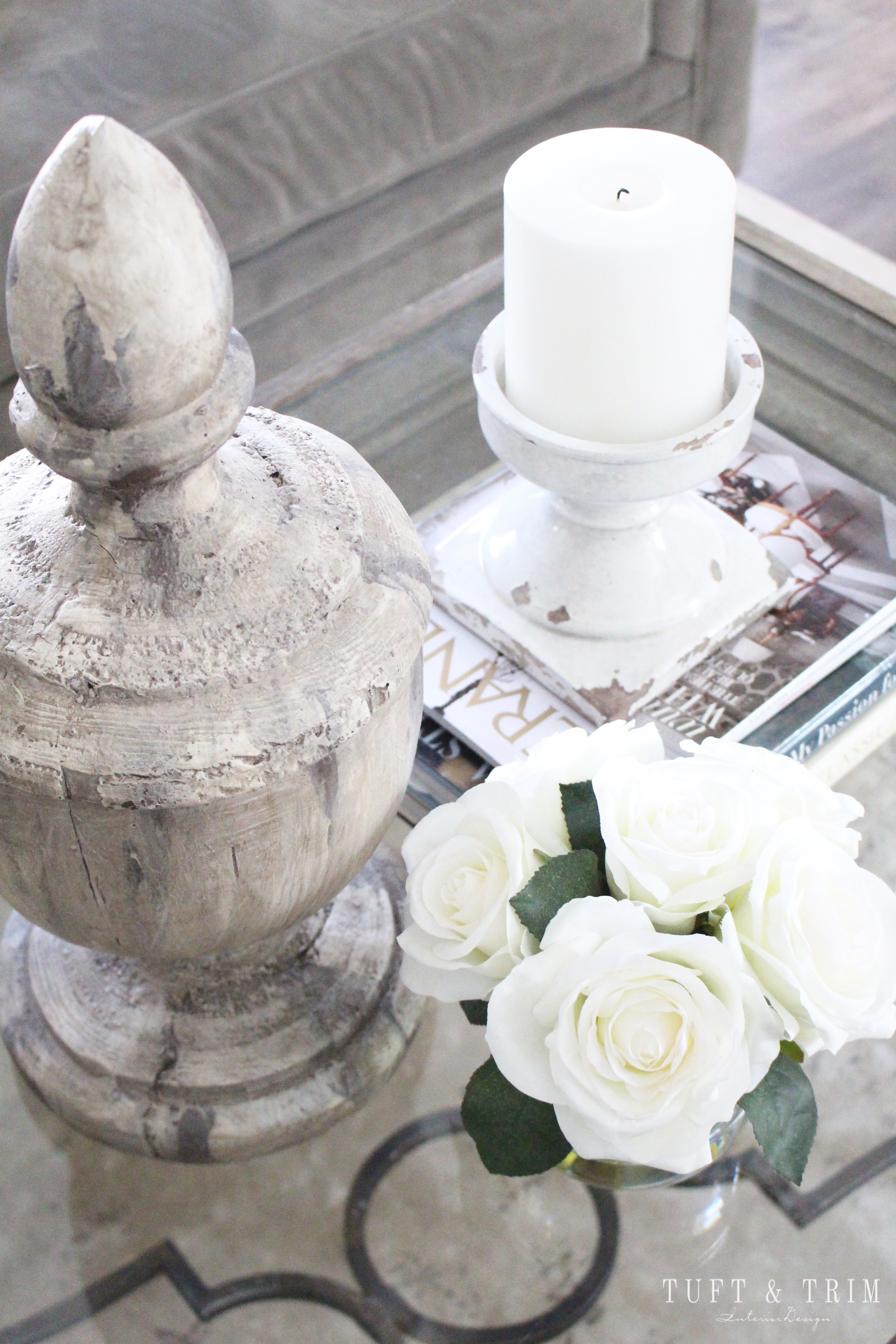 5.
---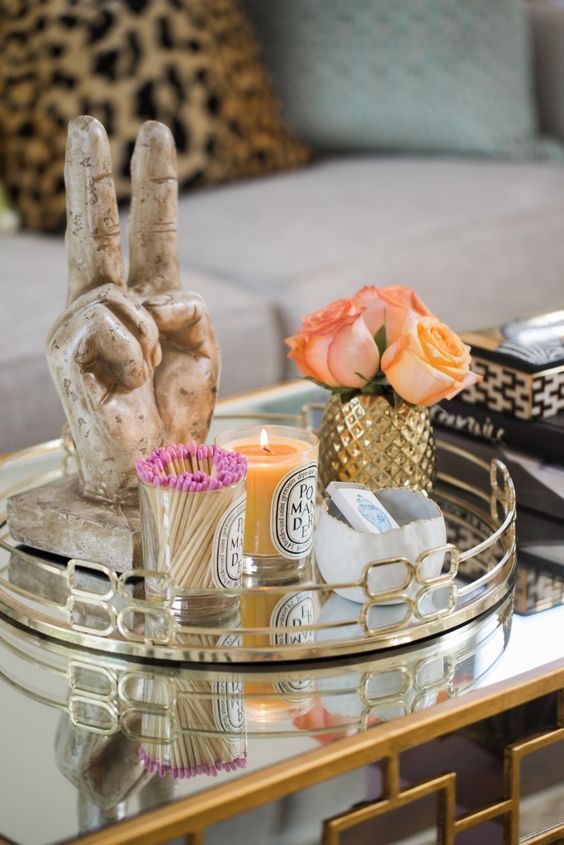 Trays are great for grouping items together without making the table look too cluttered. I love
this round tray filled with candles, flowers, and a hand sculpture. The same concept is shown
below, but with a vase for height.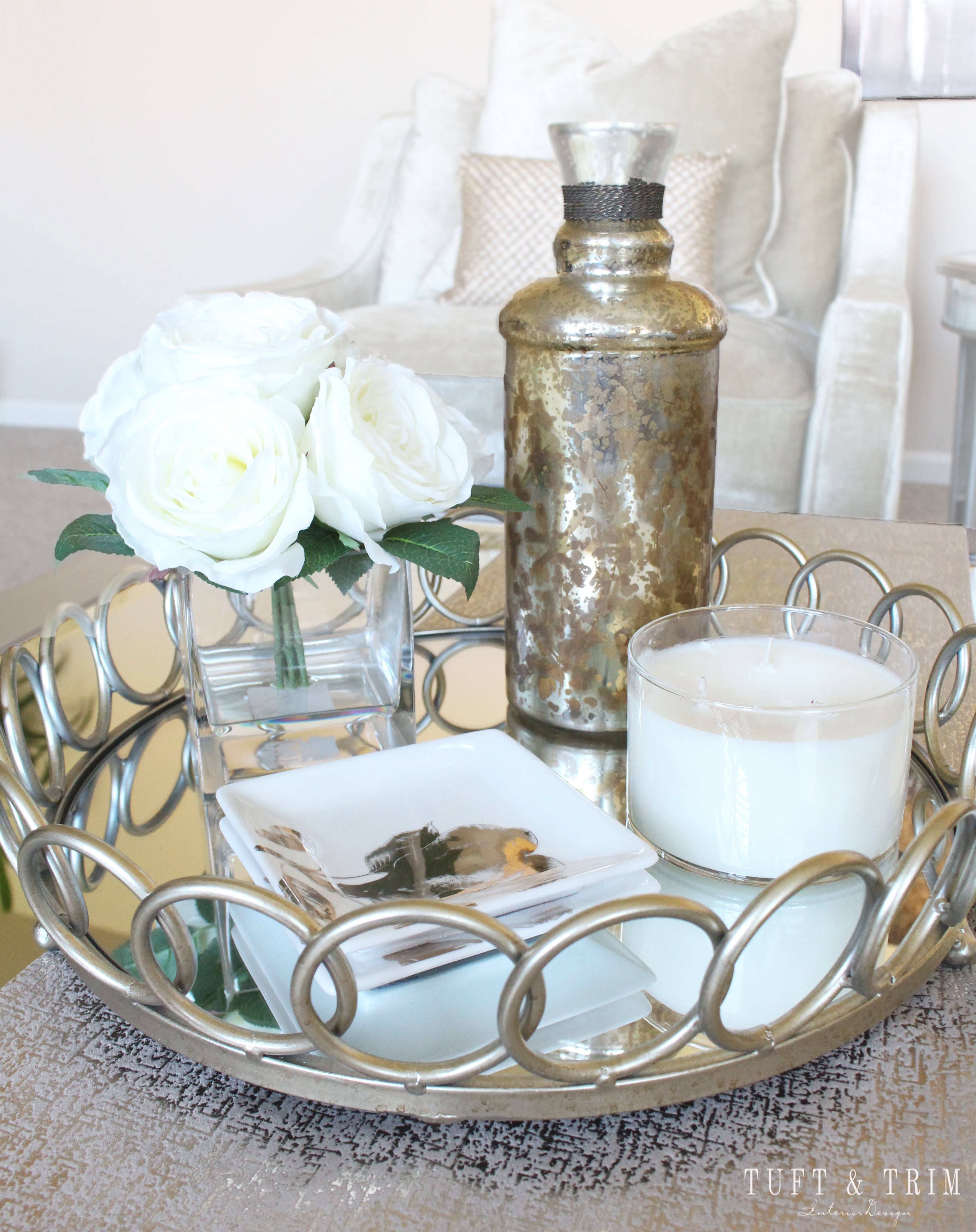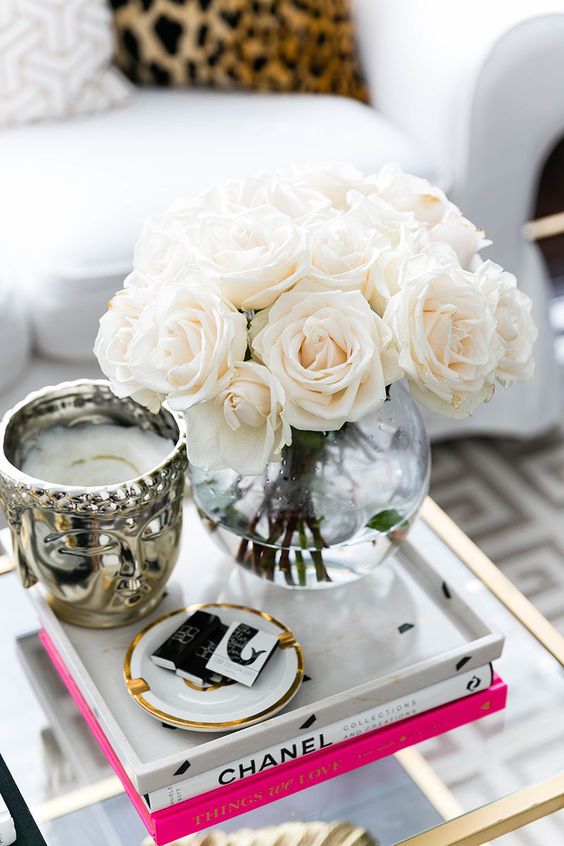 Thanks for joining me today, I hope you found my tips helpful and inspiring! And
now that you know the designer secrets on styling a coffee table, try using these tips when 
decorating your own!  Below I've provided all my favorite coffee table accessories for you to shop!

[carousel_slide id='2964′]

Widget not in any sidebars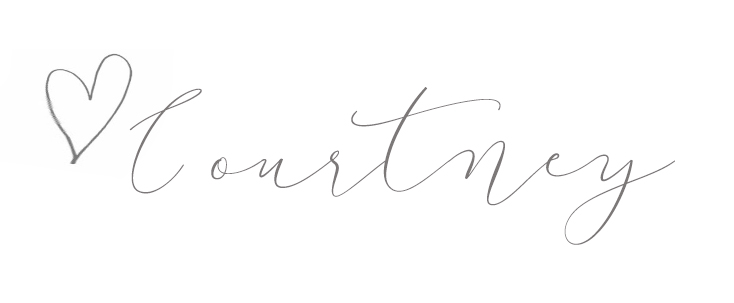 Related posts: