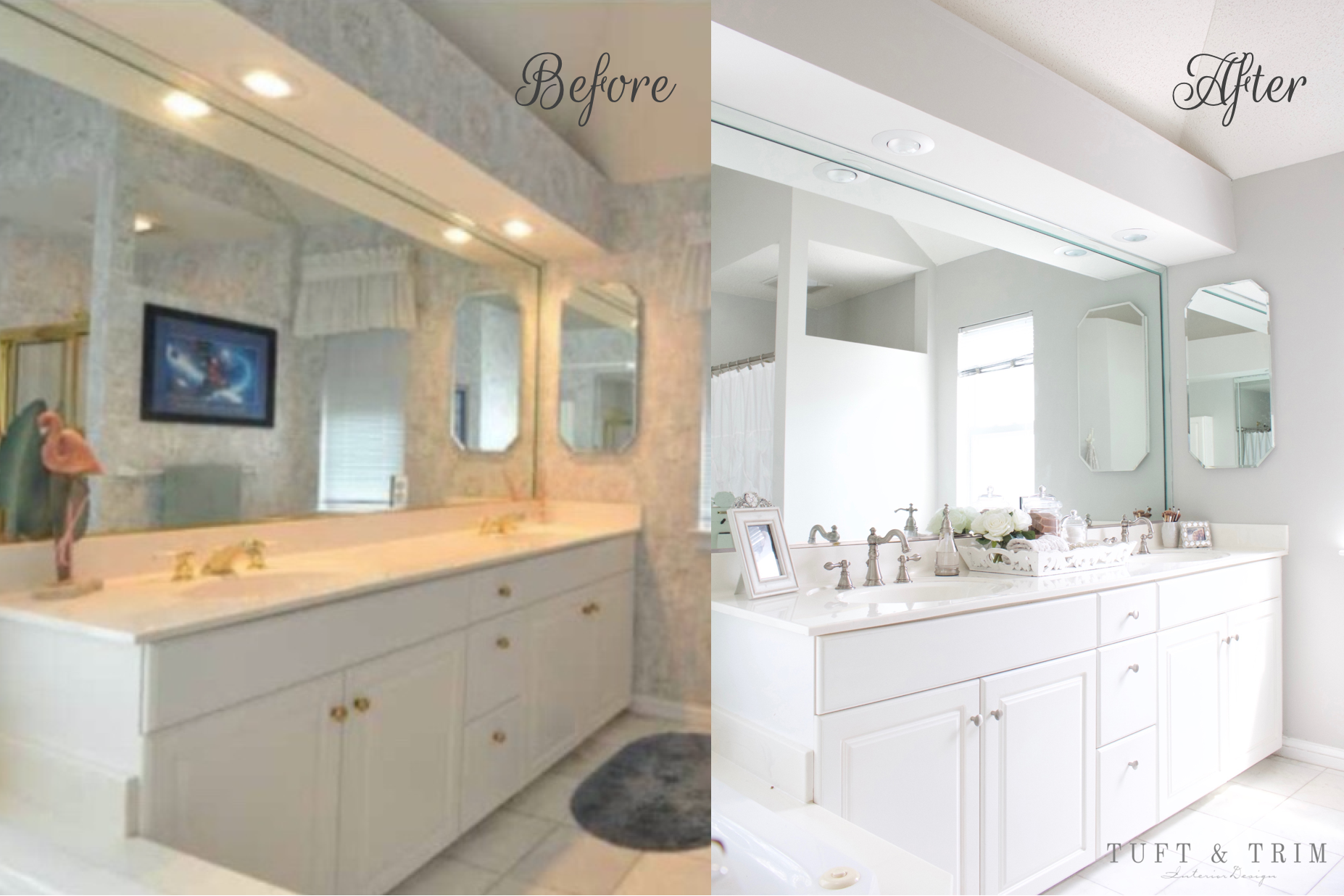 When I first saw our master bathroom, I fell in love with the amount of natural light and open space.
I did not, however, fall in love with the 90's style wallpaper or the bright gold fixtures. Luckily, these
were easy fixes…well, wallpaper not so much..maybe more like inexpensive changes. As a designer,
I have about a million ideas on how to make this bathroom spectacular. Unfortunately, our budget
doesn't agree with most of the ideas. Hopefully in the future we can put some of these plans in motion,
but for now, I just want to have a pretty bathroom that makes me happy to be in. Follow along and see for
yourself how just a couple of small changes can lead to a whole new space!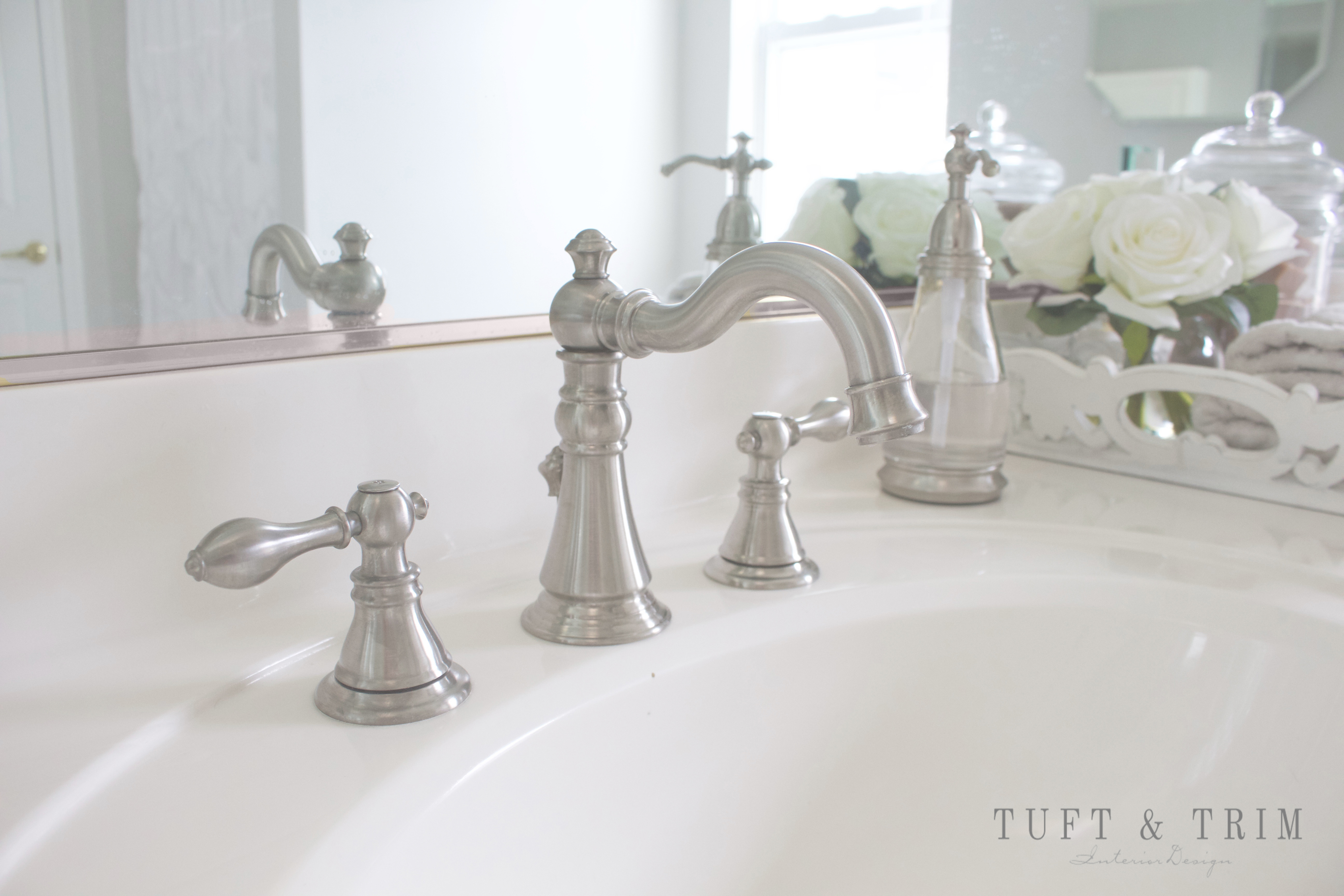 First, I started by getting rid of the gold in any way that I could. I found these sink faucets online at Wayfair,
we loved the style and thought it would add some character to the space. And the best part was, they were
affordable!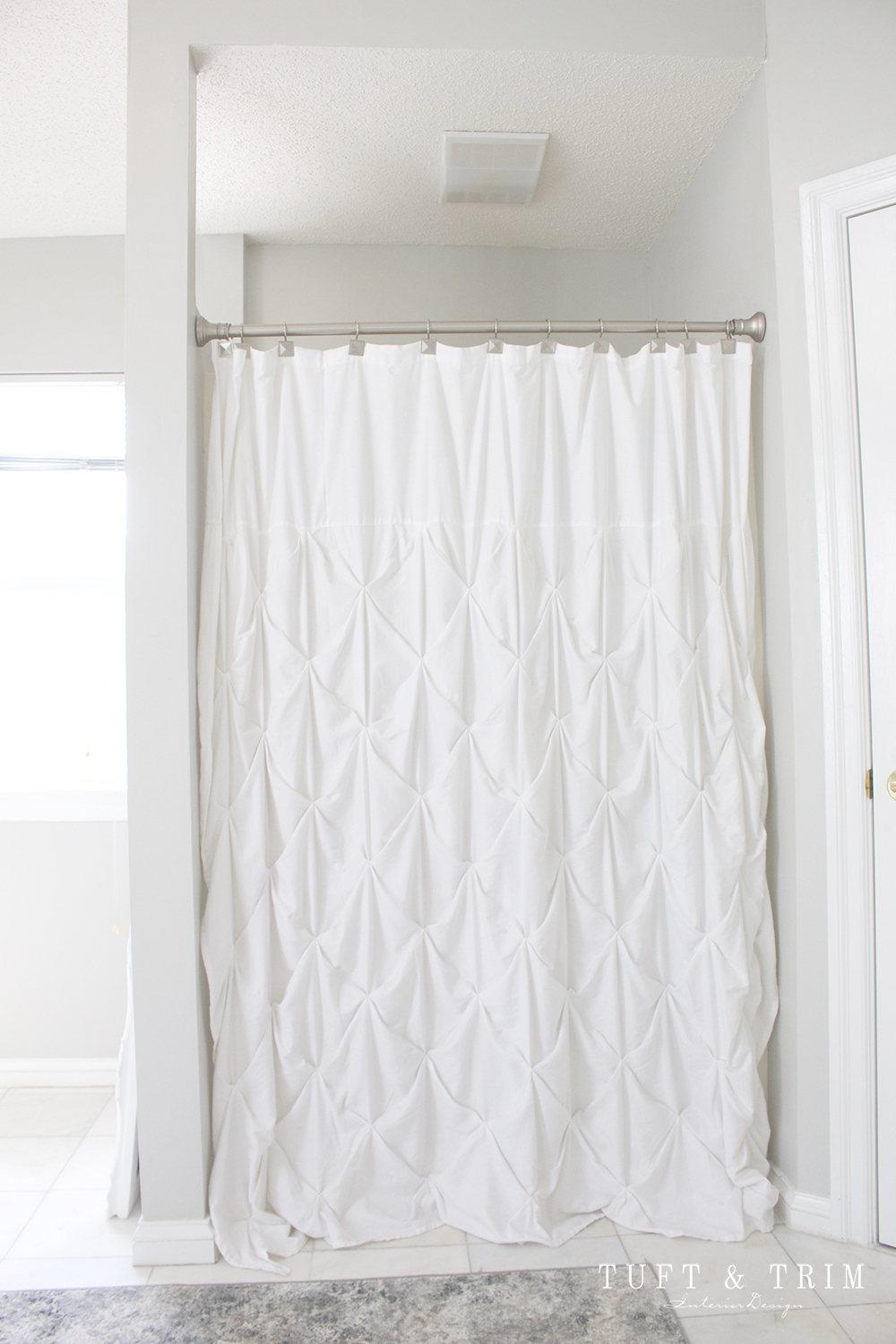 I'm also not a huge fan of our fiberglass shower and door, I'd love to knock it out and do a pretty,
white subway tile shower with frameless glass door. But for now, a quick fix called for a shower curtain
to just cover up that gold!


Then we have the bathtub…I do love the jacuzzi tub, although I don't use it nearly enough. 
These gold fixtures stuck out like a sore thumb, but after researching prices, it just didn't
make sense to spend so much money on new faucets when we barely use the tub. So I sanded
and spray painted them with a silver paint that I had from another project. I probably should have
gotten more of a brushed nickel finish, and might re-paint them, but for now, I'm just happy to have
the gold gone.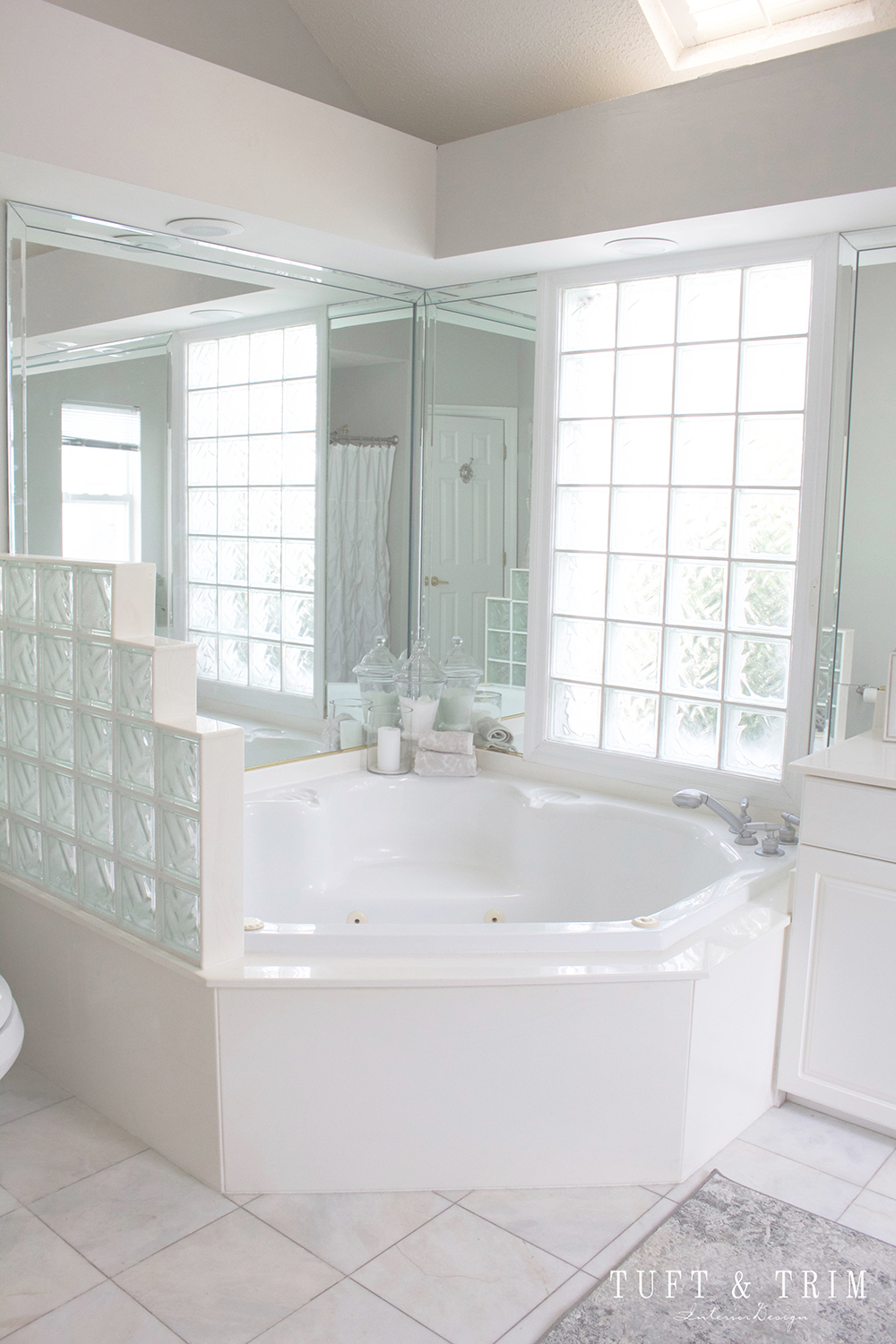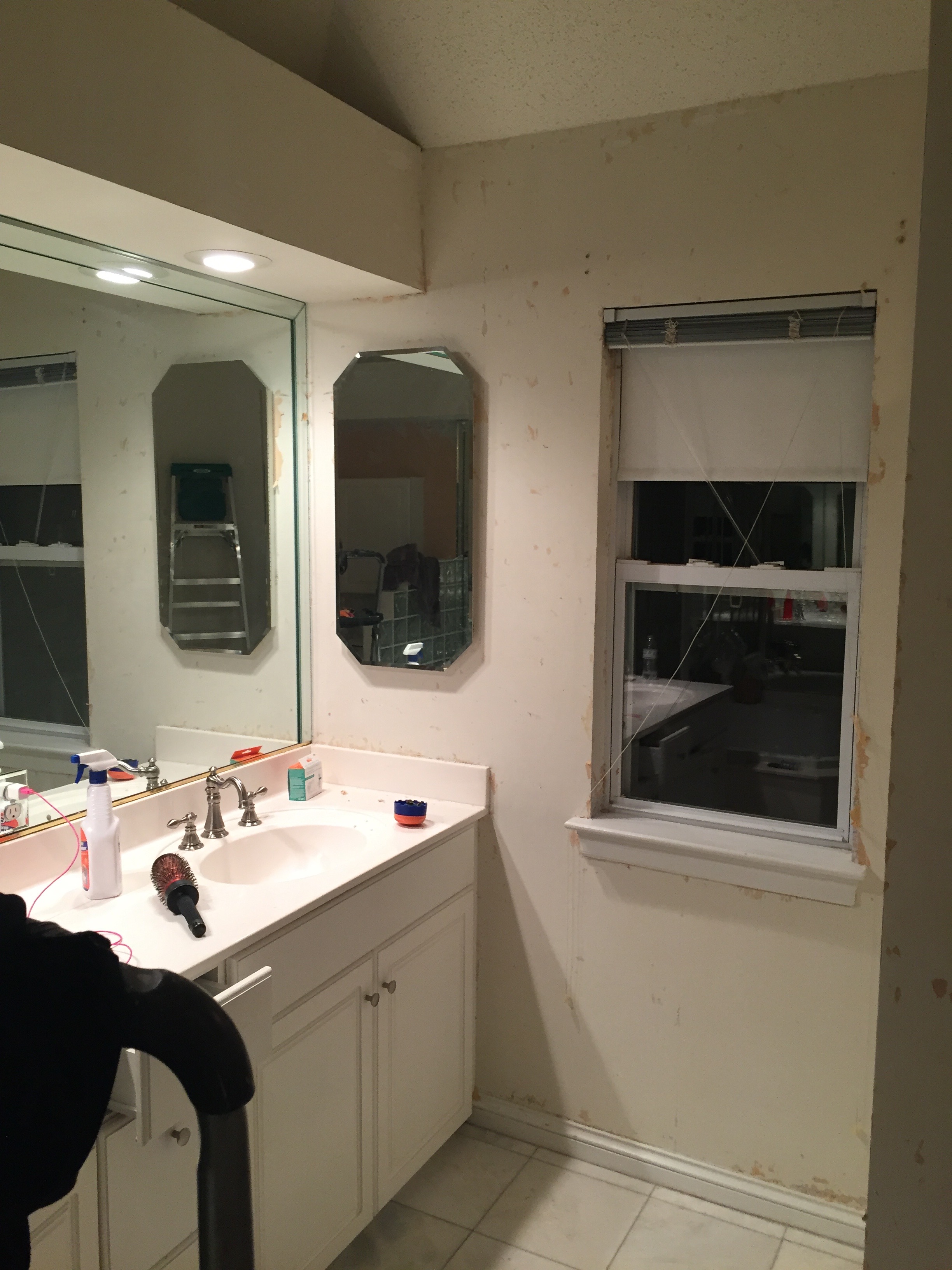 When I came home from vacation, my husband surprised me with tearing out the horrifying wallpaper. 
It was quite a strenuous task, but boy does it make a difference! I ended up picking Sherwin Williams 
Repose Gray and absolutely love the soft gray tone up against the white cabinets and marble tile floors.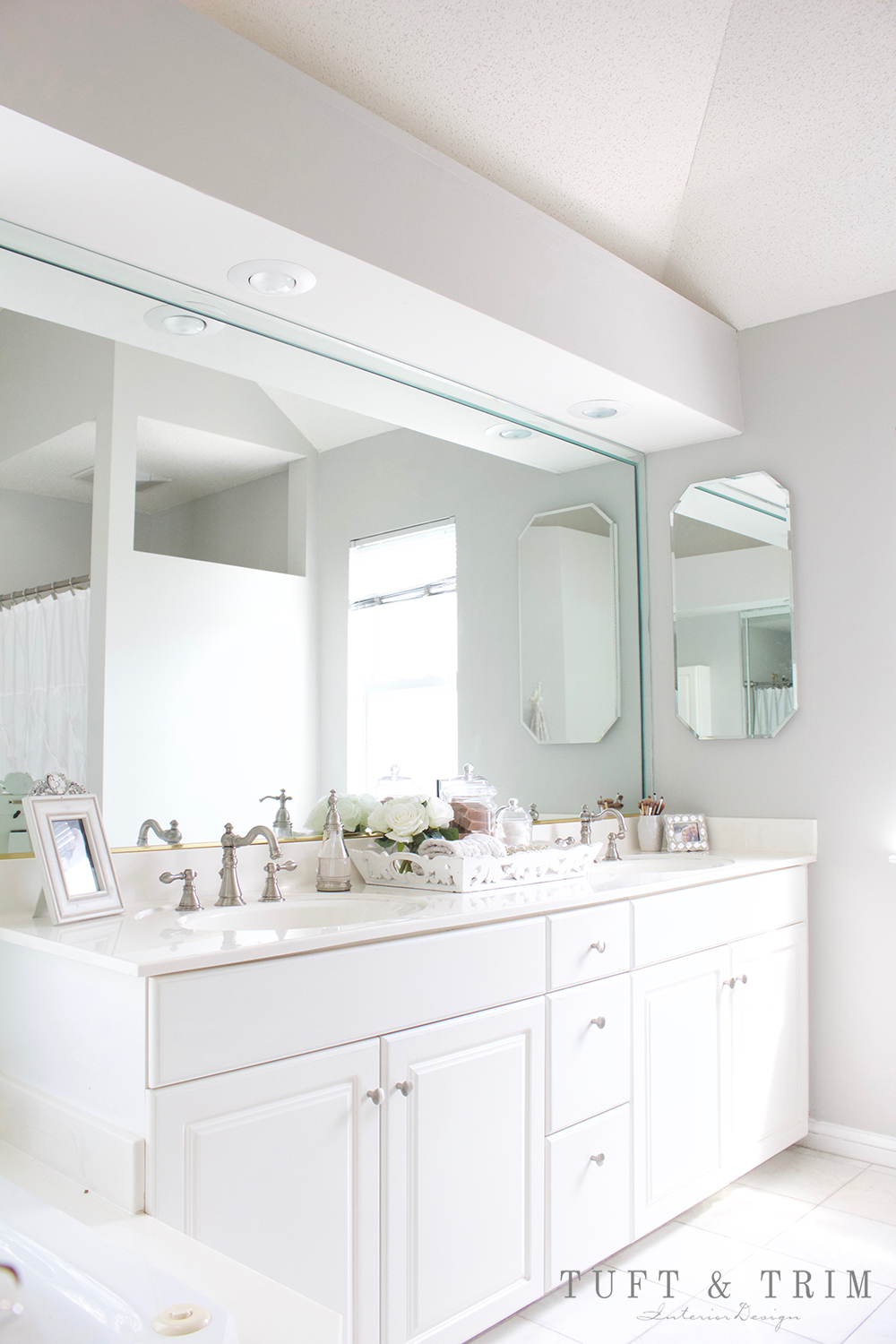 The final, but the most exciting step in my opinion, is the decor. It's the finishing touch that
gives the room it's personality!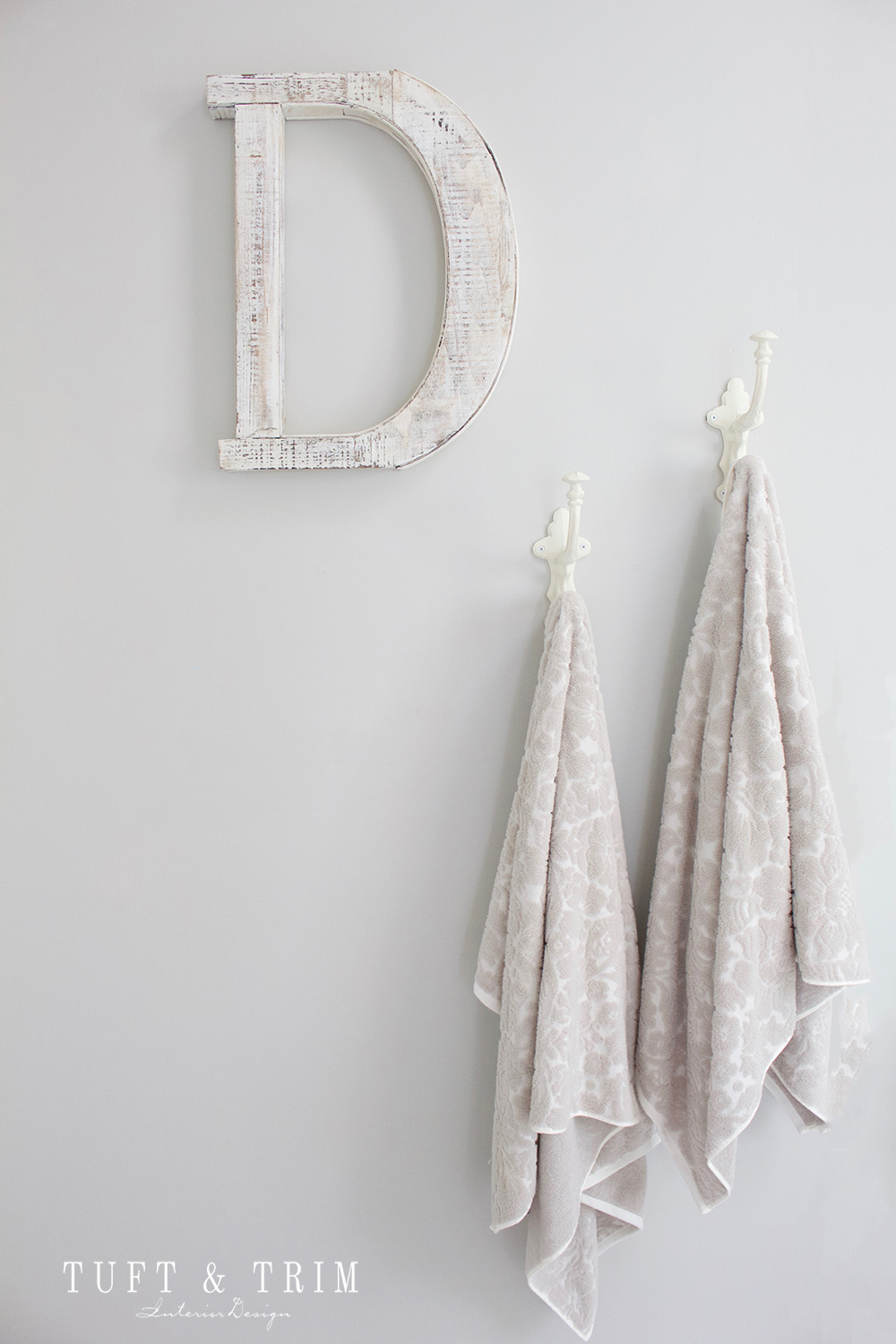 I found these soft gray damask towels at home goods and fell in love, I thought the print brought
such an elegant touch to the room. I layered the towels on these adorable hooks from Hobby Lobby, I loved
how they are unexpected and fill the space.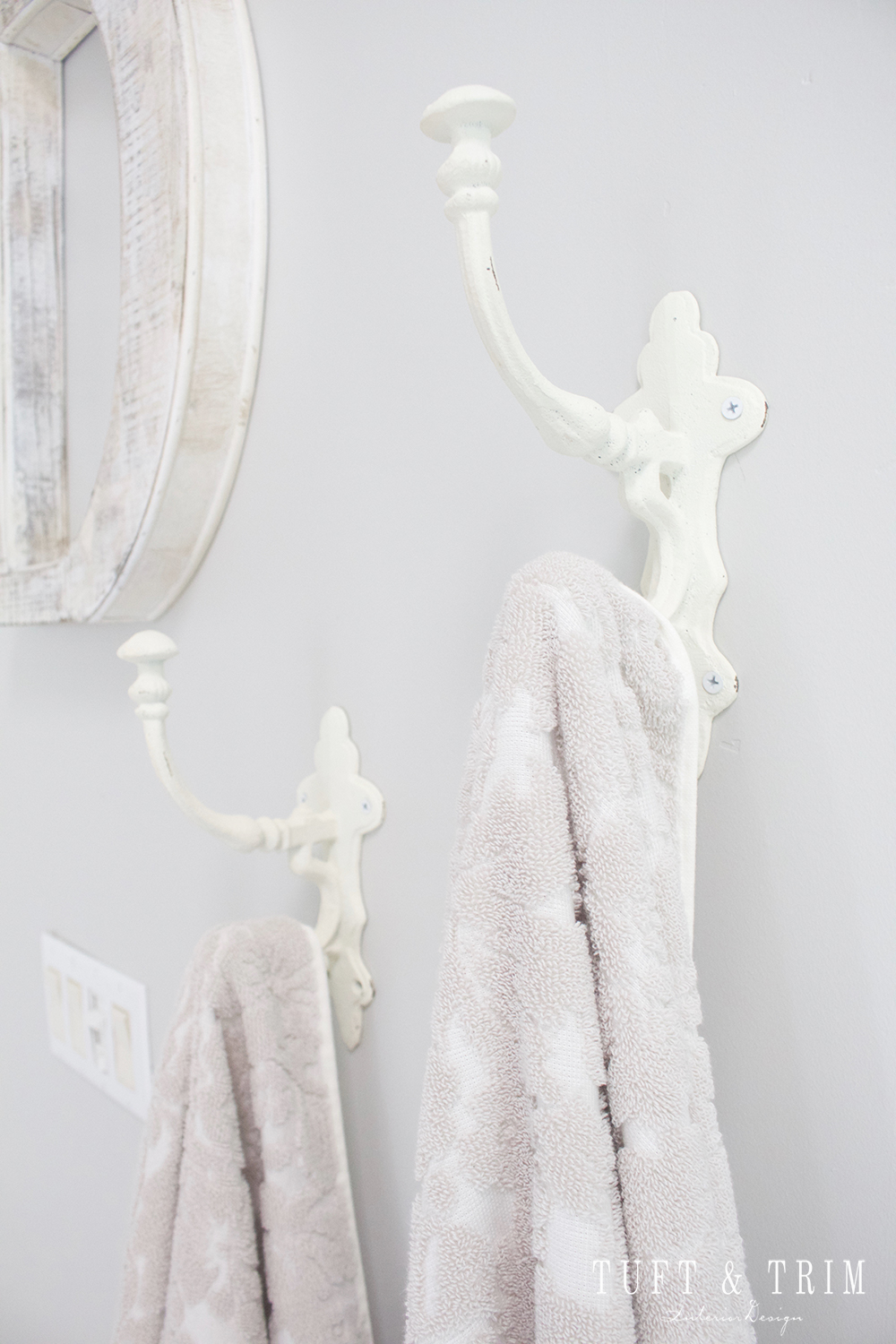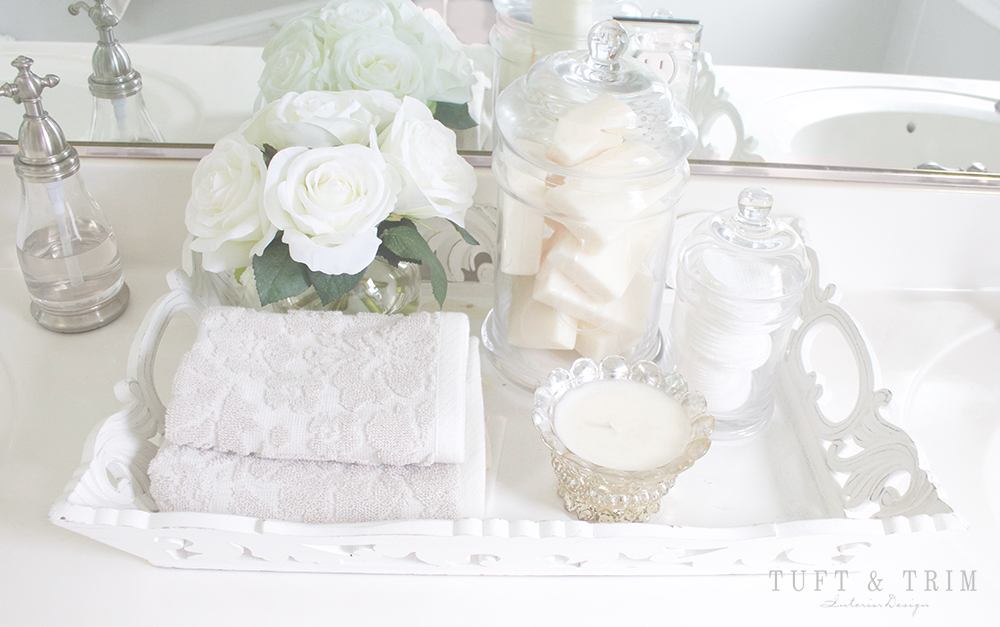 I put together a tray of some of my favorite items for the countertop, and of course, that included flowers.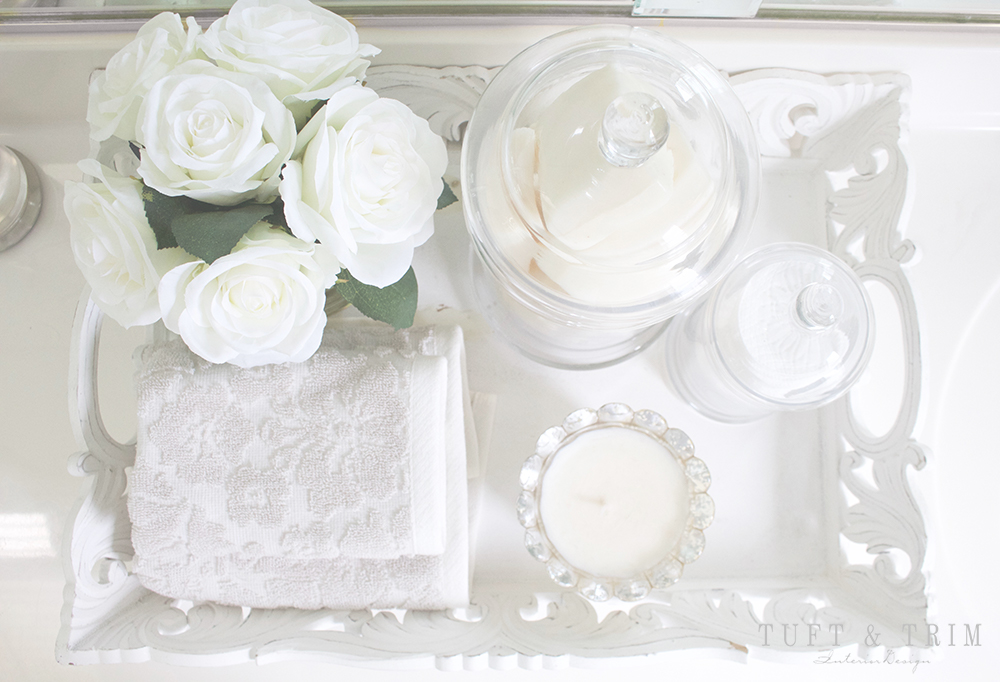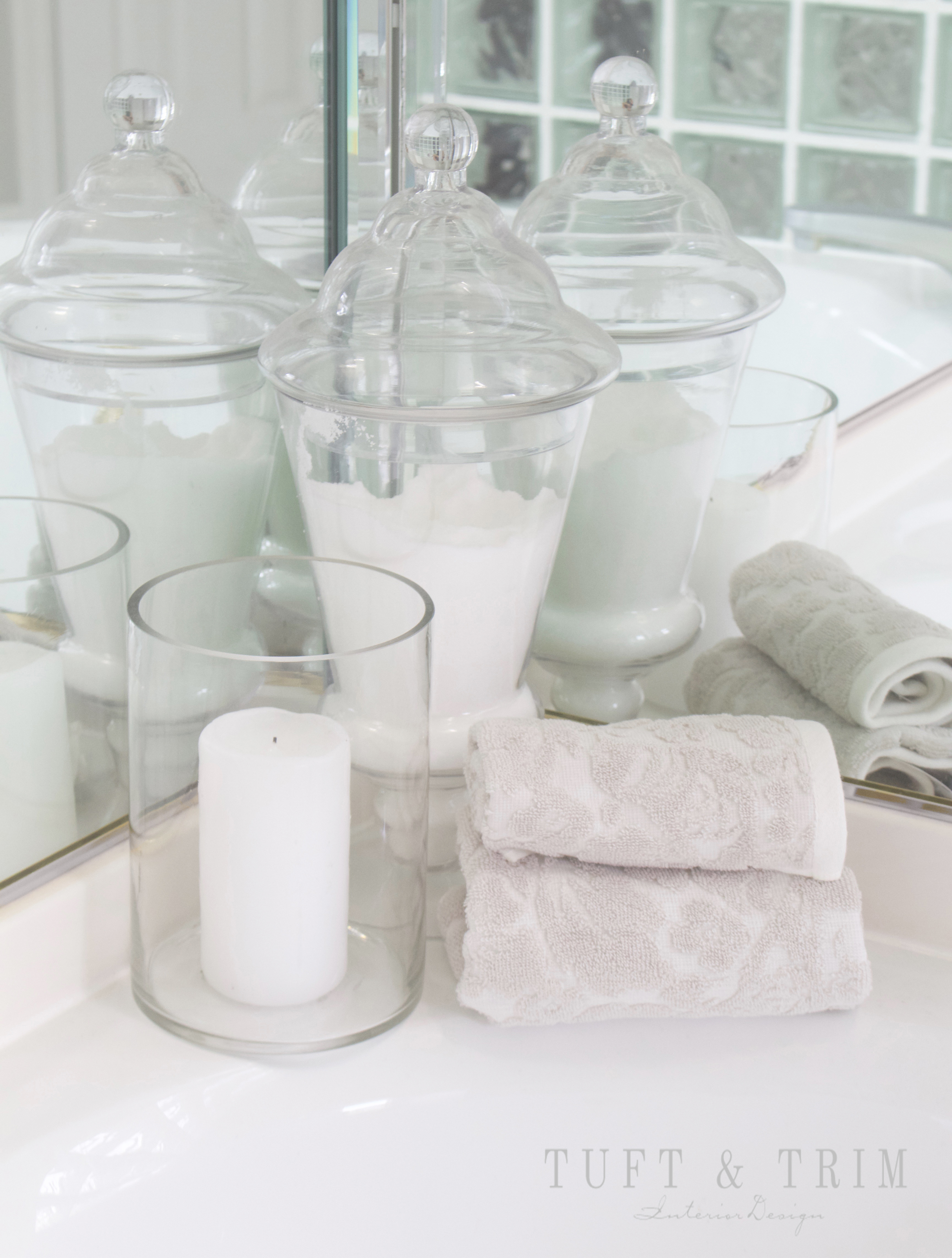 And there you have it, with just a little paint, new fixtures, and some decor, this bathroom
has transformed from busy and dated, to a soft and serene escape. It may have room for improvement,
but at least at the moment, it's a place I want to be in. Remember, creating a space you love doesn't always
require a lot of money, but it may take some creativity and a DIY attitude. 

[carousel_slide id='2576′]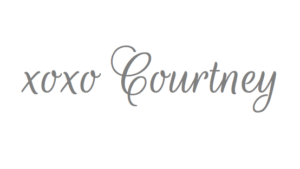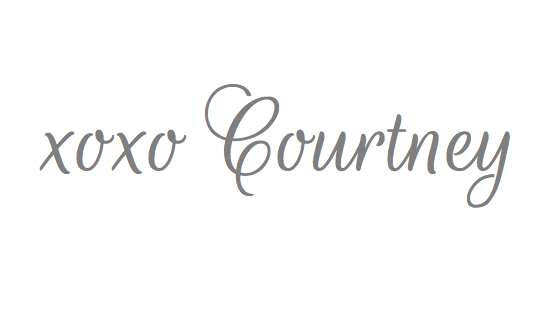 Widget not in any sidebars

Related posts: