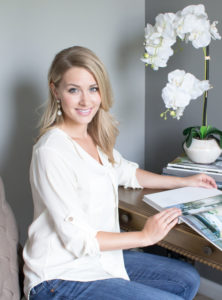 A home should be a place that expresses your taste, personality, and lifestyle. 
My goal for our home is to design a space that we look forward to spending time in each day. I want to create a cozy environment where we can enjoy good food, music, and time with friends. After decorating our home with a modest budget, I've learned that sometimes bringing quality into a home doesn't require lots of money, but rather a creative and unique touch. My favorite designs have a combination of both fashion and function, formal and casual, and a rustic charm mixed with romantic French elements . These are some of the characteristics that make up our home and tell our story, and my goal is to help your home tell yours.
Getting married and moving across the country has taught me to be flexible and embrace changes as they come.  I've always had a huge passion for Interior Design and hoped to be able to have my own business one day. After getting my Interior Design degree and working as a Design Consultant for over two years, I'm excited to continue my career through Tuft & Trim Interior Design. My blog features design tips, DIY projects and tutorials, as well as home decor inspiration. Along with the blog, I offer online design services, in home consultations, and full service home design. Head on over to Design Services and e-Design for more info!
As a designer, my goal is to come alongside and help a client find their style and incorporate it into a well balanced and thoughtfully designed space. Let me help you create a home you love!