Do you ever feel stuck not knowing how to decorate around your tv? I know I had a hard time trying to imagine what could make our huge tv blend in with my living room and not stick out like a sore thumb. After MONTHS of looking around for ideas, I finally found a solution that I loved. But before getting there, I spent a lot of time on Pinterest, and had several failed attempts. Luckily, I saved all the ideas and thought it would be fun to share some of the creative and unique ways you can decorate around a tv. I've categorized my favorites in 8 different concepts so you can find what style is right for your home!
1
---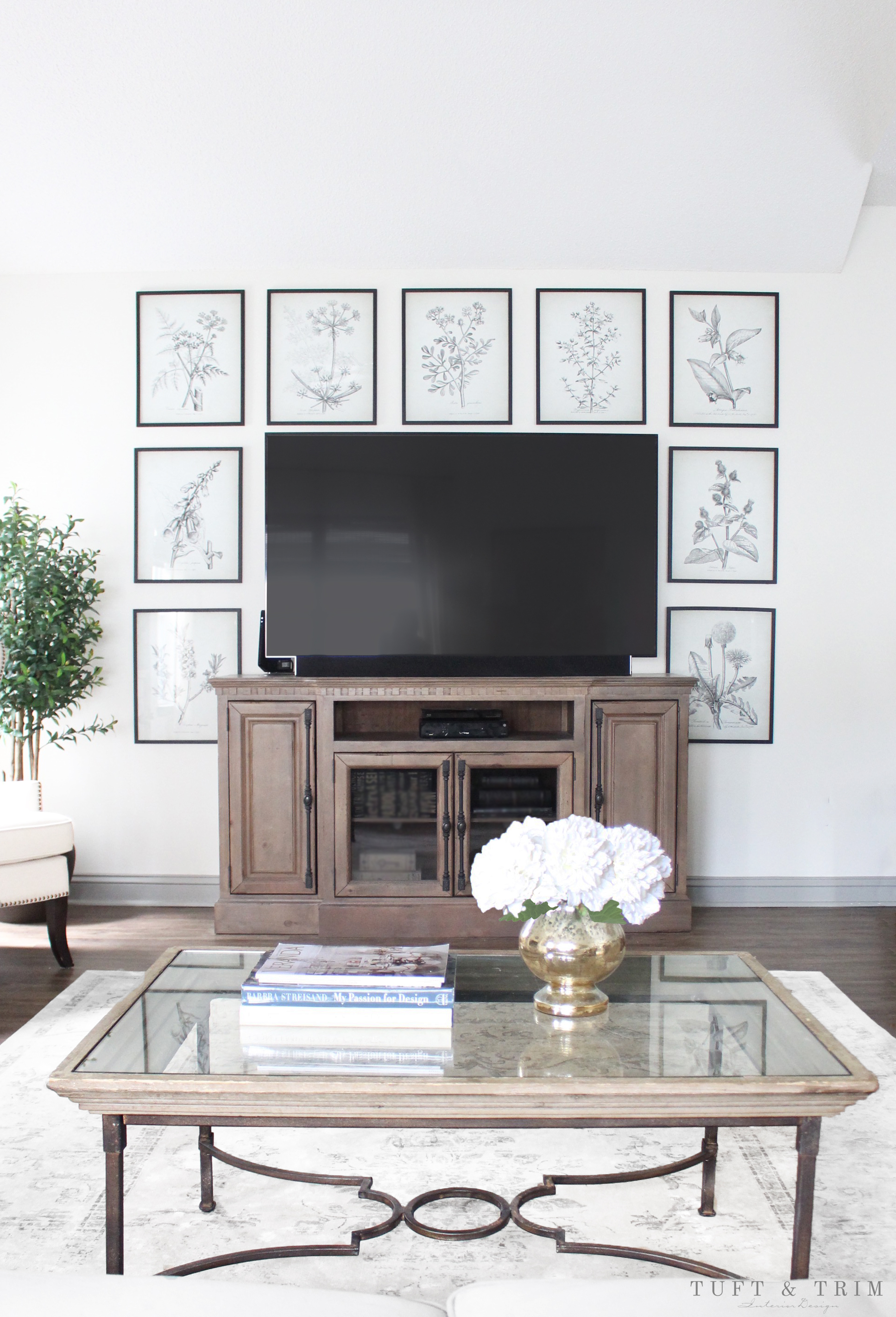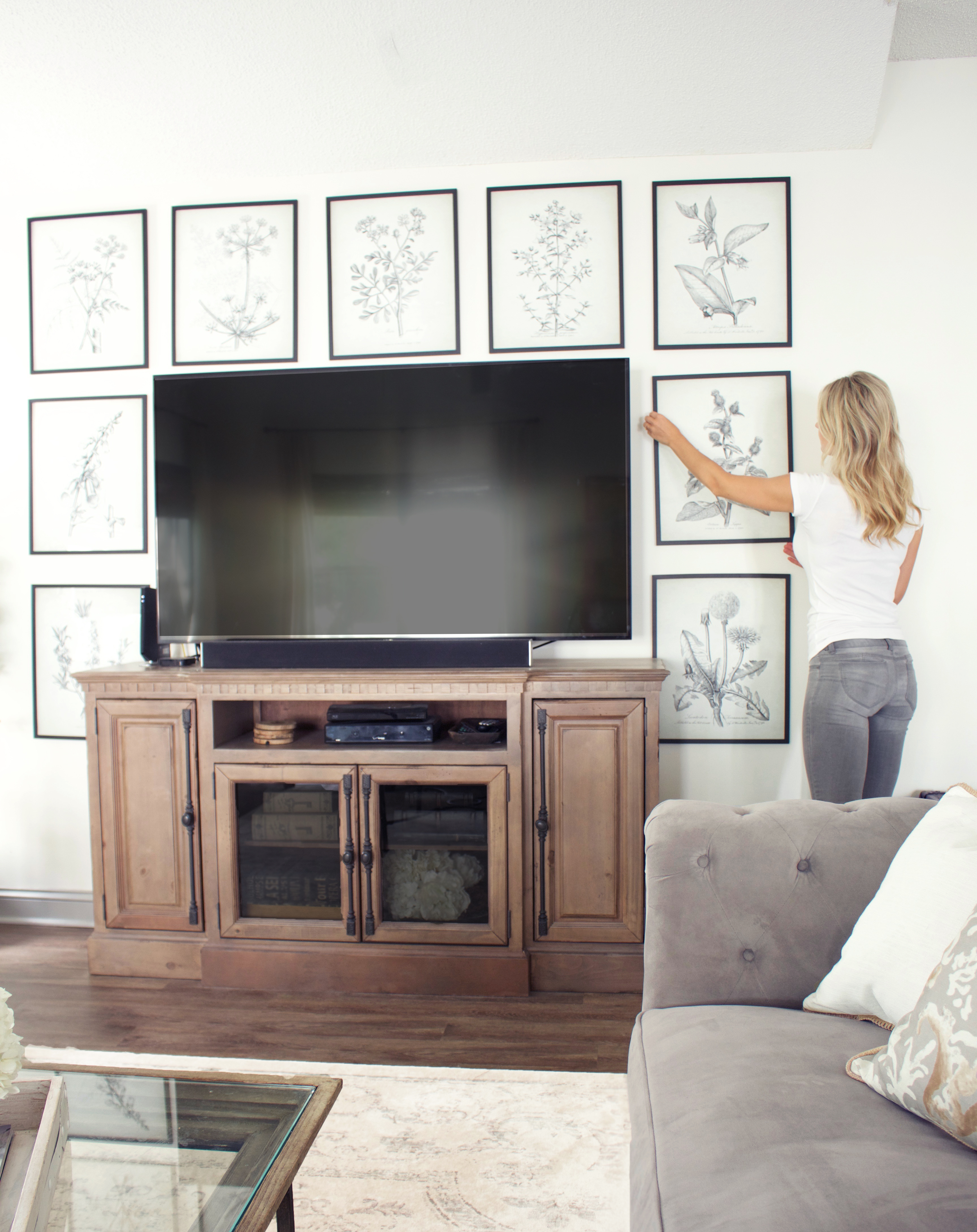 If you like things symmetric and clean, you'll love this concept. I know after doing a mix of frames and artwork on my tv wall, I decided it was too busy and I wanted something more balanced. I loved the concept of stacked frames all the same sizes, but wasn't sure what kind of art would work in so many frames. I found these botanical prints on etsy and loved how they were black and white and had an antique look which works perfect with my rustic home. 
2
---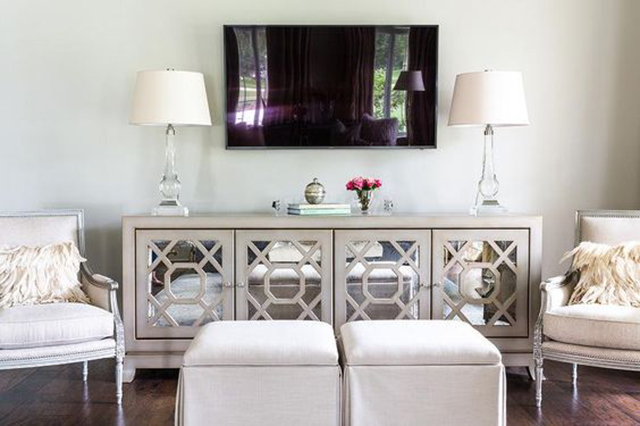 If you struggle finding wall decor you love, try framing your tv with lamps. If you have a wide enough console, lamps are a perfect option and can bring balance and style to a space. I LOVE these glass lamps and this mirrored console by The French Mix.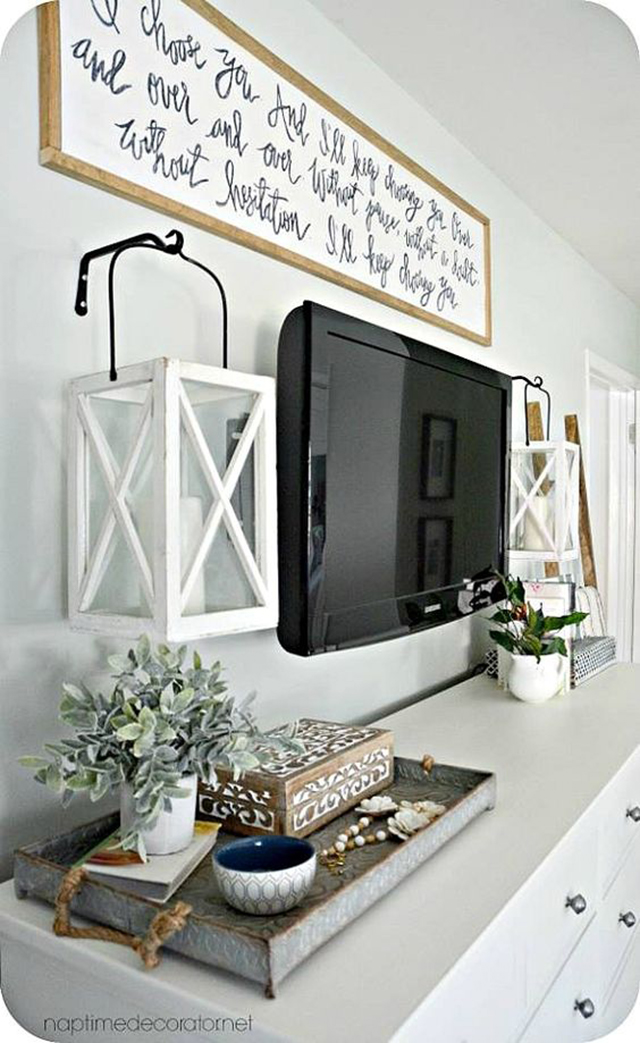 If your console isn't wide enough, trying adding hanging lights to frame the tv. Lanterns can be a great addition!
3
---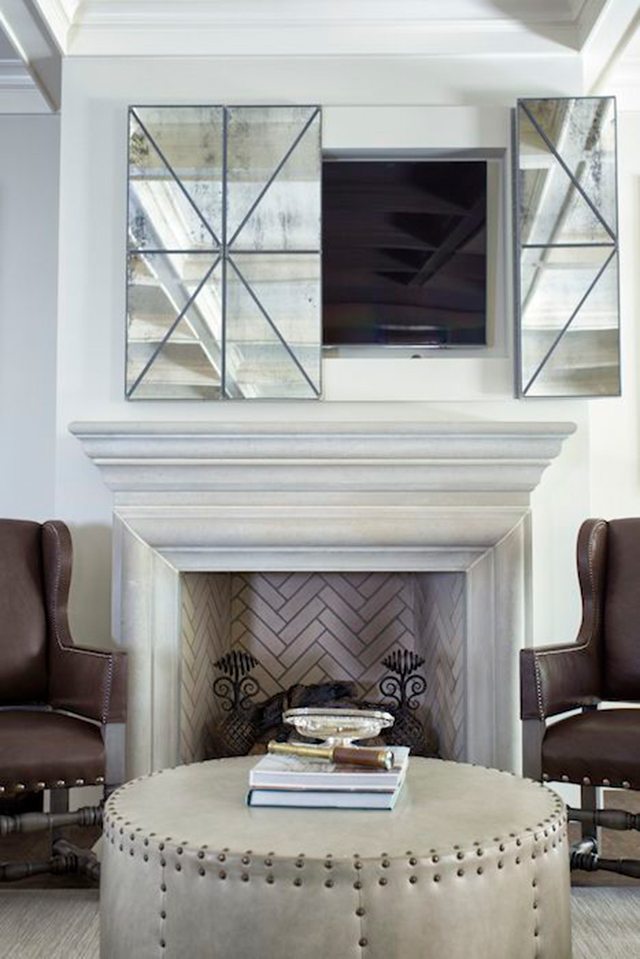 Here is another option that's great for those of you who want the tv to disappear all together. Especially when a tv is over the fireplace, it's nice to be able to cover it with something more attractive like this mirrored cabinet.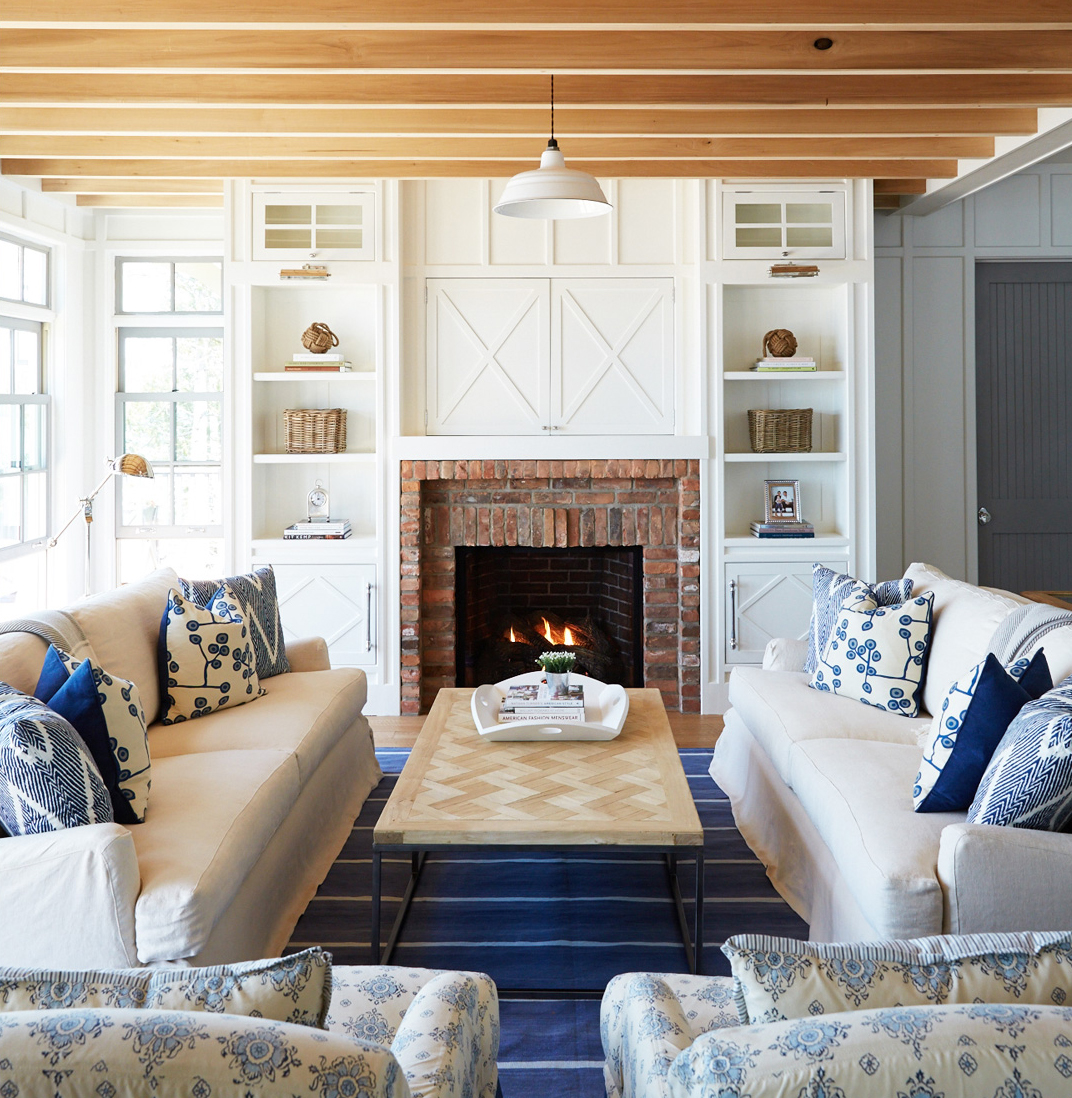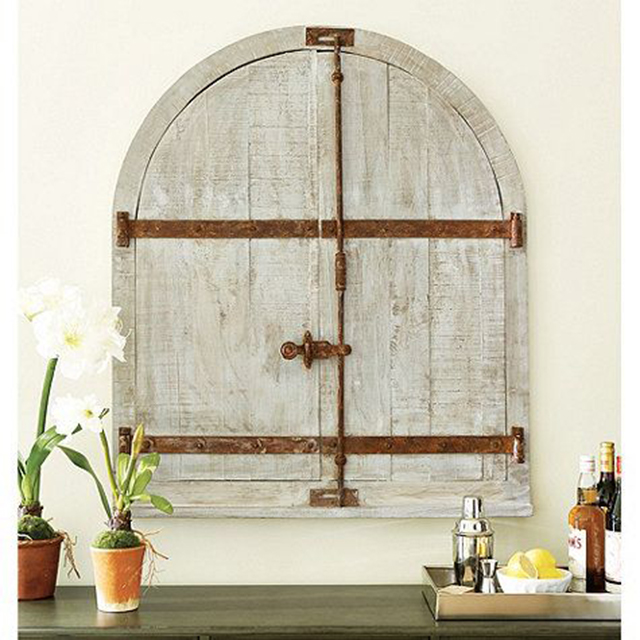 If your home is more of a rustic style, these barn style doors are a great option for covering a tv. If you're a DIYer, some are even easy enough to make yourself!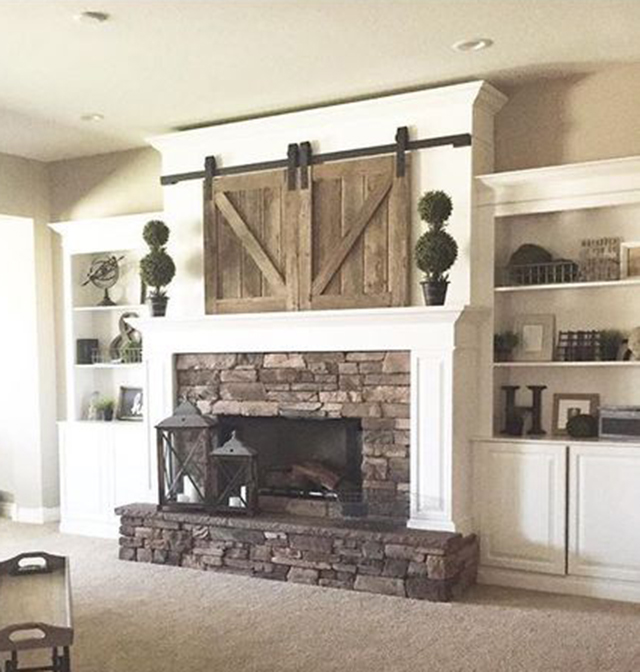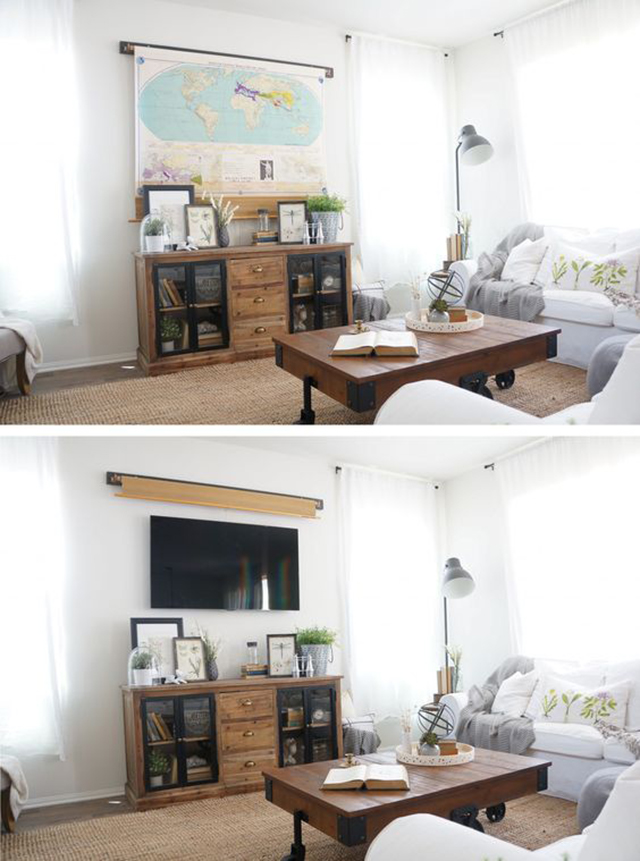 This idea is genius! A roll down map that covers the tv! What an easy and affordable way to decorate around a tv.
4
---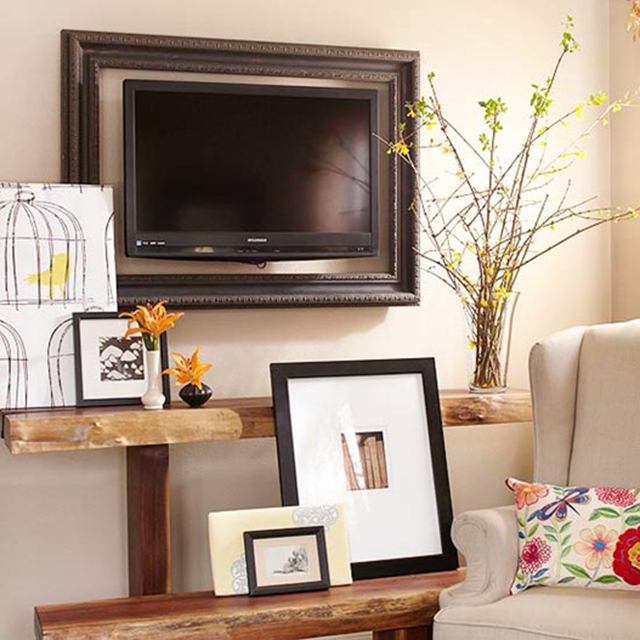 Framing a tv can also be easy and affordable. Whether you find an old frame at a thrift store, or make one yourself, it's a great solution to making your tv wall more attractive.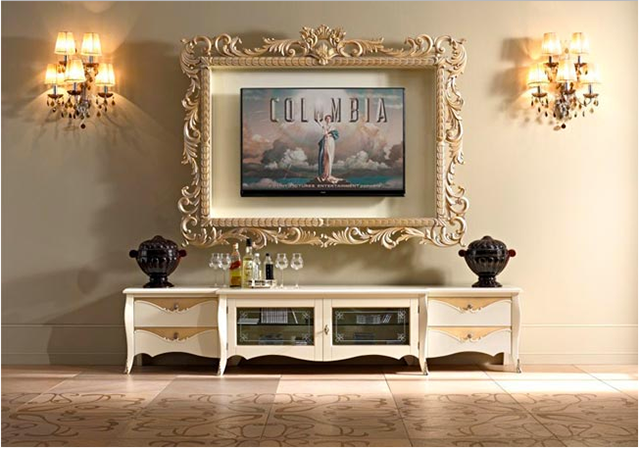 5
---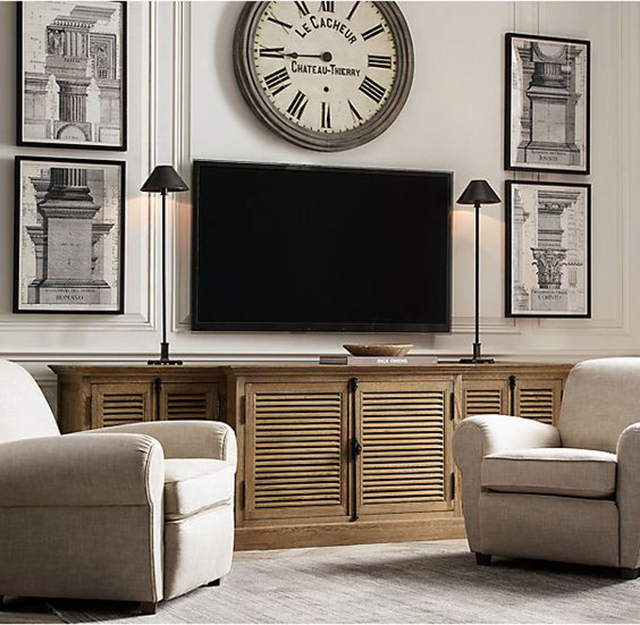 Sometimes it's nice to have a variety of shapes on a gallery wall. The round clocks in both of these designs create balance and provide a change in shape.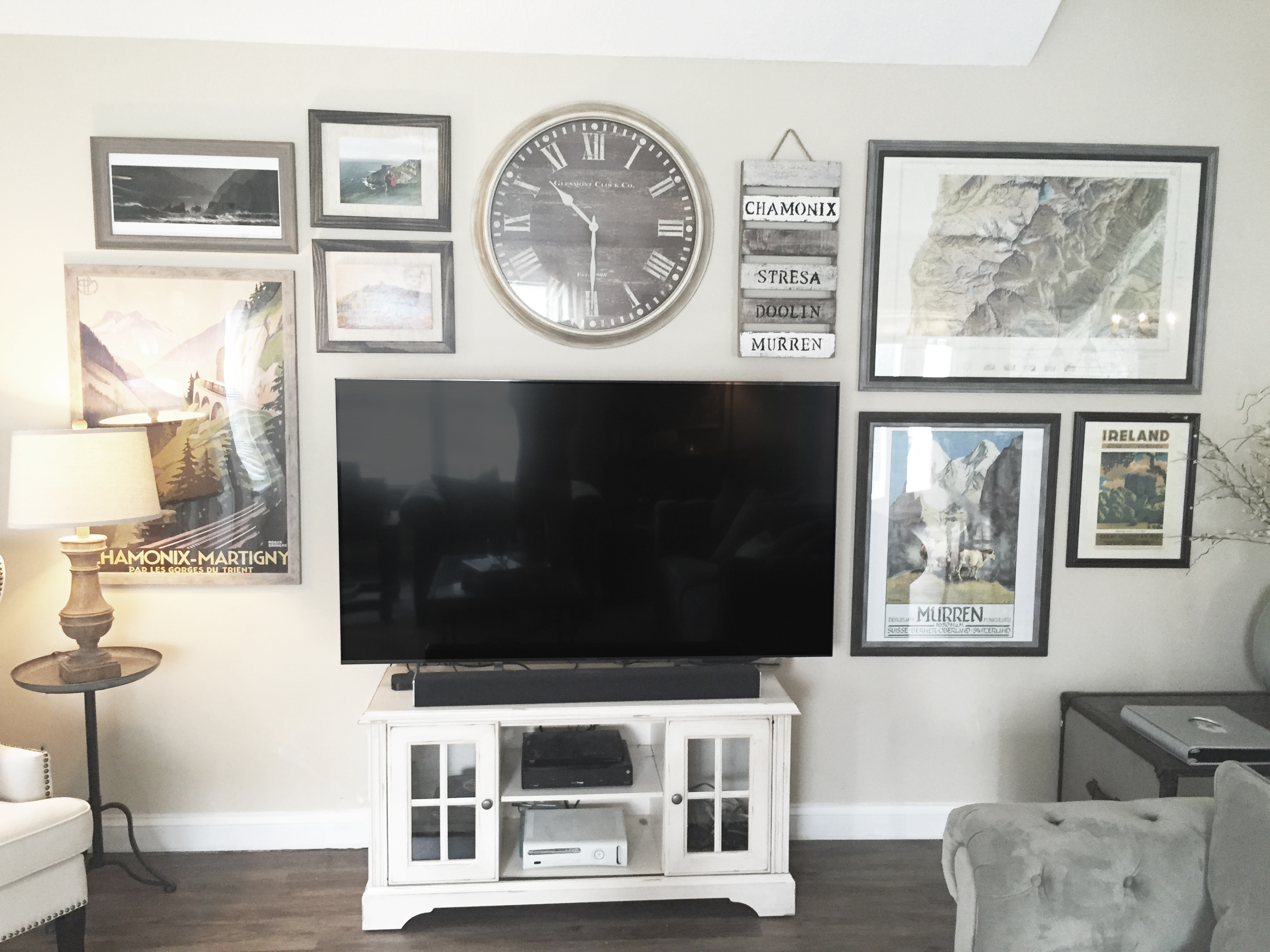 This was our Gallery wall I had previously put together of all our travels. Once I got a new tv console, I found there was not enough wall space for everything I had originally so I went with something less busy.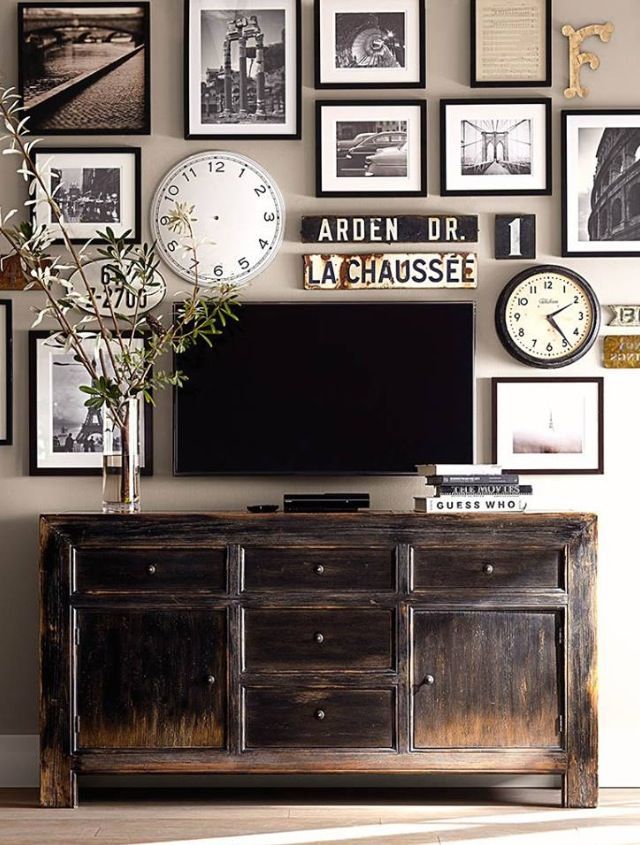 6
---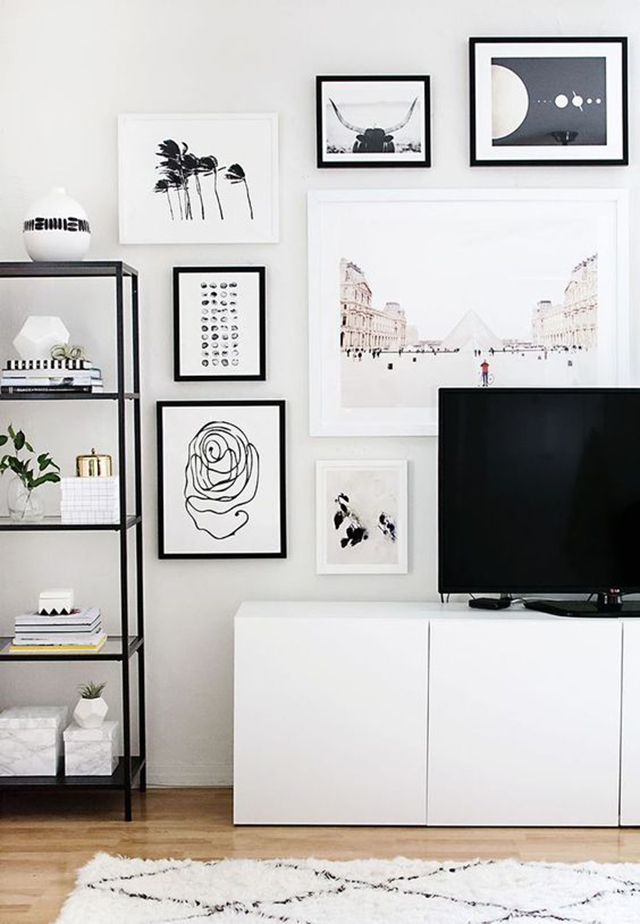 If you have eclectic taste, you may want an abstract tv wall with a variety of wall decor. This option allows for mismatched frames and art, and has no rules.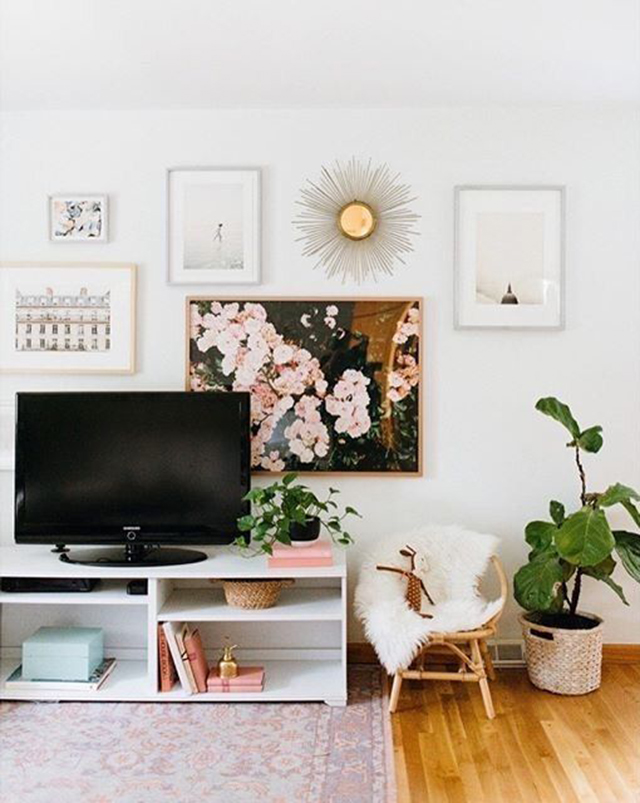 Here is a great example of different sizes of art, photography, and a sunburst mirror, all scattered randomly around the tv. I even like the idea of wall decor placed slightly behind the tv for a layered effect.
7
---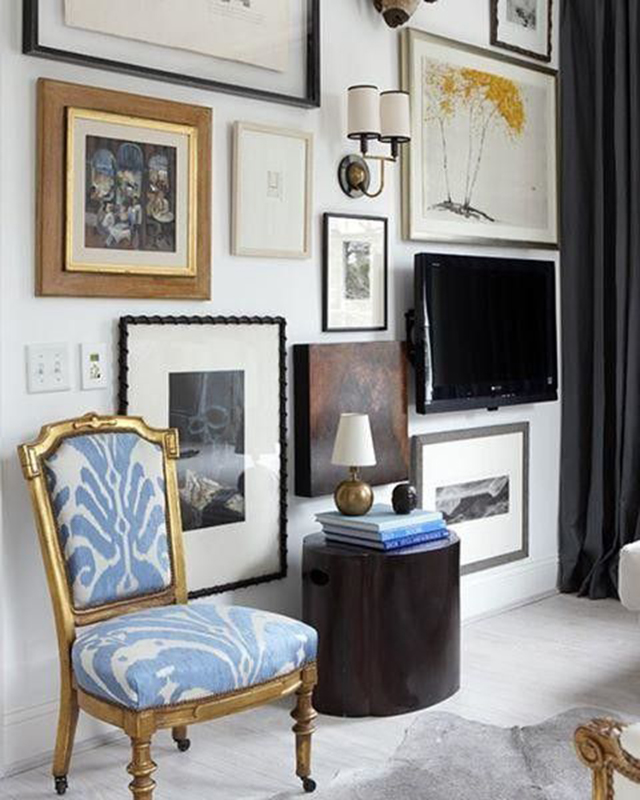 Similar to an abstract gallery wall, this idea also surrounds the tv with multiple sizes of wall decor, but so much that the tv becomes blended with the decor.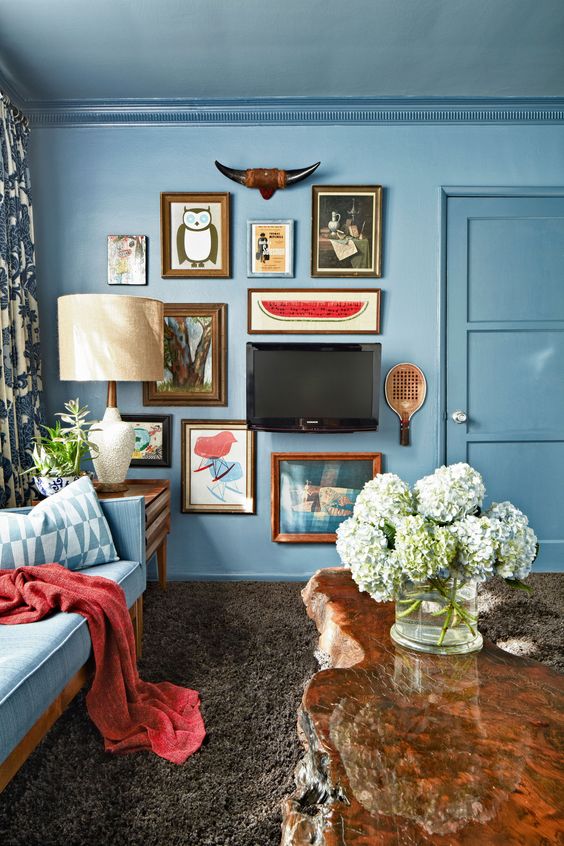 7
---

Enclosing your tv in an armoire may seem outdated, but is still is one of my favorite options. It allows you to avoid showing any tv equipment clutter, and can hide the tv whenever you have company over or are sick of seeing it. Plus, there are so many beautiful armoires out there, I'm in love with both of these options!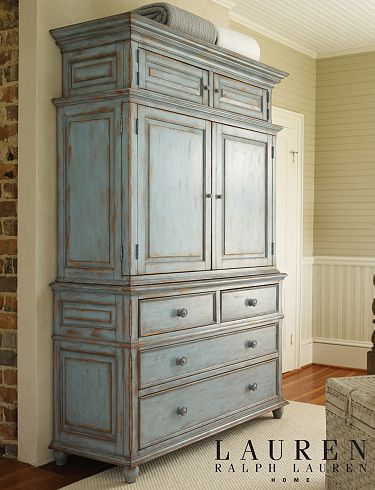 8
---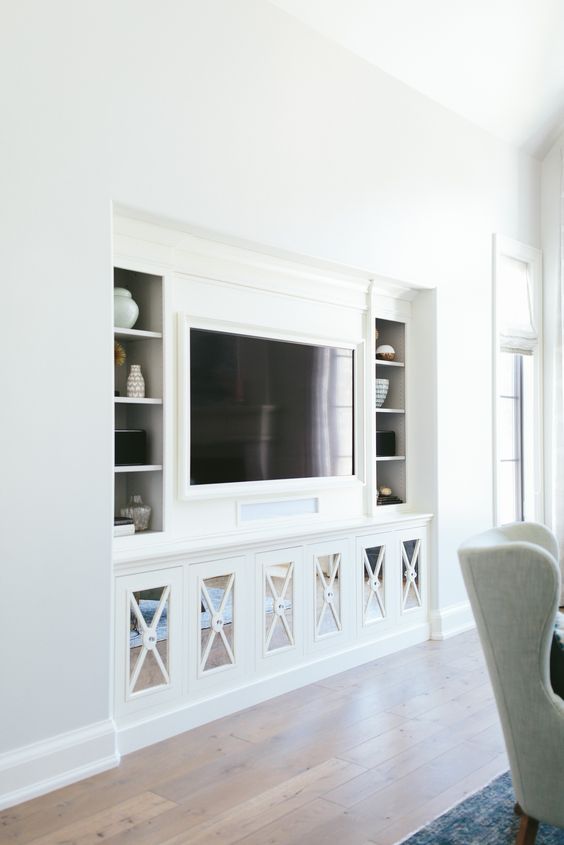 Built-in cabinets are great for numerous reasons; they provide storage, shelving for displaying decor, and can frame or hide the tv. Although this option isn't as budget friendly, there are ways to achieve the look without breaking the bank.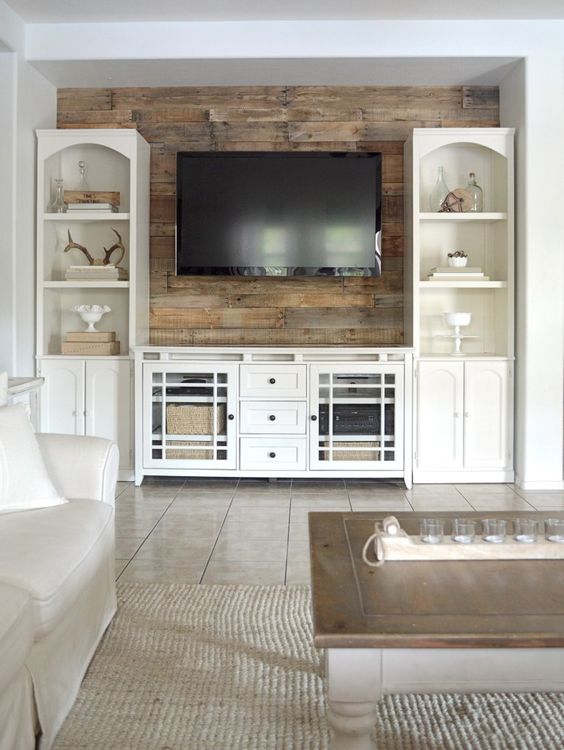 Check out this awesome DIY entertainment center made by My Vintage Porch , It will blow your mind when you see the transformation from before to after.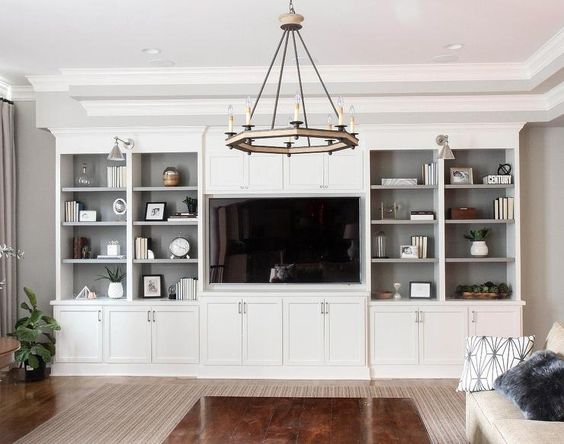 Well, that just about sums up all my favorite tv wall ideas! Is there one that stands out to you? Try it out in your home and see what you think! And don't worry, it may take a couple tries until you find the right fit! For more designer tips and inspiration, stay tuned and subscribe below!

Widget not in any sidebars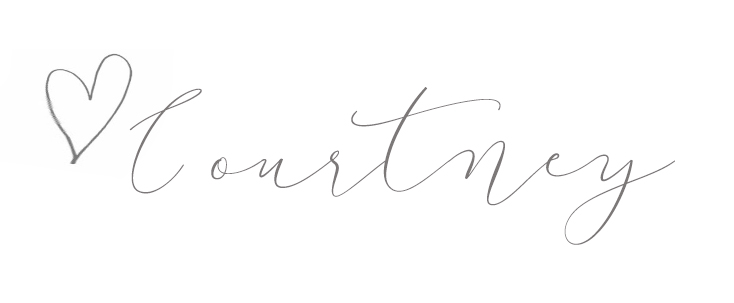 Related posts: